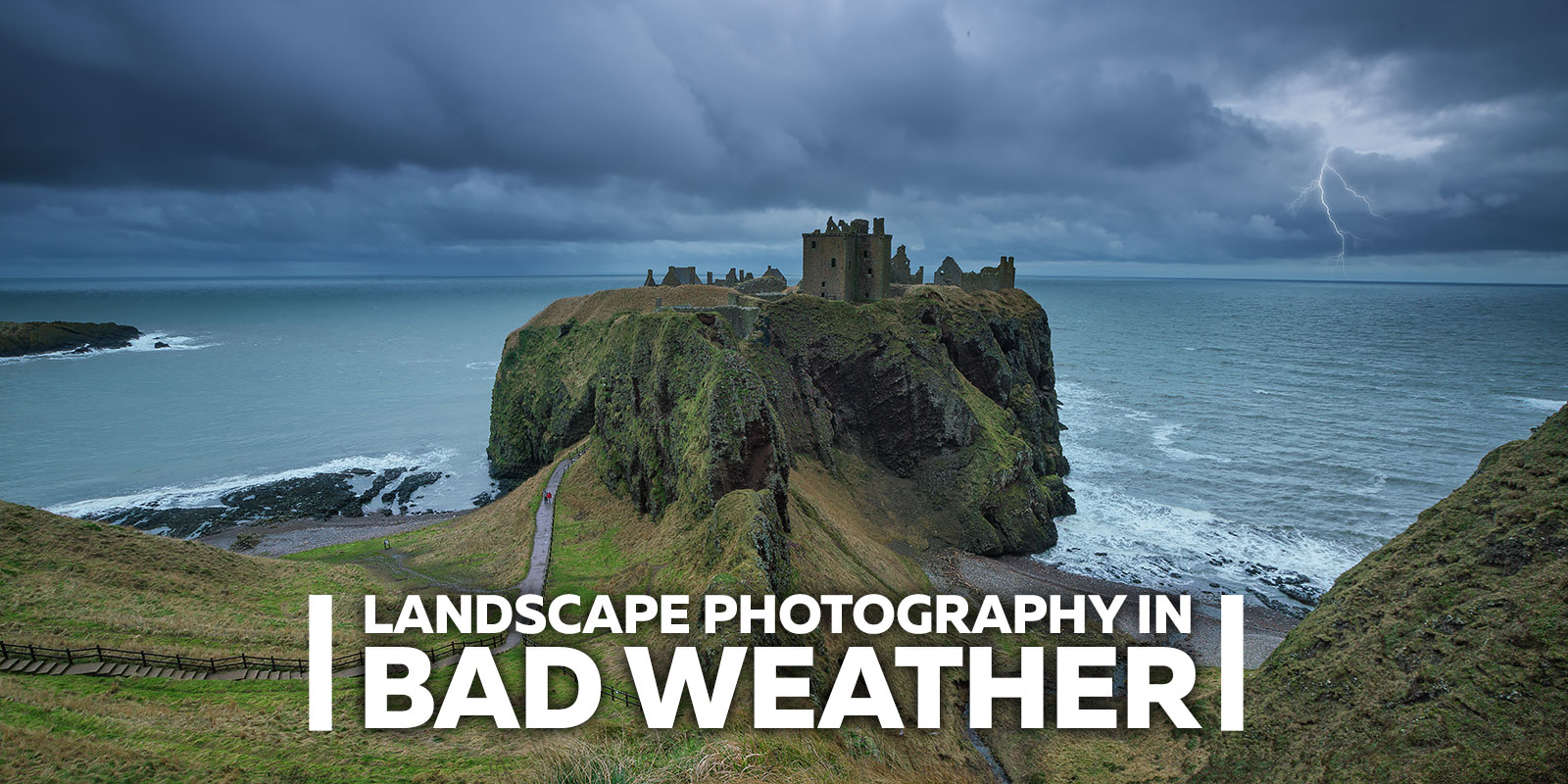 During my February visit to Scotland I knew I'd be facing some bad weather and well…… it's Scotland after all, so rain is something that you expect. In fact, rain is kind of essential to getting good light. There are no rainbows without rain.
Rain isn't usually a problem for the landscape photographer. The problem I had was with the wind. It just so happened that 'Storm Henry' arrived on the Isle of Skye at the same time I did, so it was a constant game of patience trying to capture any shot that wasn't totally blurred.
A quick look at the weather forecast told that the next week would bring storm after storm with pretty much constant rain. As I sat in my rental car in front of the spectacular Eilean Donan Castle (pictured above) I felt like quitting and heading for the nearest airport. Then I realized this atrocious weather presented a unique challenge and an opportunity.
My goal with this trip was to capture some killer shots of the Isle of Skye to promote my upcoming Scotland Photography Workshop. It dawned on me that the chief complaint I'd be hearing from prospective students would be the infamous Scottish weather.
So, what if I could prove that killer shots could be had even in the worst weather conditions? I was now a man on a mission – just as soon as my soaked clothes dried out.
Challenge 1 – The Old Man of Storr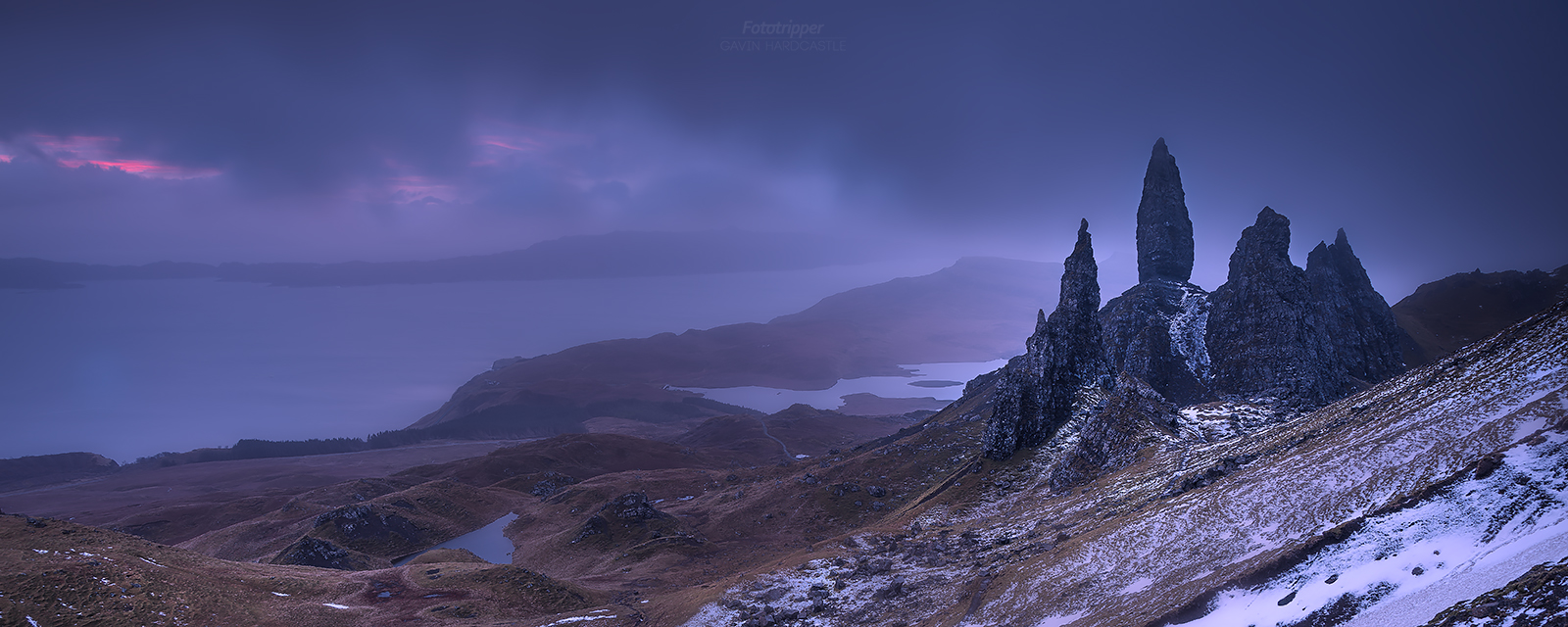 First on my list was actually Eilean Donan Castle but I was unlucky with the timing because the castle was covered in Scaffolding (now removed) for winter repairs so I moved on to my all time favourite location 'The Old Man of Storr'. If you've never heard of this place it's straight out of a Tolkien novel and actually looks even more epic with rain and mist tickling the spires for the ultimate in moody shots – right up my Alley.
I set out in the dark at around 7AM in hopes of catching a sunrise during a brief break in the horrendous weather but it was the rain clouds that wafted in and out of the mountain that really made the shot. Without this bloody awful weather I wouldn't have captured these brooding, cinematic scenes. Terrible weather = mission accomplished strike 1.
Challenge 2 – Elgol Sunset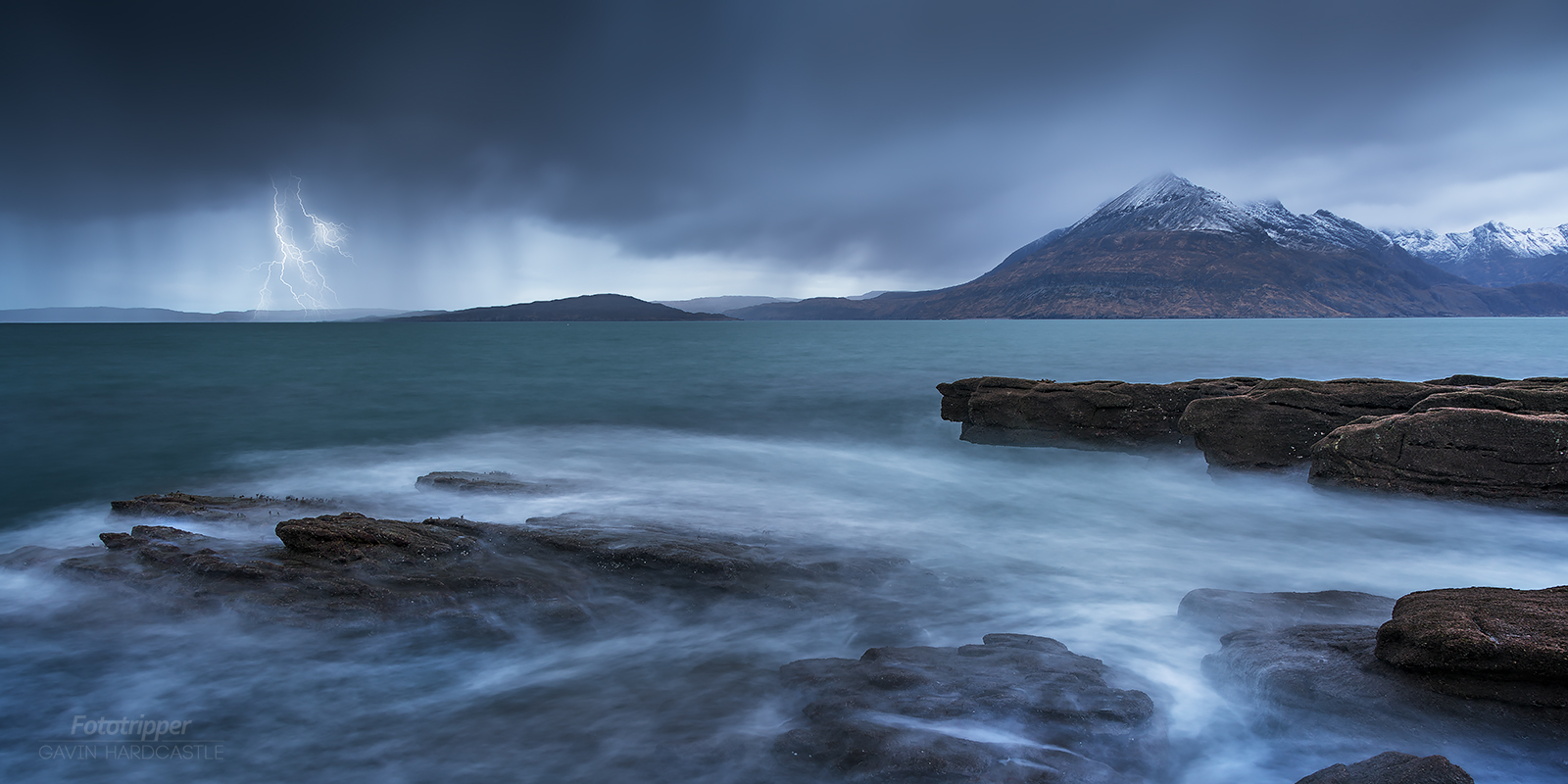 On the afternoon of the second day I decided to drive out to the West Coast to shoot the beach at Elgol in hopes of catching some glorious side light from the setting sun. Not a chance. By the time I arrived the weather had decided it was time to dish out some horizontal rain. I wasn't about to accept that.
As a major squall swept in from the West I covered the lens hood with my body to shield it from those treacherous rain drops. All I needed was a few seconds. After a few failed shots and some liberal use of lens wipes I finally managed to snag this atmospheric shot. Terrible weather = mission accomplished strike 2.
Challenge 3 – The Fairy Pools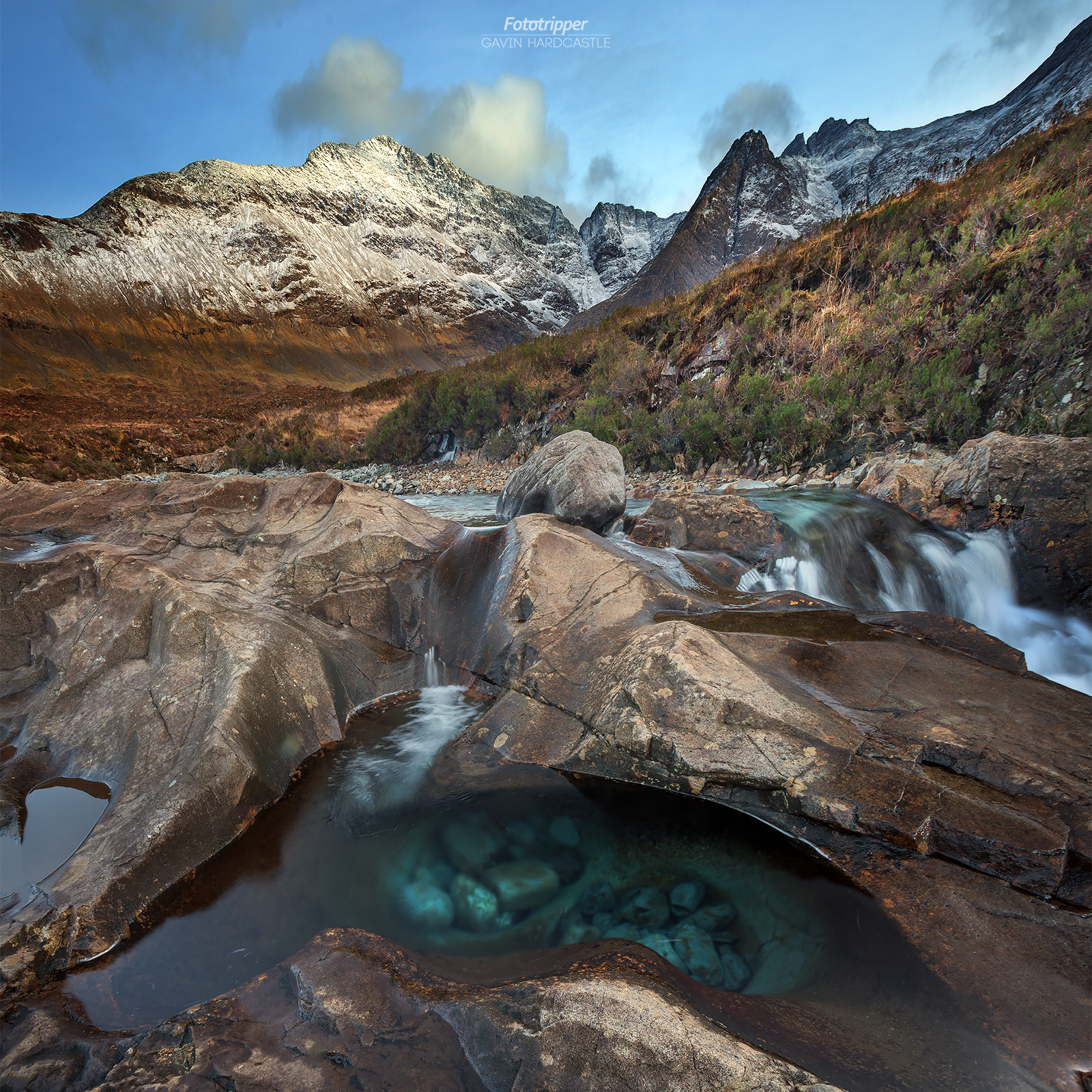 By this time I was getting used to the constant lens wiping and was actually looking forward to capturing some rain filled clouds and mist rolling into the mountains over the Fairy Pools. Imagine my disappointment when the weather cleared for 30 minutes to provide semi clear skies. That meant I'd have more problems with dynamic range and I would have to bracket my shots. "Ah well, I'll suffer this momentary nice weather", thought I.
Terrible weather = mission accomplished strike 3.
Challenge 4 – The Fairy Glen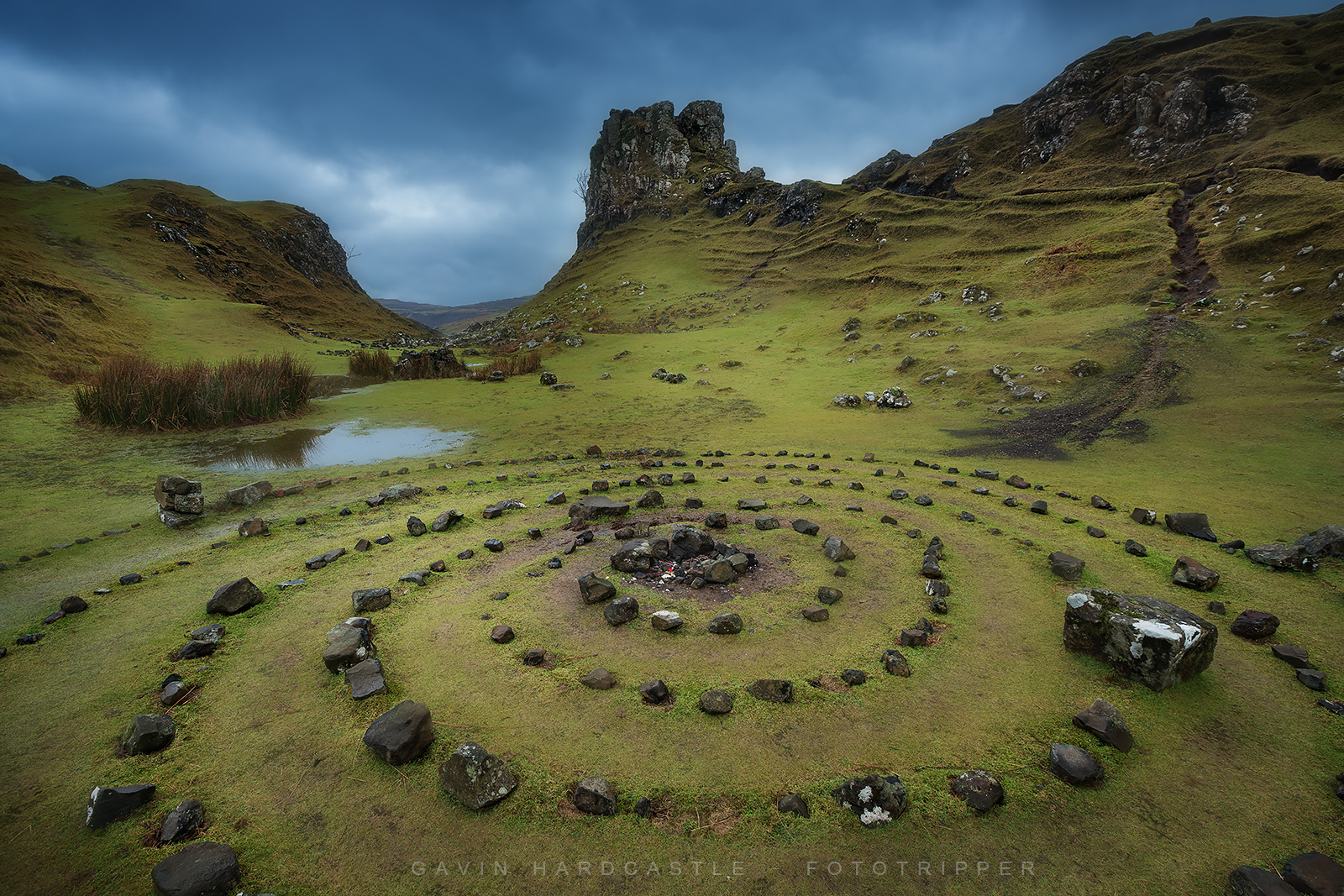 Next up was the strange and mysterious 'Fairy Glen' with it's castle like rock structures and stone circles. True to form, the rain simply would not stop and the wind was picking up again so it was a game of 'block and shoot'. This involved figuring out the direction of the wind and using my substantial girth to block the wind from reaching the camera.
Terrible weather = mission accomplished strike 4.
Challenge 5 – The Quiraing
No visit to Skye is complete without a righteous trudge out on The Quiraing. What would usually be an epic sunrise location turned out to be an exercise in not getting blown off the cliffs. The winds were so high that I admitted defeat and waited it out in my vibrating rental car until 11 am when the wind finally died down. This was the tail end of 'Storm Henry' launching it's parting salvo.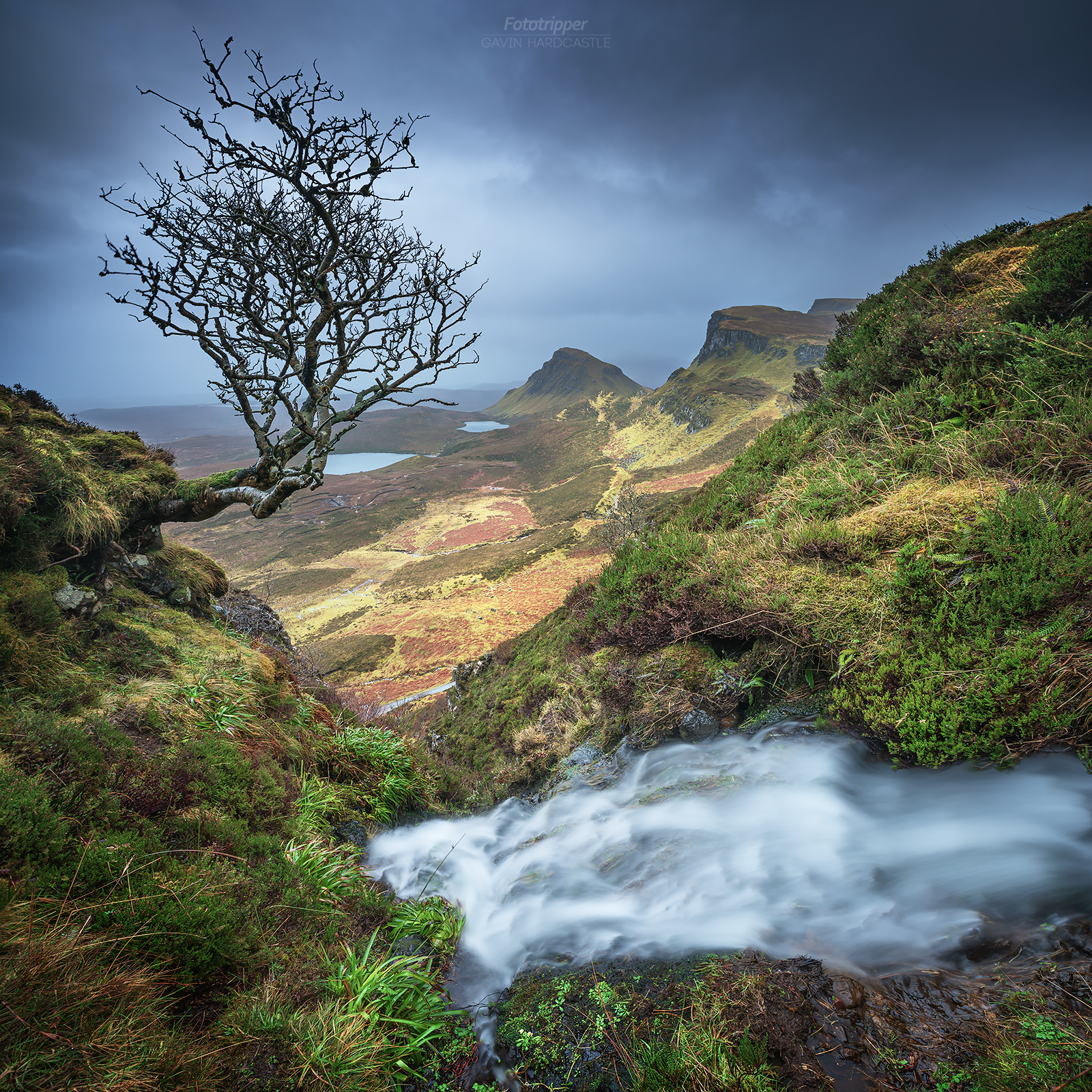 When I got back out there I was delighted to see the gift of a temporary creek running right into the foreground of my shot. Thanks 'Storm Henry'. Terrible weather = mission accomplished strike 5.
Point Taken?
At this stage I think I've made my point. No matter how bad the weather gets there are still good shots to be had if you're willing to brave the elements. I'm so glad I didn't turn tail and head for sunnier climes. Sometimes adversity brings out our best when viewed as a challenge.
If you'd like to join my Scotland Photography Workshop I'd love to see you there. I can't quite guarantee bad weather but if you're lucky there's a good chance of rain for at least some of your visit.