This Photoshop course almost didn't happen. In all my years of recording videos, I can honestly say that I've never faced so many relentless technical difficulties as I did while recording 'Photoshop For Morons'.
Recording 42 video tutorials during a heatwave was not my wisest idea. Doing it with a broken video camera was even more idiotic.
You can probably imagine the screamed expletives as I checked the back of the camera after each recording often to discover the delightful 'Writing to the memory card was not completed correctly' message that is now a staple of my Sony A7R1V.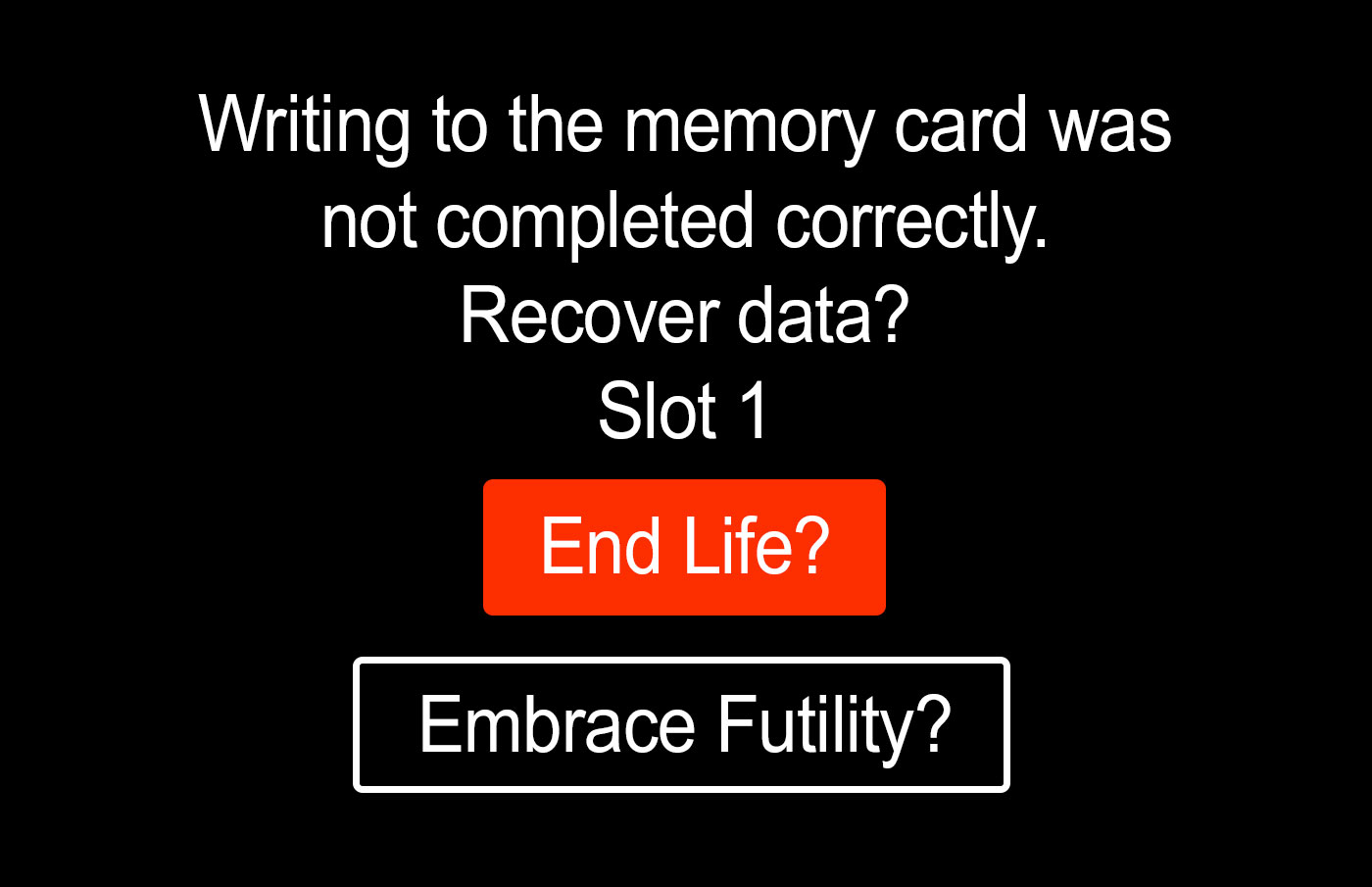 I chose neither and eventually switched to my old A7RII with its none functioning LCD and wheezing batteries simply because it had a more reliable reputation when it came to recording video. To my relief, it didn't let me down.
Is Thing Even On?
The next rage-inducer was the wireless mic by Rode. It's a pretty good system but if you ever plug an external lav mic into the transmitter you'd best ensure that none of the hair fibres from the dead-cat (which is now superglued in place due to the atrocious design of the dead-cat attachment method – shame on you Rode, you knew it was crap but sold it anyway) get stuck anywhere near the mic socket. If you fail to notice this you can rest assured that your 30 minutes of flawless performance will sound like a popcorn popping contest next to a deep fat fryer. Cue the embolism.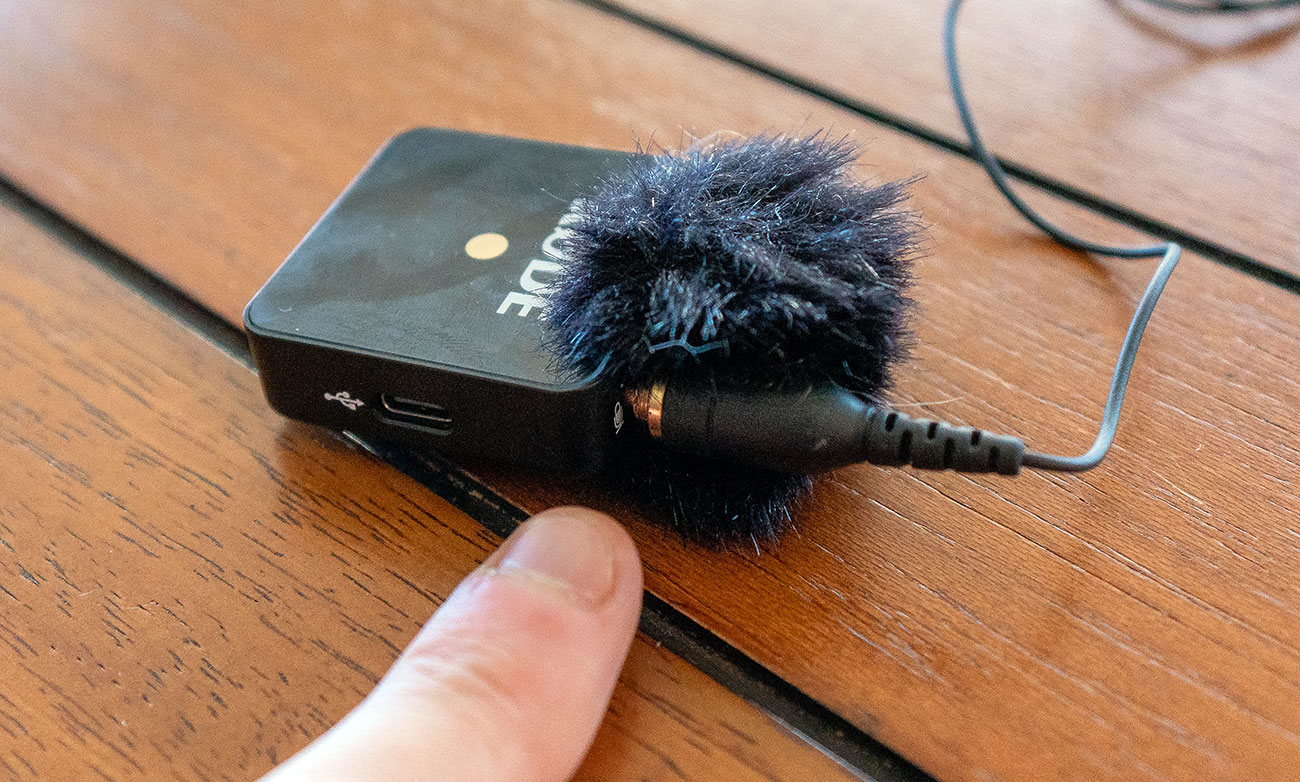 I Can't Work Under These Conditions
Next up was the blistering heat of Nanaimo during the peak of wildfire season. I managed to combat this by doing much of the recording from around 4 AM onwards but even then it was necessary to switch on the noisy air-conditioning – which you'll be delighted to learn makes its debut on some of the earlier tutorials on this course but eventually vanishes as the weather cools off.
At least I had it easy compared to Clarence Von Ponce. For the promo, he had to endure the sweltering conditions of filming in his gross PVC imitation leather Grandma jacket while wearing that stupid blue beret. Talk about "fashion victim"!
Please note: Clarence does NOT appear in the tutorials but if I get enough requests for him to appear in V2 then I'll negotiate his appearance fee accordingly.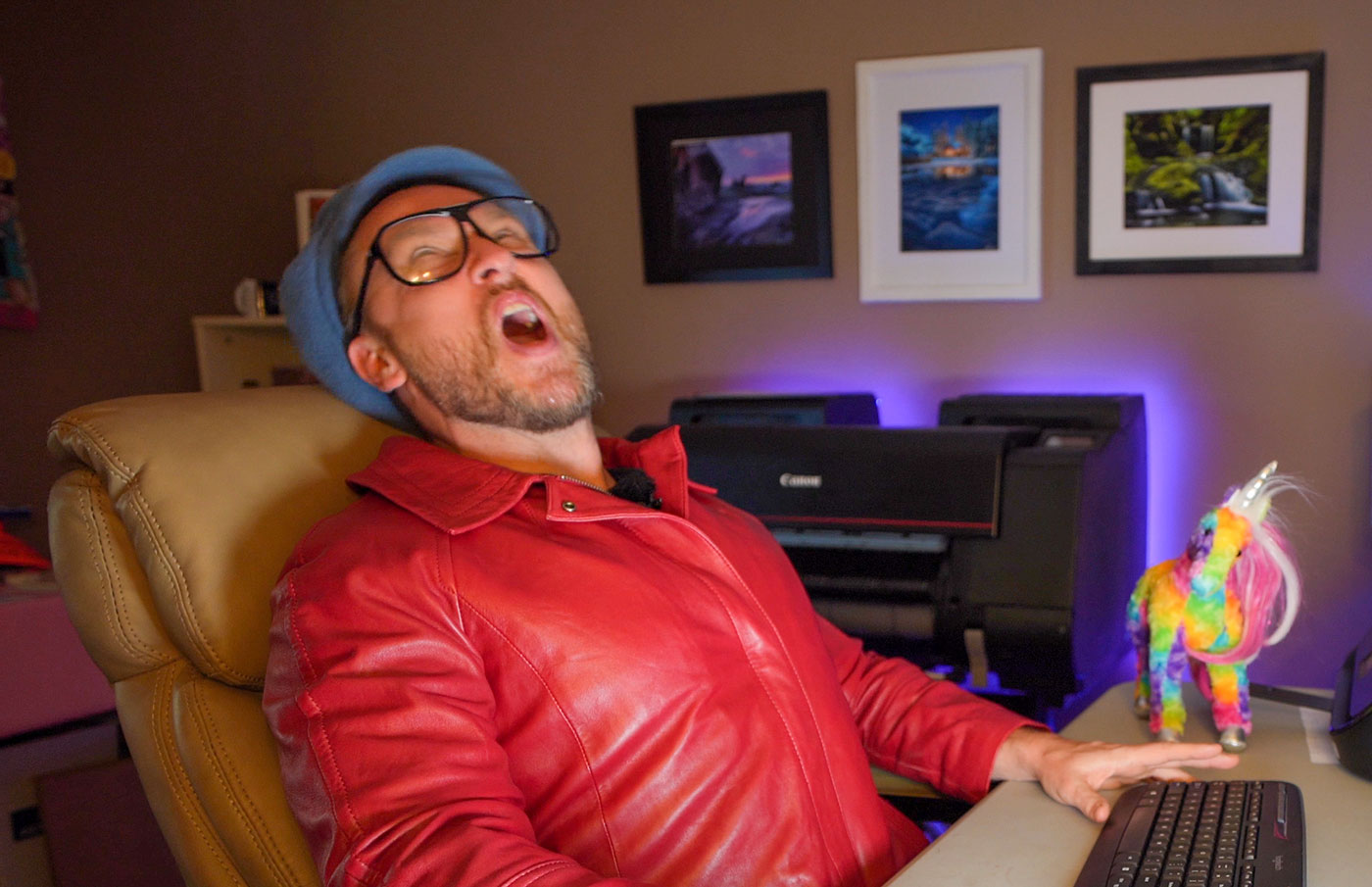 The Constant Interruptions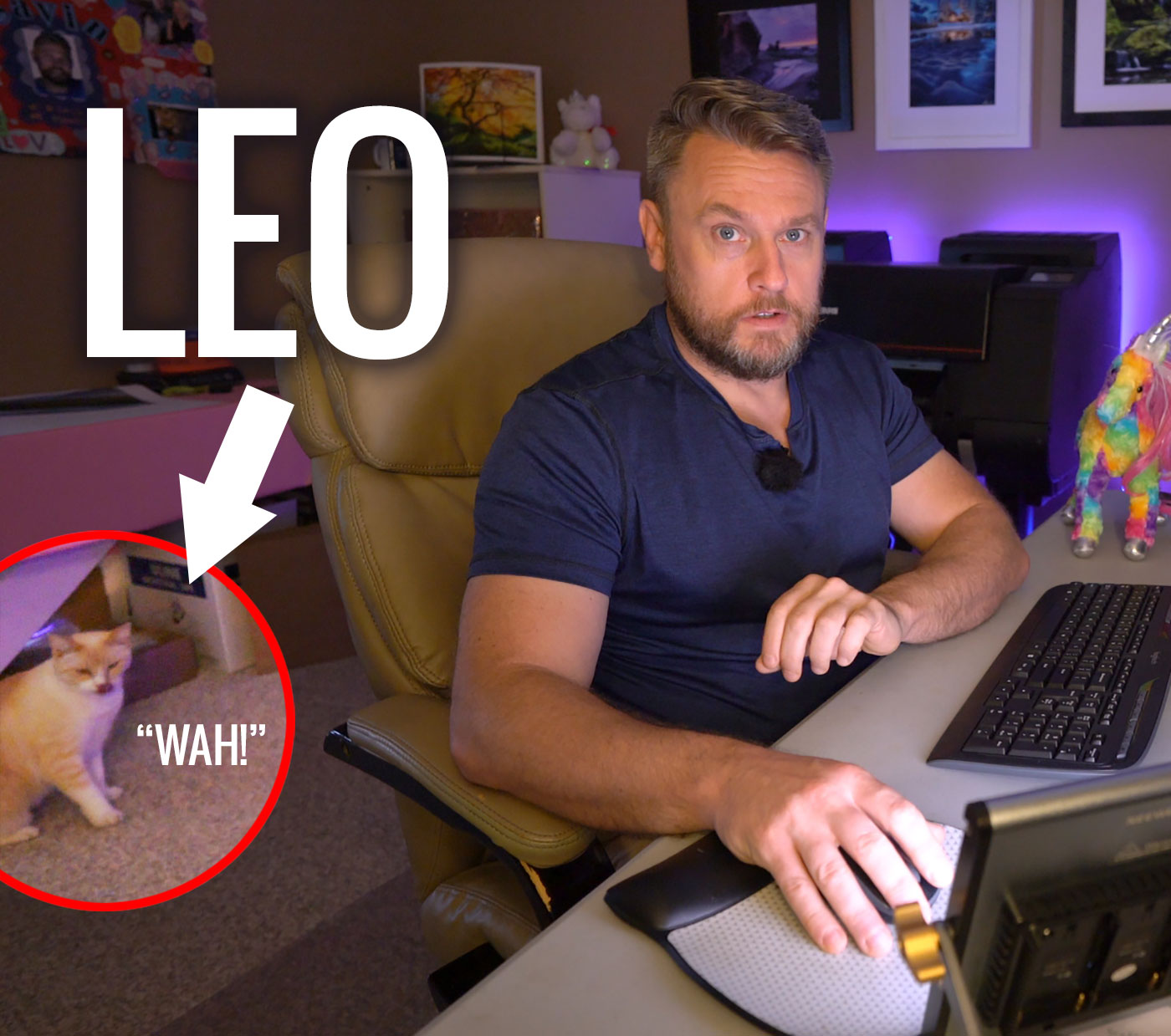 After that, there were constant interruptions from my cats Leo and Sterling. Leo likes to loudly pronounce "Wah!" for no apparent reason but he graciously times these declarations exclusively for periods when the recording is in progress. I believe he's protesting at the hardship of not having been visually observed for a period longer than 8 minutes – which is entirely unacceptable to him.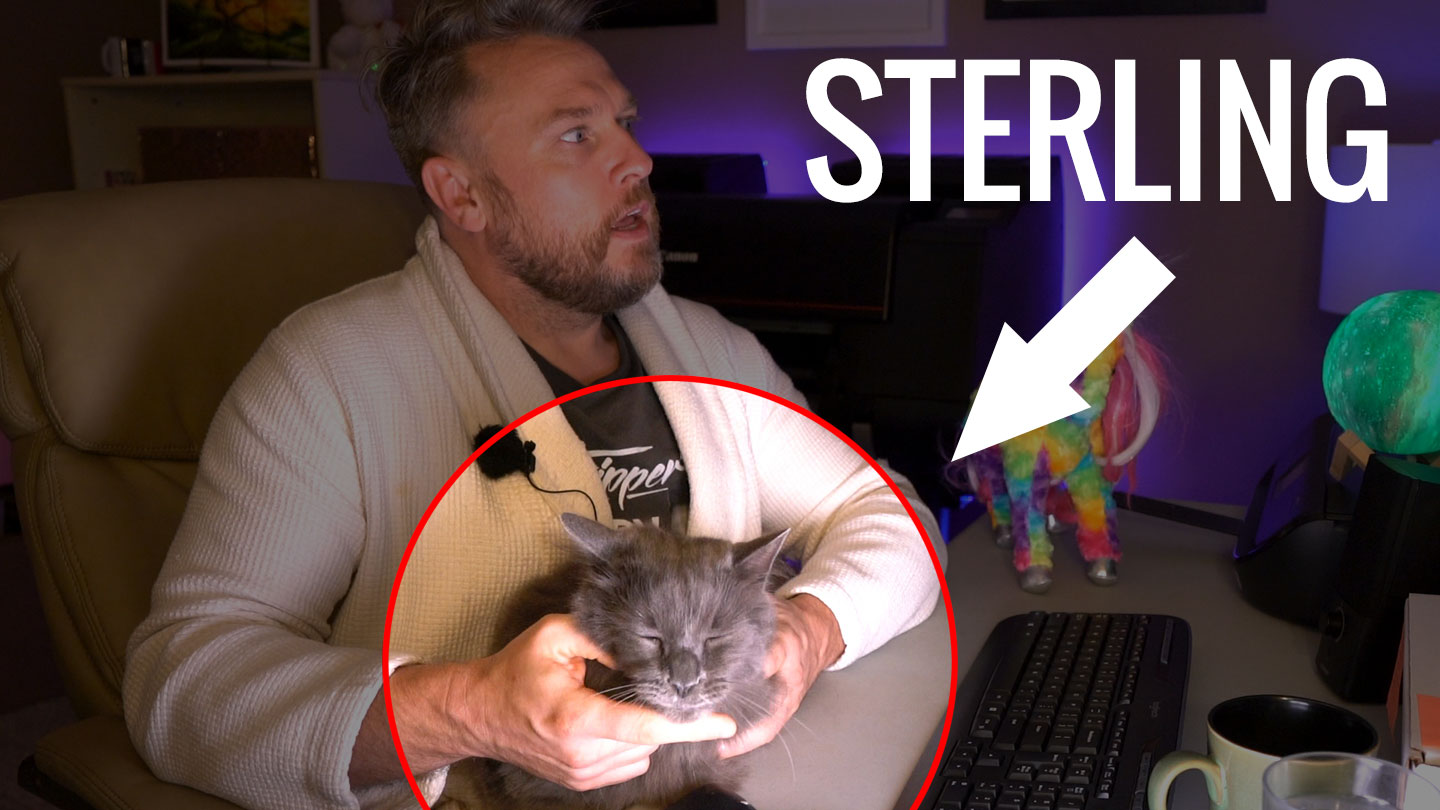 Sterling demands my full attention somewhat aggressively by standing up on his hind legs and reaching for my bare knees with his unnaturally pin-sharp claws. If I try to pre-empt this maneuver by picking him up, he runs away outraged at the prospect of being touched. I, of course, tolerate this abuse like the well-trained human that I am. Please don't tell Amanda that I let the cats into Unicornlabs – she has a strict no-feline policy in the room where we make prints.
The Texas Chainsaw Massacre
After a couple of days of major tantrums, technical difficulties, and painfully early mornings I finally found my rhythm. Until the neighbor discovered his long-lost chainsaw. Oh, how he loved to rev up that Husky to such decibel bursting volumes that I swear he must have been right outside my window. Pause recording.
Eventually, he either ran out of either fuel or limbs (depending on his skill level with the blade) and I was able to resume my quest to educate morons everywhere on how to handle Photoshop and overcome its many quirks and foibles.
The Struggling Computer
The final challenge was the limitations of my computer. I even tackle this very issue in my tutorials because Photoshop is renowned for being a resource hog. Add to that the strain of running a screen recorder with high-quality audio and my newly built computer was already beginning to struggle with the heavy load.
Usually, I do all of my image post-processing on my monster computer 'FrankenPC', but the background of the videos wouldn't have looked as look as cute as Unicornlabs so I opted for the newer but less powerful PC in that office. Luckily I know a few tricks to make Photoshop run a little smoother in such circumstances so I made sure to employ those. Here's a free preview from 'Photoshop For Morons' showing you a few tricks to improve the performance of your computer while using Photoshop to process your own images.
And This Was Only The Beginning
I should mention that prior to all of this, I'd spent about a month attempting to film Chapter 4 of my Composition Made Easy course. After about a dozen failed shoots due to terrible weather conditions, many miles hiked and few injuries related to gross incompetence, I had to admit defeat, quit, and plan an entirely new project.
That's when I found the email from a client asking "Teach me Photoshop like I'm a complete moron". Cue the lightbulb moment.
I hope you enjoyed this little glimpse into what goes on behind the scenes while creating a course like 'Photoshop For Morons'. I actually did start to enjoy the process of recording these very 'informal' tutorials so if the feedback is good, I'll consider doing more of these in the future. If the feedback is crap, I'll consider a career in stand-up.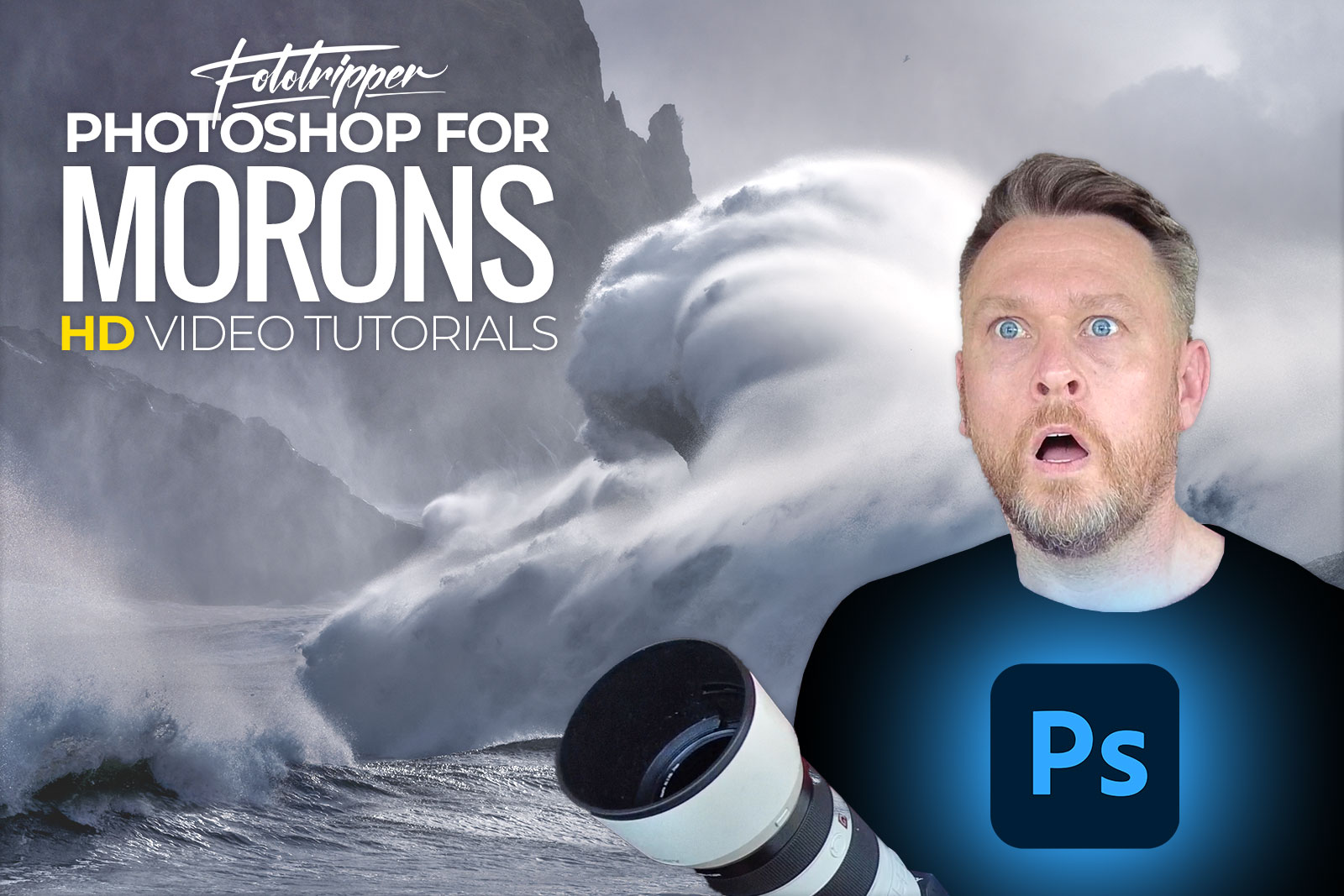 Thanks for reading
Gavin Hardcastle – Fototripper