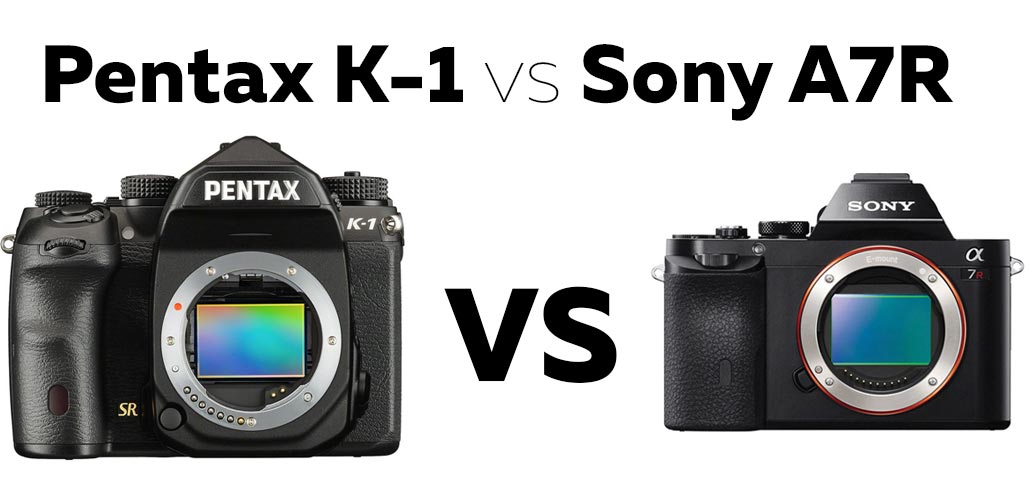 Having shelled out the big bucks for the Sony A7RII, I was a touch miffed when the impressive Pentax K-1 DSLR camera was announced. The Pentax K-1 boasts a whole host of premium features that are sadly lacking on the Sony A7RII and from the specs it looks like the K-1 might be the ultimate camera for astrophotographers.
With that said though, there are some major differences between the two cameras, chief among these is the fact that the K-1 sadly doesn't shoot 4K video, so it's not exactly fair to compare the K-1 to the much more expensive A7RII. What is fair however is comparing the almost evenly priced Sony A7r which shares the same sensor as the K-1 but lacks some of the very tempting features that are packed into the larger K-1.
I decided to put together a comparison for those who were currently considering purchase either the A7R or the K-1.
Same Sensor – Different Tech
The Pentax K-1 is rumoured to have an upgraded version of the 36MP sensor found in the Sony A7R. When it comes to image quality I can tell you that this sensor is superb. Having owned the A7R since it first hit the market, I've captured some of my best work using that same sensor.
The Sony A7R however, is a much older camera than the new K-1 (almost 3 years) and with just the 3 additional features listed below the K-1 offers much more value than the A7R.
5 Axis image stabilization
Pixel Shift Resolution System
Astrotracing feature
Handling and Practicality
The Pentax K-1 is a big clunky DSLR so that means it's going to be heavy and ugly. On the plus side though, a bigger a camera allows for more physical controls and perhaps better ergonomics. A bigger camera also means that battery is much more effective. The K-1 will most likely do a full day of shooting on one battery which leaves the Sony A7R batteries in the dust with their feable 1 hr battery life.
One other feature of the K-1 is that night shooters are going to love is the little light near the lens mount which should make changing lenses in the dark much easier.
Battery Life Considerations
Yes I've already mentioned battery life but one of the many things that people don't consider is that with smaller mirrorless cameras like the Sony A7R, you're forced to carry around a lot of spare batteries and at least two chargers if you want to do serious shooting. This uses up space and weight in your camera bag so you really have to ask yourself if there's a huge benefit to having a smaller camera.
If you shoot timelapse you'll be frustrated with the short battery life of the A7R because even if you connect the A7R up to a rechargable battery pack the camera becomes inoperable. That means you can forget shooting a 3 hr star trails sequence. That's no problem for the Pentax K-1 though.
Dual Memory Card Slots
While the tiny A7R has only one SD card slot, the K-1 has two. This gives you that added security in the event of complete SD card failure. A feature I'd hoped to see in the A7RII.
Lens Choices
When the Sony A7R was launched there were very few high quality lenses available for E-mount. Fast forward to 2016 and there's now a respectable collection of Zeiss and Sony glass available for e-mount, especially with the latest 'G-Master' series of lenses by Sony. If you're buying into the Sony E-Mount system you can expect more high quality lenses to follow.
With Pentax however, the lens choices are actually few and far between for full frame. Pentax has a wide range of APS-C lenses and some killer medium format lenses for the 645Z but I doubt many K-1 users will shell out the big dollars for medium format lenses to adapt to the K-1 unless they already own the 645Z.
That means that Pentax has some catching up to do if they're going to fill the demand for full frame lenses. Right now they offer a rebrand of the well rated Tamron 15-30mm which is great for landscape shooters.
Hopefully Pentax will be faster at releasing new lenses for the K-1 than Sony was for E-mount.
Weather Sealing
Pentax are known for the strong weather sealing of their cameras. Sony have a somewhat weaker track record in that department and the A7R was never promoted as a particularly well weather sealed camera. The K-1 is supposed to be able to handle -10°C so that's a clear advantage for Pentax.
I personally only experienced malfunctions with the A7R in extremely hot temperatures while shooting in the desert.
Don't Worry About Moire
Unlike the A7R, the K-1 offers a virtual anti-aliasing filter to reduce or eliminate moire. We've yet to see how well this works but it's a really great idea that I feel should have been included in the Sony.
More Features Than You Can Handle
It seems like Pentax decided to study the Sony A7R and figure out how to make it perfect with only one major sacrifice – size. Once you accept that the K-1 is a full sized DSLR and perhaps overlook the limited full frame lenses available for the K-1, it simply blows away the Sony A7R for just an extra $100 CAD.
So far I've only listed the K-1 features that are most attractive to me but a full study of the spec list means you're getting a whole lot of camera for what I believe is a very competitive price.
For landscape shooters I reckon the Pentax K-1 could be a major player in the DSLR market and might actually steal some Sony market share.
Sigma Throws a Spanner in the Works
If you're considering either of these cameras, hold your horses because Sigma just dropped a bomb with the announcement of their upcoming 'SD Quattro' (39 Mp equiv) and the 'SD QUattro H' (51 Mp equiv) which both feature glorious foveon sensors. These aren't full frame cameras and are poised to take advantage of Sigmas line of lenses.
With APS-C and APS-H sensors it's doubtful that these two little resolution monsters will be able to compete in the same 'low light performance' as Sony but wouldn't it be a king toppler if they did.
Hmmmm, decisions, decisions.