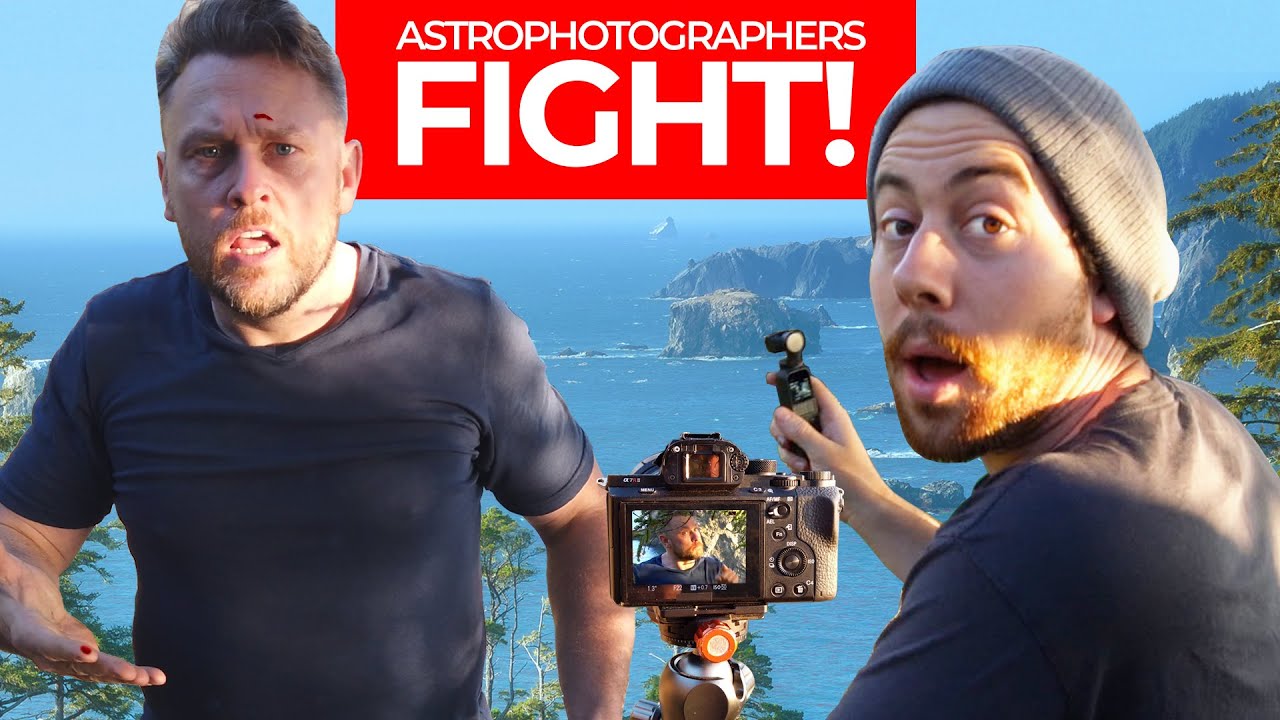 Ok, I'll admit it, I was made to look pretty bad in that last video.
My argument with Michael Shainblum made me look like a selfish, spoiled brat who doesn't pay his bills on time.
But please, give me a chance to explain my side of the story and I'm sure you'll see that I'm really not that bad. Not quite.
The Honeymoon Period
It all began in 2019 when I had the idea to do a Milky Way Photography course. At least I'm pretty sure it was my idea. Michael might say otherwise but he's mistaken.
I generously offered Michael the life-changing opportunity to be my partner on this fun-filled adventure. I'd noticed that he'd posted a few half-decent photos of the Milky Way on Instagram and while I thought his teaching style was a bit dull for my audience, I figured I could spice things up during our tutorials to counterbalance Michael's dour persona. It was a challenge but I think I nailed it.
So, we agreed to meet up in the scorching hot desert of California in preparation for our very first shoot together at Crater Lake.
Michael being stingy, picked the cheapest Motel in town and insisted that we share a room to save on costs. I wouldn't mind but he'd clearly picked the most comfortable bed in the room and had already taken up the entire suite with all of his gear. Can you believe be brought two brimmed camera bags? I mean, who needs TWO camera bags FFS?
Our First Shoot at Crater Lake
Things got rapidly worse during our drive to Crater Lake when Michael began complaining about the odor coming from my appropriate footwear. I personally have no issue with the heady aroma of Sarsons Malt Vinegar artfully blended with asiago cheese but Michael took issue with it so I had to switch into boots.
As soon as we got to Crater Lake I wanted to get hiking and explore some of the lesser-known viewpoints. Michael insisted that we stick around the infamous old tree that everybody else shoots, exclaiming that it would be a lovely 'teachable moment for the course'. I had to admit, he did have a point. After all, our purpose was to teach, not get epic shots for our own portfolios.
So we nailed the tutorial and then hung around to enjoy the shimmering stars in all their glory. That's when Michael started getting a bit weird. Maybe the lack of sleep or the high altitude had taken its toll, watch the video above and decide for yourself.
Milky Way On The Coast
After our successful high-altitude shoot at Crater lake, we decided to escape the heat and head to the Oregon coast to take in the mystical beauty of the ancient sea stacks littered around the dramatic, misty cliffs.
Things got off to a sour start as I'd now become hyper-sensitive to Michaels's constant sniffles during the early hours of the morning while I was struggling to sleep. I told him in no uncertain terms how detrimental it was to my sleep. As you know, I very much need those 17 minutes of sleep and when that gets reduced to 3 minutes… things don't go so well.
In this video, you'll see his blasé response to my concerns. This was a pattern I'd eventually become all too familiar with.
Michaels Chewing Infuriates Me
On our second night on the coast, things deteriorated almost to the point of violence. After nailing the 'Twilight Blend' section of our Milky Way Made Easy course, we should have been celebrating our most successful shoot so far, but no. Michael's accusations that I was trying to knock him off a cliff followed by his sneaky attempt to lure me into 'peanuticide' pretty much ruined any chance of salvaging our professional relationship.
At the end of that night, it was all I could do to control my temper while he loudly munched on granola bars in my car. If you watch this video you'll clearly see that Michael is the aggressor in all of these exchanges.
Sparks Lake Star Trails
To ease the tension, we took a trip to the interior of Oregon and met up with Nick Page and Andrew Studor. At first, it was a sweet relief to have other people around to take on the burden of Michaels's diva-like tendencies. We even enjoyed a few brief moments of camaraderie over a beer until Nick asked the question "how have you guys been getting along?".
That one innocent question opened the floodgates and both Michal and I let it rip!
Things were said that could not be taken back. Again, if you watch this video you'll clearly see that I am an innocent victim in all of this and Michael is…I'll just say it…a bully!
Moonscapes at Smith Rock
Being consummate professionals, both Michael and I buried our feelings, plastered on fake smiles, and pretended to tolerate one another's presence in order to film the final section of our Milky Way Made Easy course.
I'll be honest, there were a few moments while we were standing on a 400ft cliff edge that I had some very dark thoughts, but the awe-inspiring scenery had lifted my mood to such a high that I was beginning to have a slight change of heart. The viewpoint from Misery Ridge at Smith Rock is one of the most spectacular sights I have ever witnessed. To have it glow red during a jaw-dropping sunset was like a gift from the gods.
Knowing that this was our last night together, both Michael and I had mellowed somewhat. It also helped that we enjoyed prodigious amounts of chocolate while waiting for the stars to appear over the dramatic pinnacles of Smith Rock.
While we were hoping to film some more Milky Way tutorials over this world-class vista, nothing could have prepared us for the once-in-a-lifetime experience we were about to share.
At first, we were somewhat deflated by the looming presence of a very bright half moon. Michael was our researcher so he really should have predicted this. In fact, if he had, we probably would not have hiked all the way up the ridge during such unbearable heat but…his negligence actually turned out to be the best possible outcome.
Out of nowhere, a thunderstorm crept over the distant mountains and proceeded to blast the scene with stunning bolts of lightning. The clouds caught the moonlight in a magical way and we captured images and course content that were far better than anything we could have planned.
Without a doubt, this was one of the most amazing nights of my life.
I'm pretty sure Michael felt the same way.
You know, come to think of it, there were actually lots of magical moments on that trip. Maybe he's not that bad after all. Maybe I could have been more understanding. Maybe I could have had more patience with his unbearable sniffles, accusations of 'peanuticide', his noisy chewing, and constant whining. It was all probably just a cry for attention.
Maybe it's not too late.
Maybe if I just pay Michael what I owe him for Milky Way Made Easy he'll change his mind and work with me again. Sadly, I already spent his royalties on a Sony A1 camera but the course is ON SALE right now until Sunday the 28th. If I can just sell enough course to recover his share of the money that I squandered on camera gear that I didn't really need, maybe then he'll work with me again?
Maybe.
---
Gavin Hardcastle