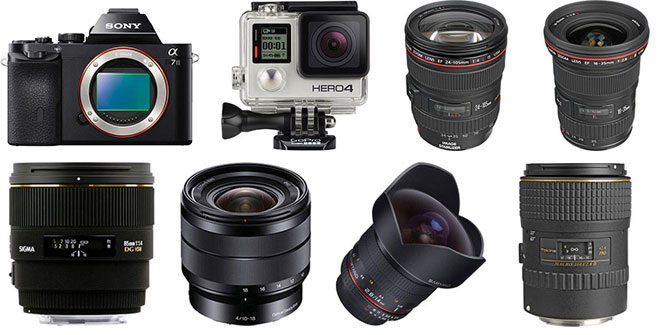 I often get asked about the equipment that I use to make my images and videos. I thought I'd put together a list of items that I use on a regular basis along with a brief summary of what I like about a particular piece of kit. Most of these I've purchased and some of them I rent.
If you're considering purchasing any of these items please use the links provided on this page as I receive a tiny commission which helps me to continue running this site. It won't cost you a penny more to purchase via these links and it might mean I can afford to pay next months bill from Adobe 😉
My BENQ Image Editing Monitor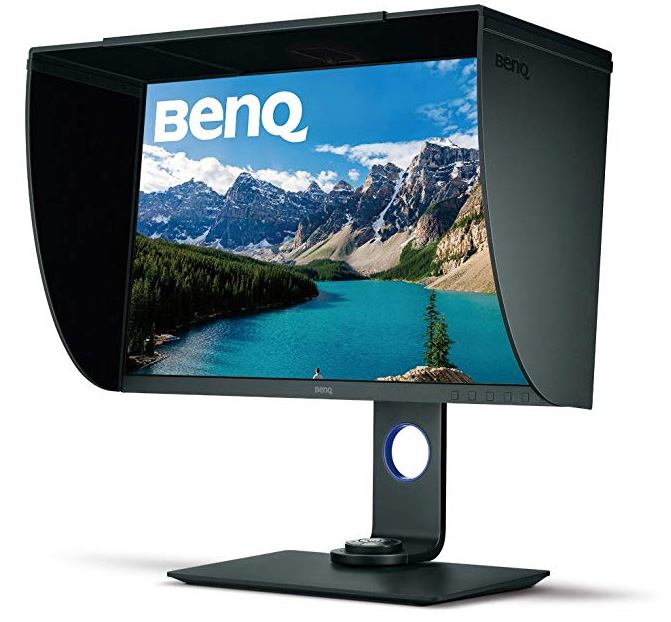 I've been using a BENQ monitor for a little while now and I love the way my images and videos look on this device. Sure, there are more high end monitors available out there but for the price, this UHD Monitor performs brilliantly and feels like a high quality piece of kit.
I edit all of my images and videos on this screen and overall I find it a joy to use. I'll be honest though, I haven't yet felt a need to install the shading hood.
Get your BENQ monitor here.
Landscape Photography Filters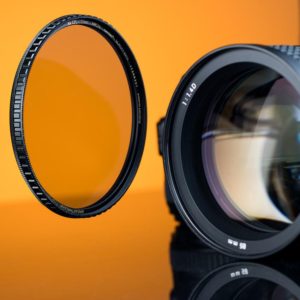 I mostly use filters from Breakthrough Photography Filters. I have a selection of ND filters but my favourite is the Dark CPL filter. This filter is a circular polarizer that has a dark coating that makes it also act as neutral density filter to force longer exposures.
The Dark CPL is ideal because you get both the CPL and the ND in one filter. I use the magnetic holder system so that I can quickly and easily try different filters without having to unscrew each one. I also use the Night Sky Filter for my astrophotography, especially in locations that have a lot of light pollution.
My Camera Bag
The camera bag that I use and love is the PRVK 21 Liter from WANDRD. To be honest there are times I wish I'd got the 31 liter size but that's only when I travel internationally.
What I love most about this bag is that with the 'Photography Bundle', it comes with a removable cube section for all of my camera gear. This is basically a bag within a bag that I can take out of the WANDRD PRVKE and place at the top of my hiking backpack when I'm sleeping on mountains or remote beaches.
The photography bundle also includes extra hip straps for hiking and a rainproof cover. There are dedicated pockets for your passport, car keys and I can even fit my laptop in this bag.
Oh, and it looks cool too.
Sony A7RIII Mirrorless Camera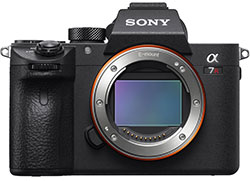 Sony finally got it together and improved the major flaw on their A7 range of cameras – the battery life. They also upgraded the menu system but sadly dropped their Playmemories apps. That means no more built-in timelapse app which while fairly crappy was still better than nothing.
The Sony A7RIII features dual memory card slots and boasts much better low light performance for video recording. Finally, after dragging their heels for years, Sony decided to add a touch screen.
---
Sony A6500 Mirrorless Camera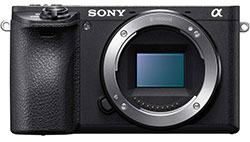 In a way, I love this camera even more than the Sony A7RIII. That's mainly because of the price.
With a 24MP sensor and the right choice of lenses you can produce stunning images with this tiny little camera. It also does a great job of recording video too.
It's so small and 'toy like' that it's easy to believe it's not a serious camera but I've found it to produce gorgeous looking RAW files that rival or exceed the image quality of most high end DSLR cameras.
If you like the idea of great image quality at a small price the Sony A6500 mirrorless camera is the one for you. Read my Sony A6000 review here.
---
GoPro Hero 7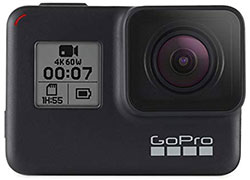 For relatively very little, you can buy this action cam that records crisp 4K video and takes decent stills.
I was so taken with what this tiny little toy could do that I made 95% of the film 'Thaibodia 4K' with just this camera.
I wouldn't use this is my 'A' camera for shooting stills but as an easy to carry addition to my camera bag I've found it has a permanent place in my kit list when I need to shoot quick 4K video at 60fps.
---
Canon 24-105mm f/4.0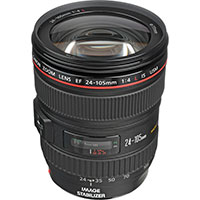 I originally bought the Canon 24-105mm as a kit lens with my Canon 5D MK II way back in 2010 and to be honest it never really impressed me in terms of sharpness.
That quickly changed when I used it on my Sony A7R for the first time and saw the true capabilities of this superb lens.
Now it's my 'go to' lens when I need sharpness and a little more reach than my super wide lenses.
As an all rounder landscape lens, the Canon 24-105mm is worth every penny when used with the right camera.
---
Sony FE 16-35mm F2.8 GM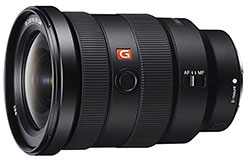 Not only is this a super sharp lens but it's plenty fast enough for astrophotography and delivers great sun stars if you like that kind of thing.
I find that the zoom range of 16-35mm on a full frame camera is the closest thing to what I see with the naked eye so it's really easy to compose the shots that I see in my head.
---
Sigma 85mm f/1.4 EX DG HSM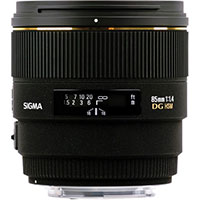 This is my favourite lens for creamy bokeh.
For street, travel and people photography, this is the lens I reach for automatically. The Sigma 85mm f/1.4 is also great for nature shots where you need to isolate a subject like a tree with lovely shallow depth of field.
It's big and heavy but the autofocus works great and the sharpness is superb even wide open.
It's available for Canon and Nikon mounts so I have to use an adapter to make it work on the Sony cameras.
---
Sony 10-18mm f/4.0
I bought the Sony 10-18mm lens because I can attach it to both the Sony A7RIII and the Sony A6500 and get great results.
On the A7RIII you get a ridiculously wide field of view and on the A6500 I get about the same coverage as the Canon 16-35mm on a full frame camera.
When you consider this lens in combination with the A6500, you're getting a whole lot of wide angle image quality for not a lot of money.
I regularly post images shot using the Sony A6500 combined with the Sony 10-18mm lens and people can't believe this is an APS-C lens/cam combo.
---
Samyang/Rokinon 14mm f/2.8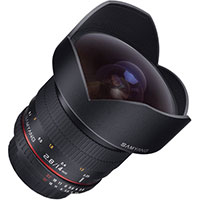 This Samyang/Rokinon 14mm f/2.8 lens is a cult classic for astrophotography and for the sub $300 price tag, you just can't go wrong.
It's also great for daytime landscapes if you stick to f/8.Other apertures are less than ideal for daytime shoots so get used to focus stacking if you want corner to corner focus.
The thing I love most about this lens is that is has a manual aperture ring and that's great for avoiding 'aperture flicker' when shooting timelapse. The Samyang 14mm f/2.8 is available for Sony E-Mount, Canon and Nikon.
---
Benro SystemGo Plus Carbon Fiber Tripod with Monopod Conversion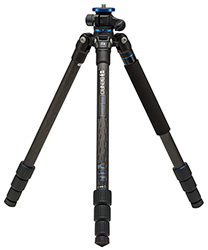 I recently switched from Manfrotto to Benro tripods as I got sick of the Manfrotto products seizing up on me after not a lot of heavy use.
I prefer flappy leg locks over the twisty leg locks but I find these twisty, threaded ones to be better than most. For a carbon fibre tripod, this is one of the sturdier ones I've used.
I love the elbow system that allows me to get really low to the ground but also allows me to get really tall.
---
Arc'teryx Men's Beta Ar Jacket

I do a lot of hiking and shooting in the rain so I need a waterproof jacket that is light and packs down small in my camera bag or back pack.
This one is Goretex and has hood with the ability to tighten it around your face. It fits over my down jacket nicely and the two make the ideal combination for most weather situations. I went for the trademark Fototripper blue 😉
Buy at Amazon
---
Arc'teryx Cerium LT Hoody Men's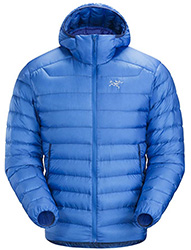 This is my favourite jacket because of the amount of warmth it provides for such a lightweight item. Unless I'm shooting in subzero temperatures this is all I need to keep me warm with it's down insulation.
I wear this under the waterproof shell shown above and I feel pretty invincible. If I know the weather is going to be cooler I'll add a merino wool layer under my clothing.
For extremely cold subzero temps you'd be better served by the Arc'teryx Mens Therme Parka
Buy at Amazon
---
Filters
I only ever use two filter types. Polarizers and neutral density (ND) filters. As long as you're not buying the cheapest Ebay crap you should be fine to use any of the decent name brands.
For polarizers I've used Heliopan, Tiffen and Hoya with great results.
I tend to pay extra for the 'low profile' filters so that if I decide to stack an ND on top of a polarizer I wont see a nasty vignette.
Fell free to ask any questions about my kit list and let me know how these products perform for you.
Cheers
Gavin Hardcastle