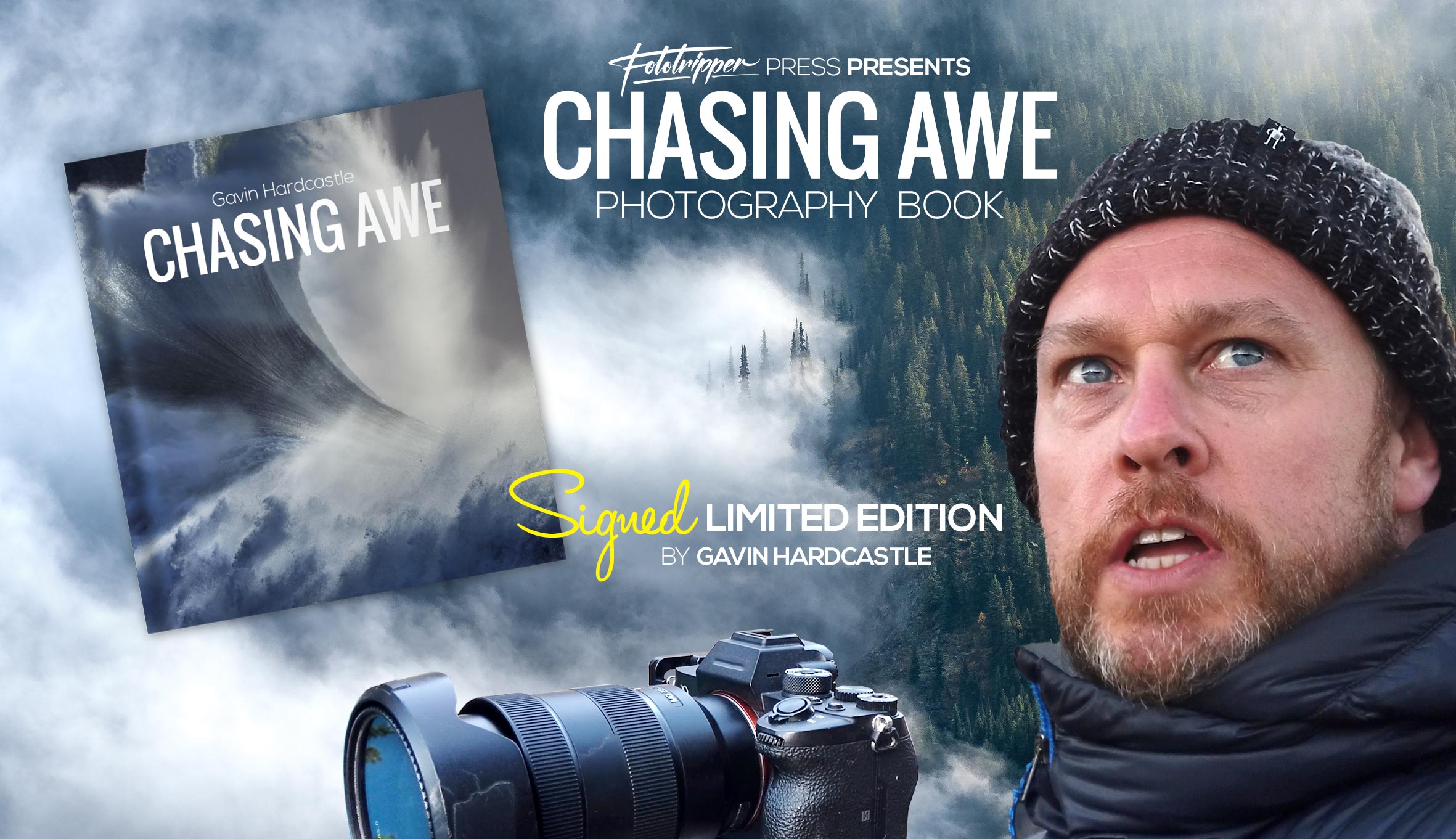 Ever since I began my journey as a landscape photographer, I had a dream that one day I would publish my very own book. I wanted to create a book that would inspire other people to see the beauty in our natural world and perhaps to also chase that same sense of awe that so intoxicates me.
---
Pre-Order

'Chasing Awe'

Signed Copy
---
$69 $59 USD
---
Pre-Orders Are Signed
You'll be happy to know that I will be personally signing your limited edition of 'Chasing Awe with Gavin Hardcastle'. Only pre-orders will be signed, but if you flag me down in the street like a full-blown stalker and present me with your copy of the book I'll be more than happy to sign it for you. I will then run away in terror.
Early Bird Pricing
Pre-ordering also gives you 'Early Bird' pricing as a thank-you for being a visionary. When the book starts to ship I'll be removing early bird pricing and no more books will be signed during shipping.
About The Book 
When I was a beginner, I read a lot of photography books. While many of them had beautiful images, I did feel somewhat disconnected from the authors because many of the accompanying stories lacked both a personal touch and offered no technical insights. With 'Chasing Awe with Gavin Hardcastle', I wanted to break that format and offer you a front-row seat to the experience of being a professional landscape photographer – warts and all.
With 'Chasing Awe with Gavin Hardcastle', I felt it was important to include some technical insights into how some of the images were created. With images that involved some level of technical mastery, I included a short explanation as to how I achieved the final result because I know that people find these insights helpful and educational. You'll also find the anecdotes inspiring and appalling in equal measure.
Book Specifications
120 Page Book

Hardback Foil Stamped Cover

High-Quality Photographic Prints

Size – 10.5″ x 10.5″

Limited Edition Print Run of 2000
The Best Way to Support Fototripper
Purchasing my very first limited edition photography book is the best way to support the Fototripper Youtube channel so that I can continue to provide free content.
Shipping Rates
There are very few downsides to living in Canada. One of those, however, is Canadapost. Shipping rates from Canada are notoriously appalling and so I have adjusted the price of the book to absorb some of this. The shipping prices shown during checkout reflect the best possible shipping rates available at this time. Your limited edition of 'Chasing Awe with Gavin Hardcastle' will be shipped from Canada in late February.
Why USD and not CAD?
Historically, most of my clients are in the US and around the world. Very few come from Canada, so I've set USD as the web sites base currency to accommodate the majority. In my 20+ years of doing e-commerce, USD seems to be the more globally 'recognized' currency for e-commerce. People from different countries are more used to seeing prices in USD than CAD so that's what I went with. One day I'll figure out how to add multi-currency to the site. That being said, you can still choose the 'Paypal' payment option and Paypal should convert the total into your local currency.
---
Pre-Order

'Chasing Awe'

Signed Copy
---
$69 $59 USD