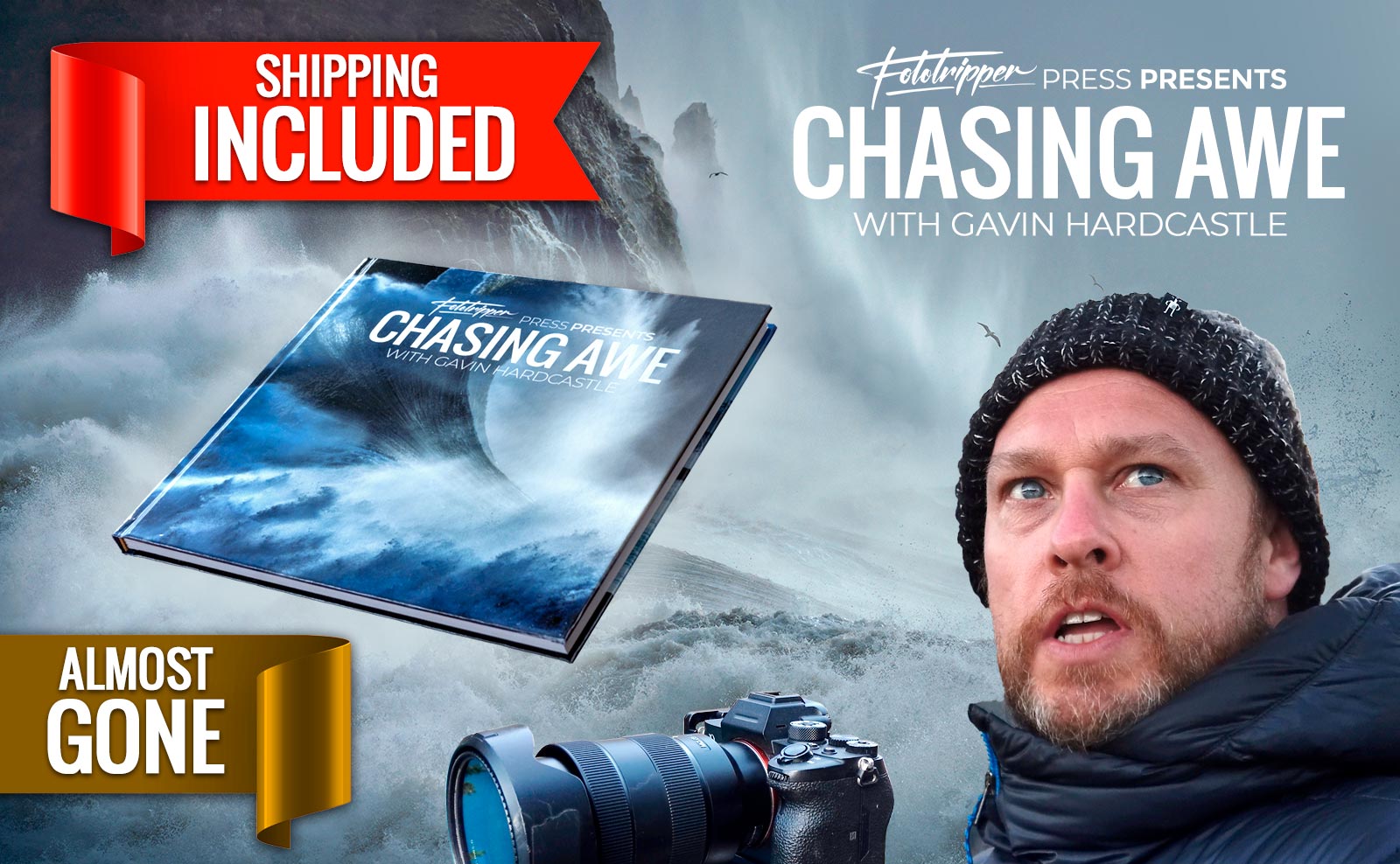 Ever since I began my journey as a landscape photographer, I had a dream that one day I would publish my very own landscape photography book. I wanted to create a book that would inspire other people to see the beauty in our natural world and perhaps to also chase that same sense of awe that so intoxicates me. Well, that's exactly what I did and here it is.
---
Chasing Awe With Gavin Hardcastle
---
$110 USD

(Includes Worldwide Shipping)

---
About The Book 

When I was just starting out in landscape photography, I read a lot of photography books. While many of them had beautiful images, I did feel somewhat disconnected from the authors because many of the accompanying stories lacked both a personal touch and offered no technical insights. With 'Chasing Awe with Gavin Hardcastle', I wanted to break that format and offer you a front-row seat to the experience of being a professional landscape photographer – warts and all.
The life of a landscape photographer isn't always filled with rainbows and unicorns, in fact, the reality is a lot less glamourous. This book takes you into the deep and murky waters of a challenging and often dangerous obsession with the more extreme moments that mother nature has to offer.
---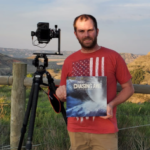 Testimonial: "I take your book with me so I remember how to chase awe-some pictures, and if by chance I bump into you! This was near the North Dakota badlands just waiting for the sunset." – David Abernathey
---
More Than Just Stories and Photographs
With 'Chasing Awe with Gavin Hardcastle', I felt it was important to include some technical insights into how the images were created. With images that involved some level of technical mastery, I included a short explanation as to how I achieved the final result because I know that people find these insights helpful and educational. You'll also find the anecdotes inspiring and appalling in equal measure.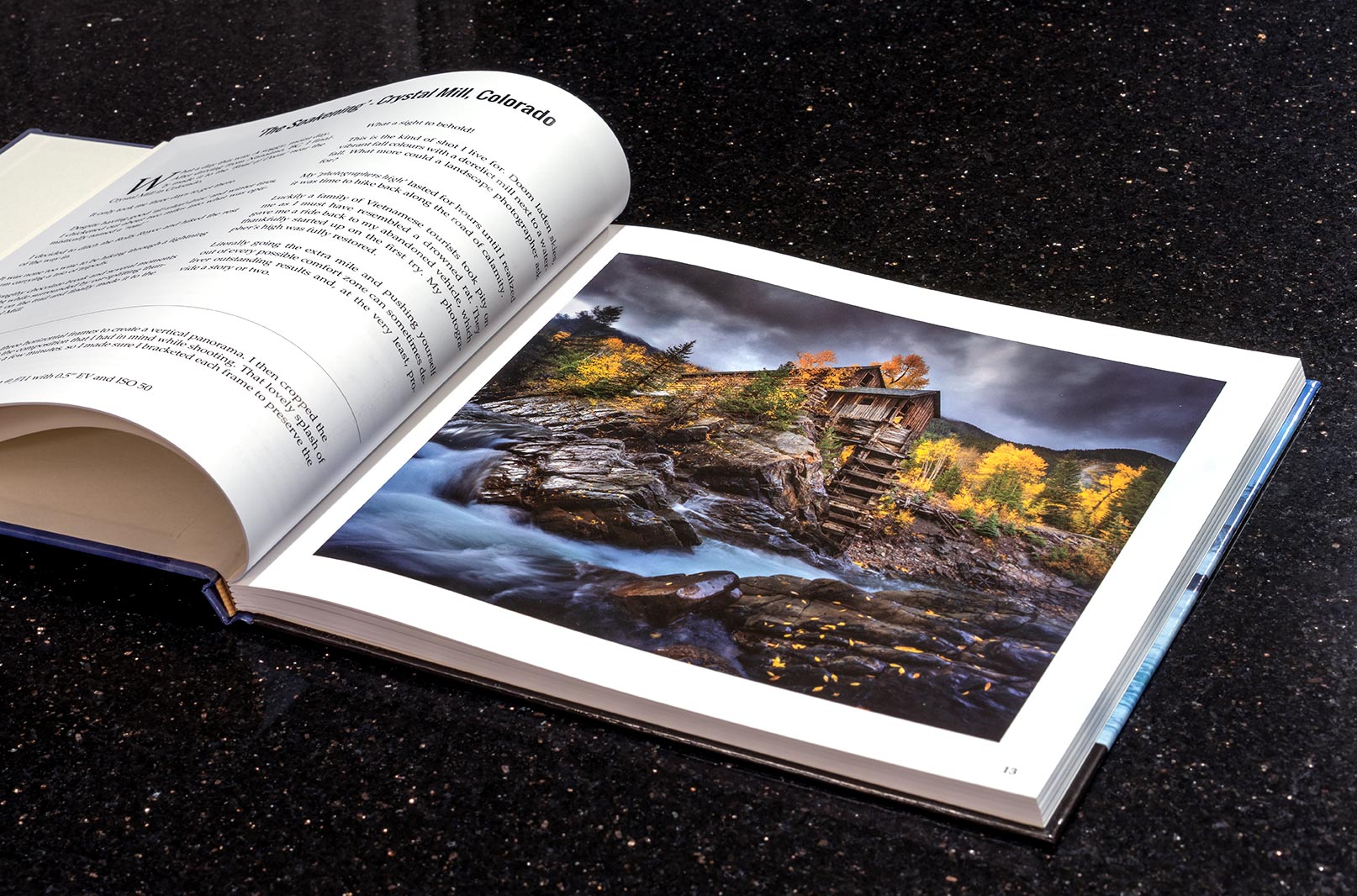 Book Specifications
120 Page Book

Hardback Foil Stamped Cover

High-Quality Photographic Prints

Size – 10.5″ x 10.5″

Limited Edition Print Run of 2000
Almost half of these 2000 books have already been pre-ordered and when the final book is sold 'Chasing Awe With Gavin Hardcastle' will be gone forever. This is a limited edition book so no more books will ever be printed.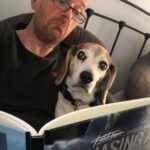 ---
Testimonial: "Gavin! When I wrote to you the other week to thank you for the book, I was toying with the idea of sending a photo of Brian Beagle and me reading it. However, I thought better of it in case you thought I was effing mental. Seems I should have known better if other Fototrippers have been sending selfies! So here you go!" Pete Hobley
---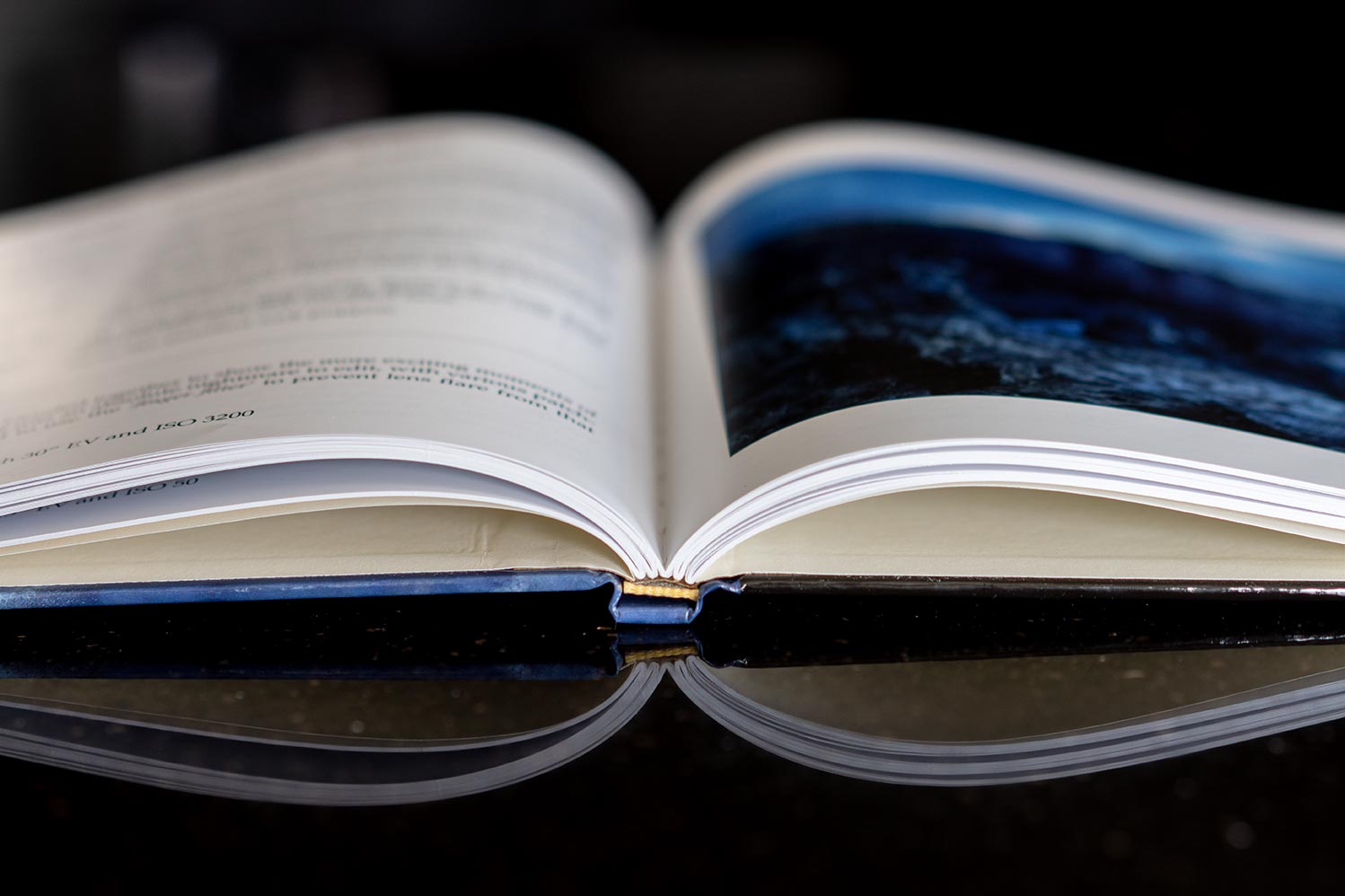 The Best Way to Support Fototripper
Purchasing my very first limited edition photography book is the best way to support the Fototripper Youtube channel so that I can continue to provide you with inspiring free content.
---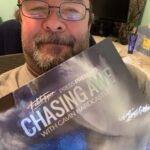 Testimonial: "Awe…… has landed in my loving arms. Thanks, Gavin and Amanda!!"
John Harvey
---
Shipping Included In The Price
I figured that the best way to make people feel good about the outrageous cost of shipping from here in BC, Canada was to simply absorb the cost of postage and packaging in the price of the book. The price you see includes worldwide shipping to anywhere regardless of where you live. If you live outside of Canada, your country may impose duties when purchasing products from other countries. This is the responsibility of the buyer, not the exporter. Luckily these duties (if any) should be negligible.
Shipping Status
All orders have been shipped out. Here are the estimated shipping times from the date your book was sent:
Canada – 3 to 10 days
USA – 3 to 10 Days
Rest of The World – 4 to 19 weeks (Sooner in many cases)
---
Testimonial:
"
Hi Gavin, Just received your more-wonderful-than-I-had-imagined book today, and can't put it down. The way you combine these incredible images with your commentary and highly pragmatic tech notes is brilliant. I must add that since I have enjoyed so many of your videos, reading this book has been like having a conversation with a good friend – which is just lovely. Thanks for this book and for the many YouTube hours of fun – and awe.
" Bob Volin, Yonkers, NY
---
Why USD and not CAD?
Historically, most of my clients are in the US and around the world. Very few come from Canada, so I've set USD as the web sites base currency to accommodate the majority. In my 20+ years of doing e-commerce, USD seems to be the more globally 'recognized' currency for e-commerce. People from different countries are more used to seeing prices in USD than CAD so that's what I went with. One day I'll figure out how to add multi-currency to the site. That being said, you can still choose the 'Paypal' payment option and Paypal should convert the total into your local currency.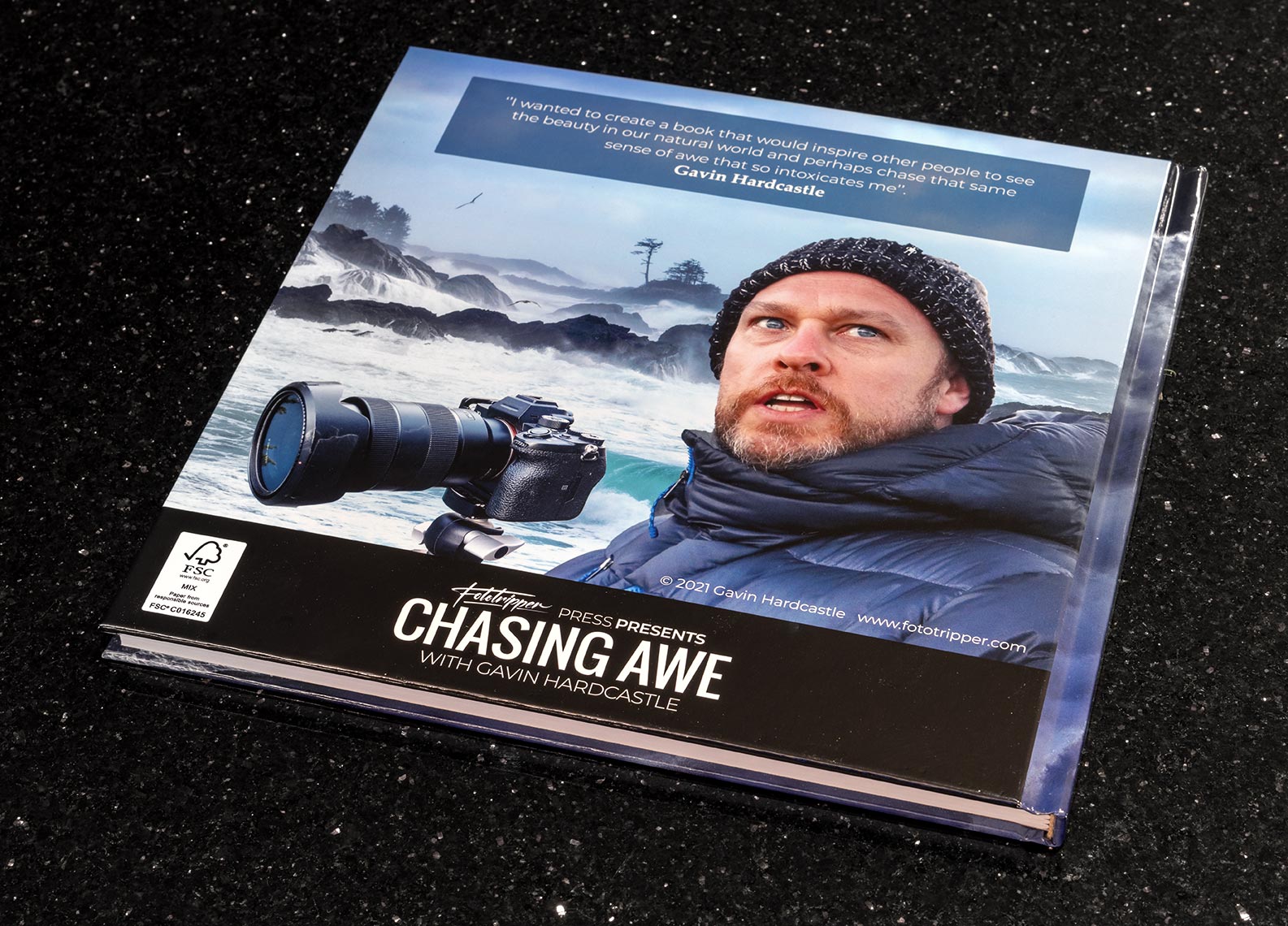 Camera Club Book Readings Available
If you have a camera club or photographic society and you'd like to offer your members a presentation that won't put them to sleep, consider booking me for your very own private reading of 'Chasing Awe With Gavin Hardcastle'. This is an interactive virtual experience where your members can ask questions after each page that I read, even outrageous ones. You can contact me here.
---
Chasing Awe With Gavin Hardcastle
---
$110 USD

(Includes Worldwide Shipping)

---
Testimonial: "Hey Gavin, just a brief note to let you know Chasing Awe was received just half an hour ago, after a long 7-week -no doubt boring and uncomfortable- journey.
Of course, I had to leaf thru the book first and I have to say it look marvelous. Well done! I'll have to take my time to read the stories and maybe go back thru your Youtube video catalog for the corresponding videos. It'll be a wonderful experience I know for sure! Thanks for the effort to create a volume of your work with interesting stories to boot. And a good idea to add the relevant information of your settings with each photo. Now that the European Championship in soccer is about to start, I will have some good reading and viewing material to help me thru the -no doubt- boring soccer matches 🙂 Oh, and thanks to Amanda for taking my package to the post office. Much appreciated!" Majestic Mario from the Netherlands
---
Testimonial: "I love it! Thanks for all the effort that went into the craft, promotion, and navigating the logistics of getting it out the door and into our hands! So many bangers in this collection." Stephen Whitaker
---
Testimonial: "Hi Gavin, Hope that you are doing OK, and I'd like to say a huge thank-you on two counts.
Firstly, I received my long-awaited copy of your book at the end of last week, and it was more than worth the wait. It's a stunning, classy and beautifully produced book, and you've every reason to be over the moon with it. If this was my first self-published book, I'd be absolutely chuffed to bits with it too! The images are, without exception, absolutely tresmendous, with fantastique lighting, and lots of reflecziones par excellence! Seriously though, Gavin, a magnificent achievement. Although I haven't had any dealings with the intricacies of publishing, I know from talking to those who have, that these things don't just happen by magic, there are untold amounts of time and hard work, blood, sweat and tears involved. Your descriptions of each image, anecdotes and technical details give the book an extremely personal feel, and I think that these are the little things that set it apart from other publications. So, I'm more than delighted too!
Secondly, I'd just like to say thank you, as a subscriber to your YouTube channel, for helping to keep me sane, inspired and laughing during the last crazy 15 months or so, which has been an awful time for people the world over. All that I'd ask of you, as one native northerner to another (I was born a Lancashire lad, but with a smattering of Yorkshire lineage as my paternal grandad hailed from Scarborough) is, don't ever lose your West Yorkshire accent – in this case, I'm all for the saying 'if you've got it, flaunt it!' and I'm sure that it will keep our Canadian friends intrigued!
Many thanks again for all your hard work, Gavin, and also to Amanda for blessing each copy of the book with her weird energy crystals, unicorn hiccups and other strange stuff, I'm sure that it works its magic!
With all best wishes and kind regards," Brian Newton (Blackburn, Lancashire, UK).
---
Testimonial: "Hi Gavin, I got your book today, I have only had a chance to glance at a few pages, but as I spent 42 years in prepress, it is well designed and printed. What I am most impressed with is the packaging. This is the best packaging of a book I have received in years. I love your videos, your sense of humor and you are a very lucky man to have a partner like Amanda with a sense of humor like yours. All the BEST to both of you." Bill Ederle
---
Testimonial: "I got mine in the mail yesterday. I'm so happy with it. I could feel that it was enchanted with Amanda's energy crystals. I even woke up extra early today to start reading your book. Even though I had a face like sun-dried tomatoes soaked in extra virgin olive oil. Thanks for the book Gavin" Jani Eigil Marthinsen
---
Testimonial: "Gavin, As I was reading your book I had planned on dropping you a line about it. How I was going to try and channel my inner Gavin voice to try and make it funny, then I realized it might come off like Uncle Grumpy (I'm a fan) or worse.
Simply put, I loved the book. Loved the stories with the pictures etc. Maybe a touch more technical notes for us geeks or a small shot on the opposite page of the rest of the area for reference and would show off your composition expertise. Lots of great picks and now I have places I want to see (yes Cape Disappointment is one of them 🙂 Told you it was jealousy ). I have a few favorites. My favorite by far, is Mystic Milky Way. It has inspired me to try and get a similar shot someday with my wife. Something about the Milky Way, with the light painting and the Silhouette of Amanda. So calming, so serene, simple, yet magic pure magic! I can just imagine myself being there a peace, one with the universe. That is the type of photo I strive to get someday. Well done and all the best, Jeff Basch."
---
Testimonial: "I was stoked to receive mine yesterday. Amazing job on the book, the whole thing is very well put together and the stories enjoyable. I particularly enjoyed the surprise of a my little pony sticker inside which then made me check the full thing for pop-rock debris, but it seems clean." Amy Peer
---
Testimonial: "I just received my copy and I love it! Seeing all those spectacular photos brings up memories from endless hours of yt videos. Having watched you getting the shots almost feels like I've been there with you as well. I wish I could at some point in time book a phototrip with you and of course Amanda 😉. Have a great day, keep up the good work! I love you guys! Best wishes from far far away 😁." Stephan Stremlau
---
Testimonial: "Hey Gavin, today my belated birthday present from my wife arrived from Canada. I couldn't trust my eyes as I saw that it was sent from fototripper!
This is one of the best birthday presents I ever got! My daughter loved the sticker, my son loved the air-filled package bubbles, my wife was glad she had such a great idea and I am glad about the famous and tremendously brilliant piece of photogazms! I am even more amazed by the signing! Even you probably can't read and reply (I really don't expect it and you should save your time for more important things in life) every mail you get, I really want to thank you for sharing your inspiring work! Thank you for the diverse creativity which is unique: making me laugh to tears, giving serious and unserious inspiration, showing even failures, and creating a book which is a pure joy. The effort, as well as the passion of your work, is considerable! Happy greetings from Germany." Noah Thieben
---
Testimonial: "Dear Mr. Fototripper, I'm just back from taking a well-earned holiday in Florida (from retirement – it's exhausting) and picked up your book from Fedex on the way home. It's not as naff as I thought it was going to be. Actually, it's really good. The notes which accompany the photos add even more color to them as if Photoshop didn't add enough (I know you don't do this). I've just managed to retrieve the book from my wife who's now read more than I have, and she's not a photographer. It really must be good. Anyway, given your delicate inscription in it (thanks!), and as I promised, I won't have to fly up to BC at some point and plop on your doorstep. If there's one there, it's not mine. Thanks again – I love the book." Paul Littlewood
---
Testimonial: "Hi Gavin and Amanda, Just got my book!! I can't even breathe!! IT'S GORGEOUS!! The Giants Causeway is on my bucket list, so thrilled it made the book. Is there a video for when this was shot? I think I missed it if there is! So worth the wait and a bright spot to an otherwise not-so-great month! Thanks for working so hard to get it out to us, it's "photogasmic"!!" Donna Pezzulli