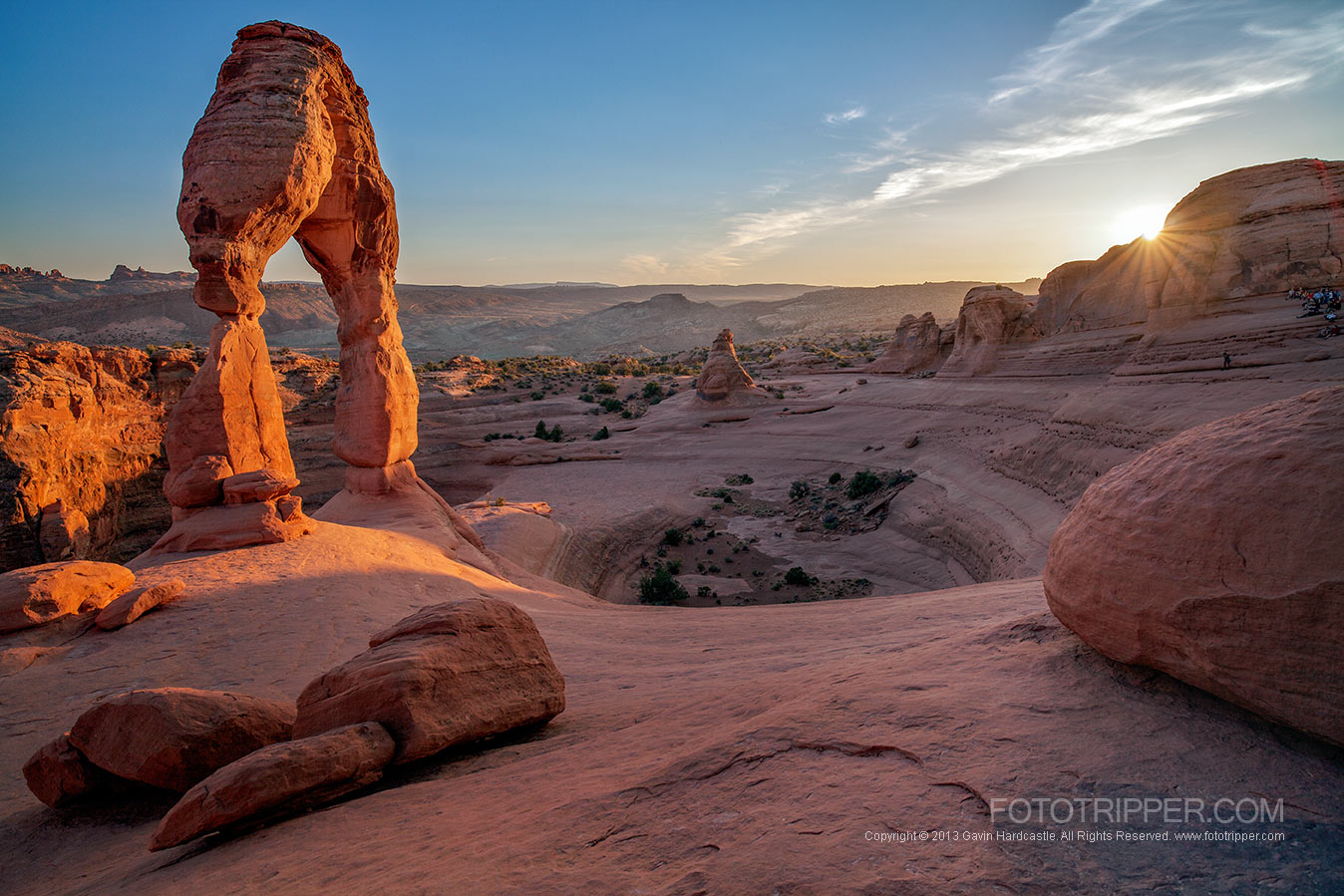 Delicate Arch is one of the most iconic natural sandstone arches in Utah and although it's been photographed a million times it's totally worth the drive and the 50 minute hike out to the plateau.
I'd almost decided to pass on Delicate Arch because I struggle with crowds and thought I'd try and photograph some of the less famous areas of Arches National Park. I'm glad I changed my mind. Here are my Delicate Arch photo tips to ensure you get great results on your visit to this landscape photography icon.
Getting There by Car
The car park for Delicate Arch is about a 30 minute drive from Moab, 20 minutes of that is inside Arches National Park. Leave Moab on Main St North which becomes the 191 North and after you've passed the turn for Castle Valley take the next right just a few miles up the road for Arches. It's well sign posted so if you miss it your driving too fast.
The entry fee is a mere $10 per vehicle, per week. How's that for an absolute bargain. The staff on the gate are friendly and the visitor centre is top notch.
The Hike
The hike from the car park is mostly uphill and takes just under an hour if you are reasonably fit. Delicate Arch is at an altitude of 4,800′ so if you're used to sea level like myself you may feel the altitude takes some getting used to.
The trail is sand and rock terrain and pretty easy to follow. There'll usually be plenty of other people ascending and descending so it's unlikely you'll get lost.
When you get near the plateau where Delicate Arch sits be sure to look around the area for some stunning scenery. There's so much to see you won't know where to start.
Shooting Tips
I'll tell you right now to expect a crowd. I was there in early May and the crowd wasn't as large as you'll see in the summer but still it's a waiting game while you patiently wait for families to have their picture taken under the arch itself. If you plan for this you'll find it easier to deal with when waiting for your shot.
Walk around and look for a composition that isn't obvious. The first thing I noticed when I arrived at Delicate Arch was that 95% of the people there were all camped out at the opposite side of the basin to the arch. This would give them the classic postcard shot you've seen 'ad nauseam' but you want to be more original right?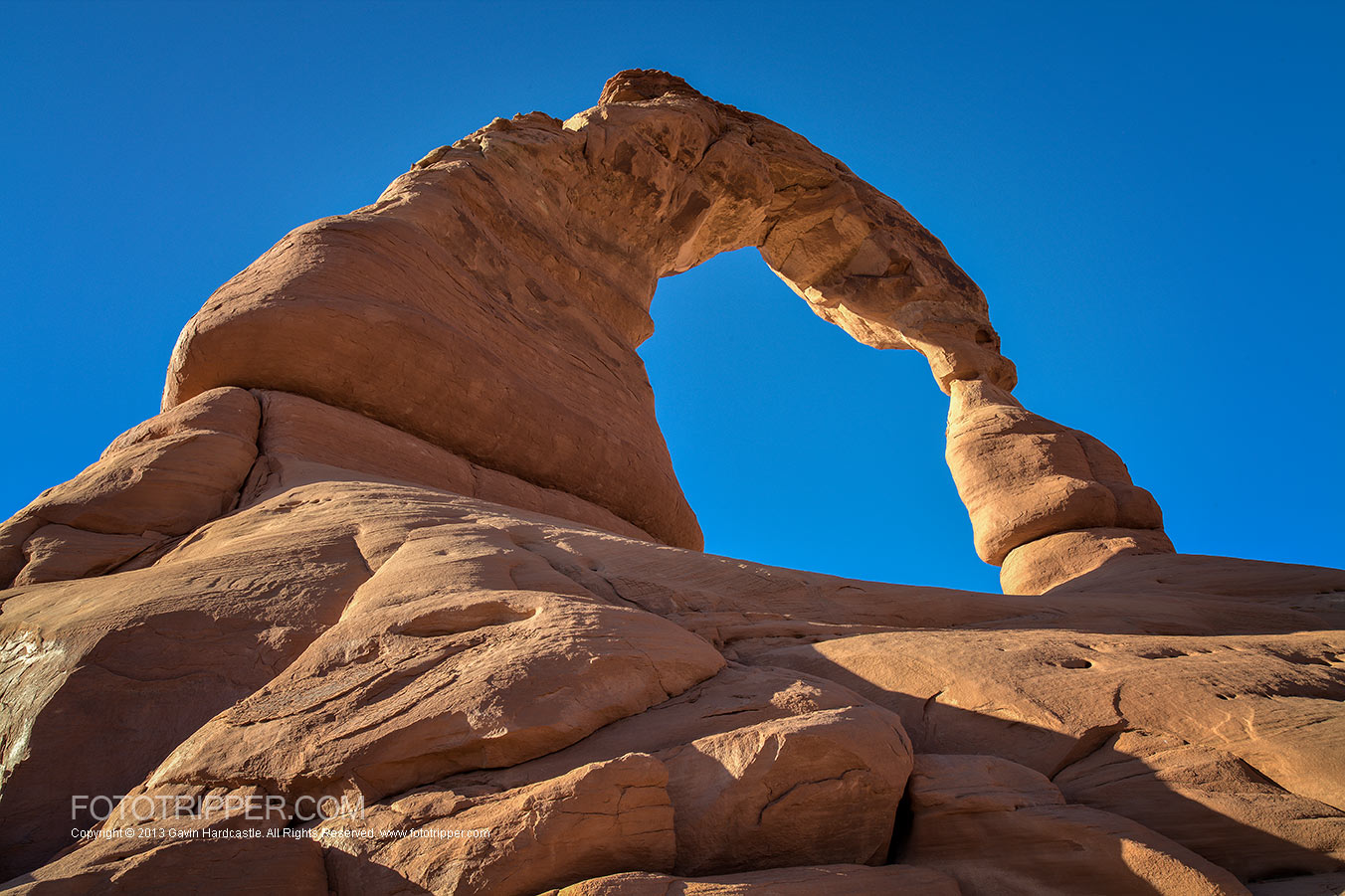 Get down into the basin and shoot up to the arch.
Climb down the cliff directly under the arch (at your peril) to shoot the arch from the opposite side.
Straddle the domes to the left of the arch and shoot towards the bowl and crowd of arch worshipers.
Hike over to the valley at the bottom of the bowl and get some new angles from the East facing side.
Use a wide angle lens to capture the arch and the surround area for a big field of view.
Use a long lens if you want to fill your frame mostly with the arch, you'll still get some of the background mesa and mountains but a long zoom will allow you much more compositional freedom.
I'm not saying you shouldn't get the cliche shot of the arch as it frames the La Sal mountain range in the distance, by all means go for it, but you've come a long way so why not experiment with some lesser known angles, play with the light you get on the day and aim for something a little different.
Stick around after Sundown.
We all know that the setting sunlight directly on the arch looks awesome but stick around after the sun has gone down to capture that beautiful 'salmon' coloured light that you only seem to get in Utah. The clouds may light up and paint the ground beneath them in rich yet subtle colours and you'll discover that most people vanish as soon as the sun goes down.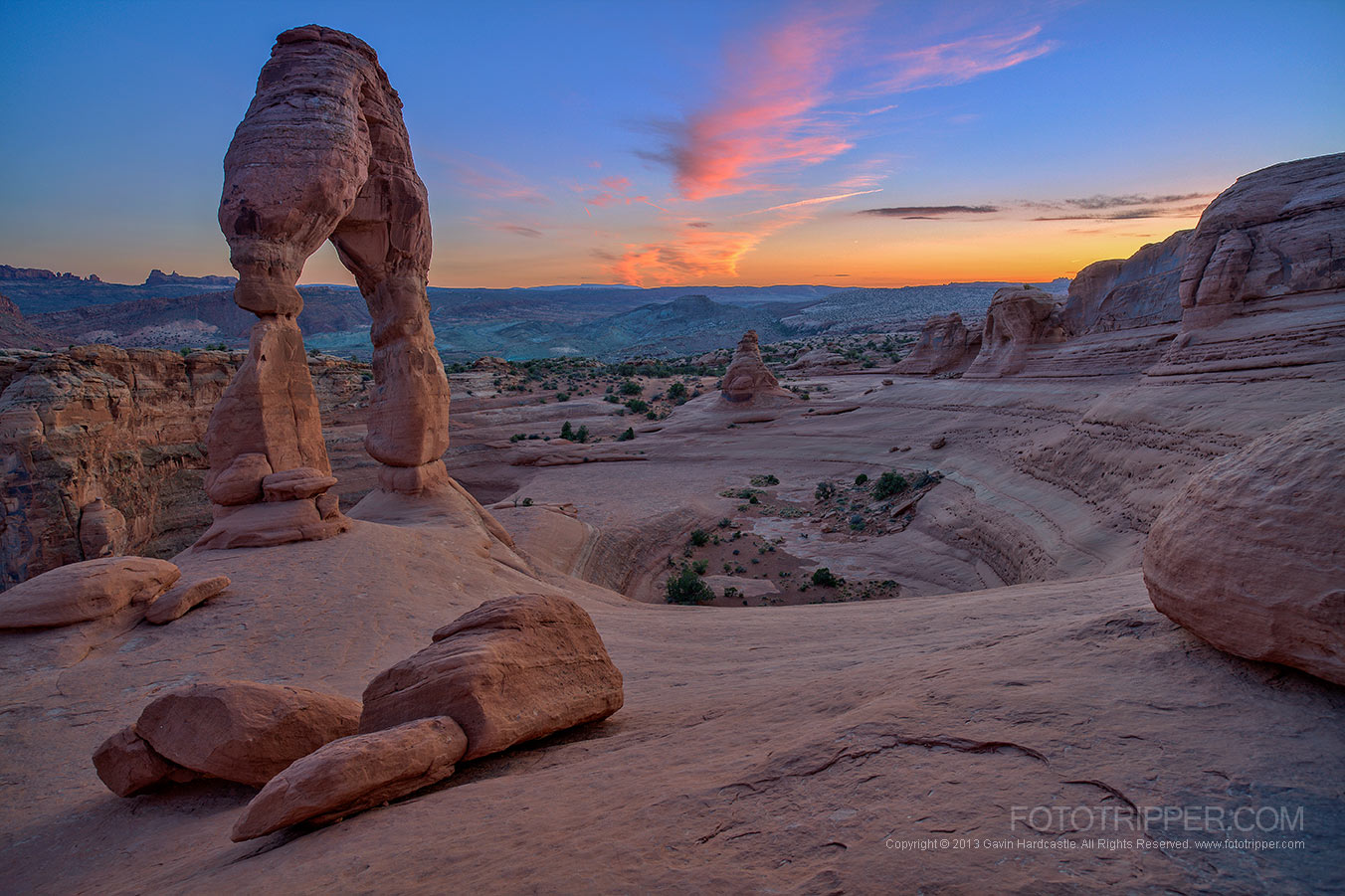 If you're a fan of astrophotography (photographing the stars and milky way) what better foreground could you get than Delicate Arch? I've seen some amazing photos of a 'light painted' Delicate Arch placed under the milky way and I'll be dedicating a lot of time to capturing that type of shot the next time I'm there. Give a try.
Go in All kinds of Weather
You don't absolutely have to get perfect weather for interesting shots of Delicate Arch, in fact some of my favourite images of the arch feature moody looking clouds or stormy conditions. If a thunder storm is expected get out there and prepare for some amazing light. If you're lucky enough to get access to the arch while there is snow you'll get some amazingly atmospheric shots. The bottom line is, just go whatever the weather.
Sunrise VS Sunset
The most common shots you'll see of Delicate Arch were taken at sunset but you can get some pretty awesome shots of the other side of the arch from across the valley if you have a long lens. There is a second car park further down the road from the main car park which gives you a view from the opposite side of the arch which will catch the early morning sunlight. There are also smaller crowds at this time of day.
Do a Panorama
A vista like this was made for panoramic images. Carefully swivel your tripods ball head to capture overlapped exposures and then stitch them together in Photoshop to create a huge panorama. You'll be glad you did, especially if you have a crop sensor and smaller lens that perhaps can't fit everything in the frame.
Recommended Equipment
Polarizer – For control of blown out clouds and colour saturation
Tripod – It's the law
Wide Angle Lens
Zoom lens if you want the arch to fill your frame
Bring a lens above 50mm if you want to do panoramas
Headlamp if you plan on arriving long before sunrise or after sunset (this was essential for our walk back down the trail in the dark).
Rain cover in spring and winter
Bring plenty of drinking water in the summer, that heat is no joke.
While You're There
Moab is like Mecca for photographers. Legends include 'Courthouse Towers', 'Mesa Arch', 'Island in the Sky' and 'Dead Horse Point' to name but a few. If you live to be 1000 you still won't have enough time to explore a fraction of what Moab has to offer, and then there's the rest of Utah.
Accommodation
There's plenty of choice for accommodation to suite all budgets. A quick search online will tell you all you need to know. We'd give Days Inn a miss and spend a little more next time, or camp.
Camping
Each Park has a few camp sites but I expect they fill up quickly during peak season as they were pretty full while we were there in May. Book ahead to avoid disappointment.
Dining
In Moab we had the best ever fish tacos at Cabo Grill towards the South side of Main St. I expect it was because of the bass from Lake Powell. The Sing Ha Thai was OK and the salads at Eddie McStiffs were great value. There are some great local beers but beware of the high alcohol content.
Please share this article and post a comment below
If you have any photography tips to add to this article please leave a comment below. Tweet this article to your friends and give us the old thumbs up for Facebook.