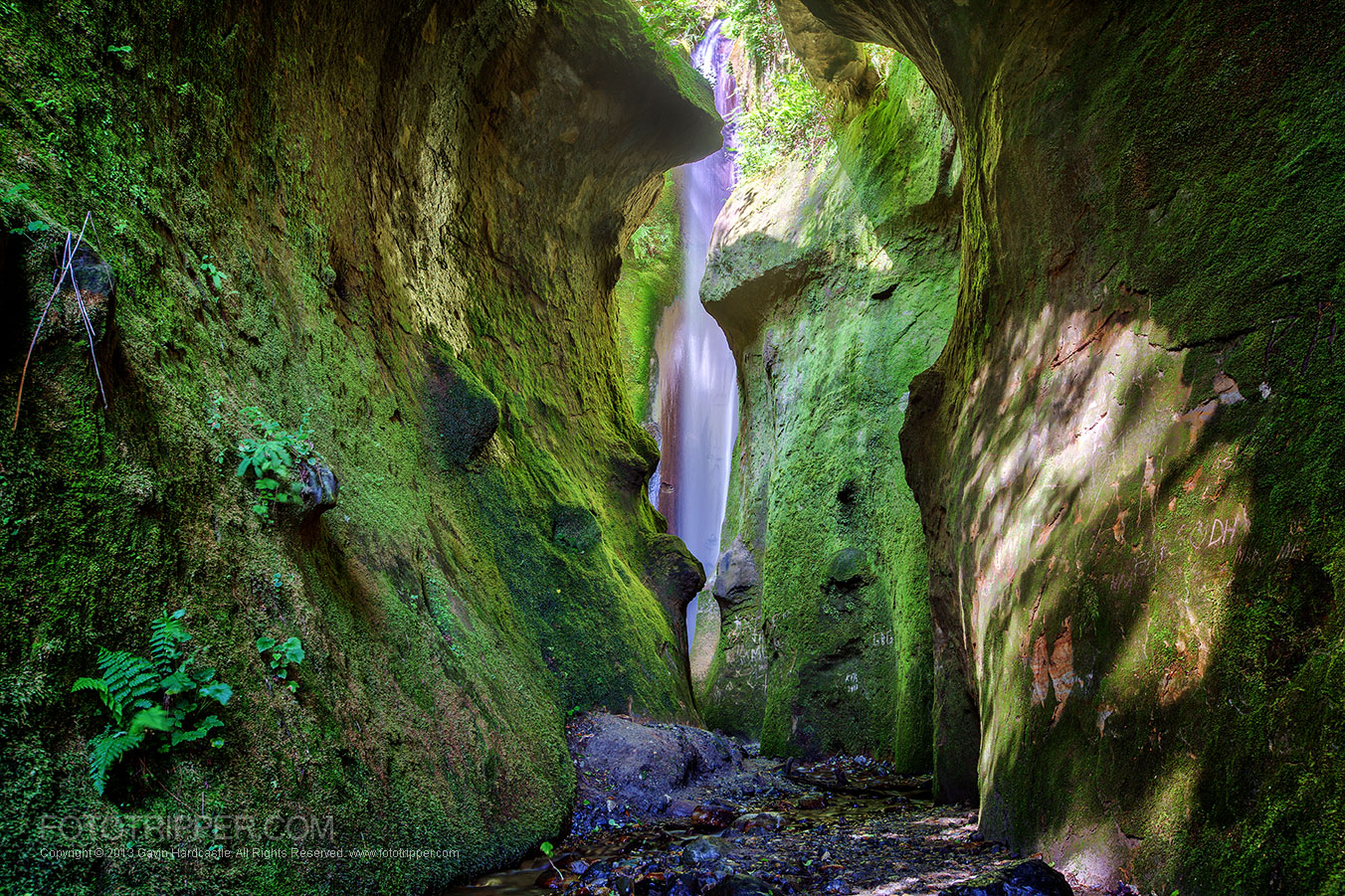 Between Port Renfrew and Sooke you'll find Sombrio Beach where a hidden waterfall cascades into an emerald green canyon just steps away from the beach. If you didn't know to look for it you'd never expect to find such beauty in this secret place. Here are my Sombrio Beach Photo Tips.
Located about half an hour South of Port Renfrew on the lower West coast of Vancouver Island, Sombrio beach is relatively easy to access by car and offers excellent photo opportunities and a great place to take the family for a day out, picnic or camping.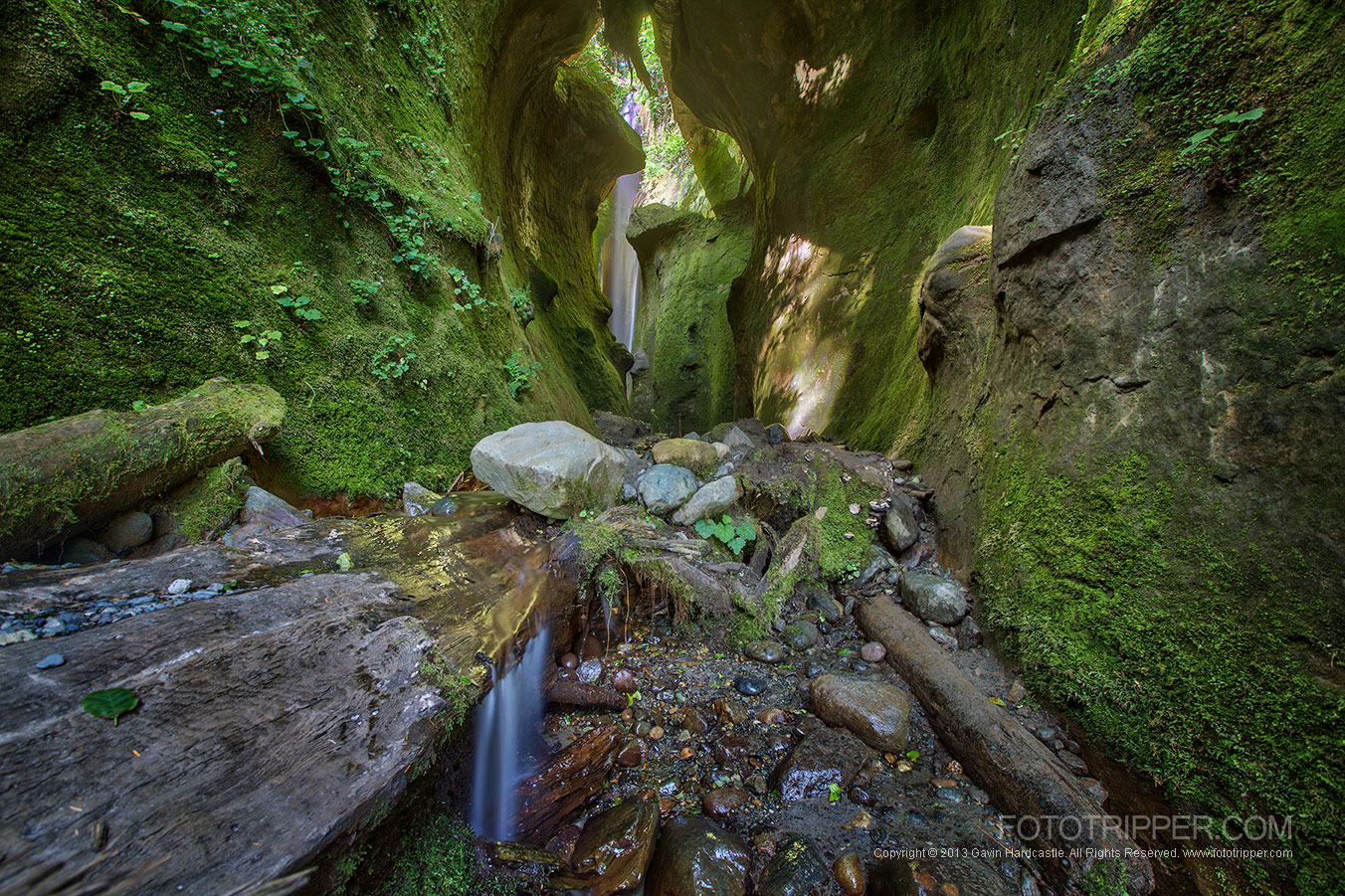 Getting There
From Nanaimo
You're looking at a 3 hour and 20 minute drive from Nanaimo and about 2.5 hrs from Victoria. If driving from Nanaimo I recommend taking the Island Highway South until you reach the exit for Lake Cowichan on to Cypress Street  (18). Continue until you get to the small town of Lake Cowichan and the road turns into S Shore Rd. Follow this out of town, pass the smaller village of Mesachie Lake and look for a left turn to Port Renfrew which will be sign posted.
Stay on this road which is basically a long mountain pass until you see a sign for Deering Road, take that left and continue across the bridge until you hit W Coast Road and turn left to continue South East to Sombrio Beach. From here it's about a 25 minute drive. The sign for Sombrio Beach is 400 m before the right turn down to the beach ans there is no sign at the turn for some bizarre reason.
From Victoria
Follow the Trans Canada highway North then take the Sooke Rd 1A highway to Sooke which turns into the W Coast Road North. On your way North you'll drive over 'Loss Creek' and then 'Jack Elliot Creek' just before you see the sign for Sombrio Beach which is 400m before the left turn down to the beach.
The Trail
From the car park the trail takes about 5 minutes to hike down to a fork. Take the left fork for Sombrio Beach and you'll soon be on the river rock beach. To reach the hidden waterfall turn left on the beach and head South for about 20 minutes. The first and only creek that you come across will be running into the Pacific ocean and this is where you want to stop and explore. Just a few metres up the creek you'll soon find the emerald canyon and the hidden waterfall in all it's green glory.[ml-adverts location=in-content]
Recommended Equipment
Rain Cover – The weather is treacherous and the falls gives off a lot of spray.
Tripod for bracketing your shots due to high dynamic range.
Polarizer – For control of reflections, glare and colour saturation.
Wide Angle Lens and Zoom Lens. The zoom will get you out of the spray.
Warm Clothes – It never gets HOT near Sooke.
Top Tips
If you get there and it's foggy, stick around. The fog can create stunning atmospherics, especially if the sun gets the chance to break through just a little.
If your camera is not weather sealed bring a rain cover because the little slot canyon really traps the airborne water particles and your camera will get wet.
Walk along the trail at the side of the creek and get above the falls to get a shot down into the emerald canyon.
Take multiple exposures and bracket your shots for exposure blending. This little canyon has a lot of contrast so you'll probably be doing a touch of HDR or manual blending in Photoshop to balance out the dynamic range.
Accommodation
Sooke has plenty of options for lodging and there's something for all tastes and budgets. There a quite a lot of high end places if you like to spend the big bucks.
Camping
You can actually camp right on the beach at Sombrio beach. There are areas with dirt floors next to the river rock on the beach and a few wooden platforms. There are lots of fallen trees for kindling and a toilet provided at the beginning and end of the trail.
Wildlife
Be aware that you are sharing the environment with predators. Use common sense and don't create a situation that would put yourself or an animals life in danger. It's normal to cross paths with bears on the West coast so give them plenty of space and avoid creating a temptation for them. If you're carrying a whole smoked salmon in your backpack don't be surprised if a bear starts eyeing you up.[ml-adverts location=in-content]
While You're There
Walk a little further South down the beach and you'll be rewarded with the stunning site of a waterfall running directly into the ocean over a little cliff. There are also caves and interesting rock formations littered along the beach so take some time to explore and make the most of your time there.