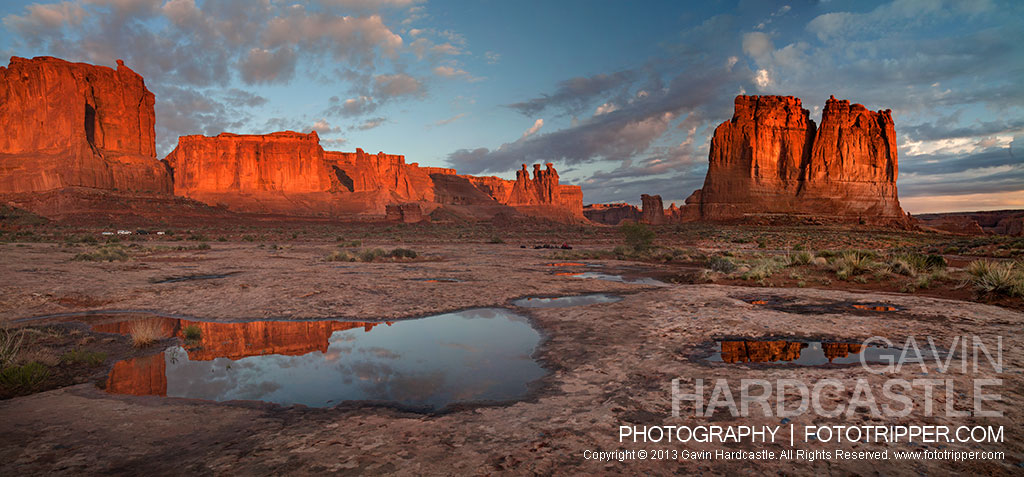 How would you like your mind to be completely blown? Fancy getting so overwhelmed with world class scenery that you can't quite believe your eyes? That's how I felt when I first clapped eyes on Arches National Park.
Courthouse Towers is but a tiny part of 'Arches' but let me walk you through it with these Arches National Park Photo Tips.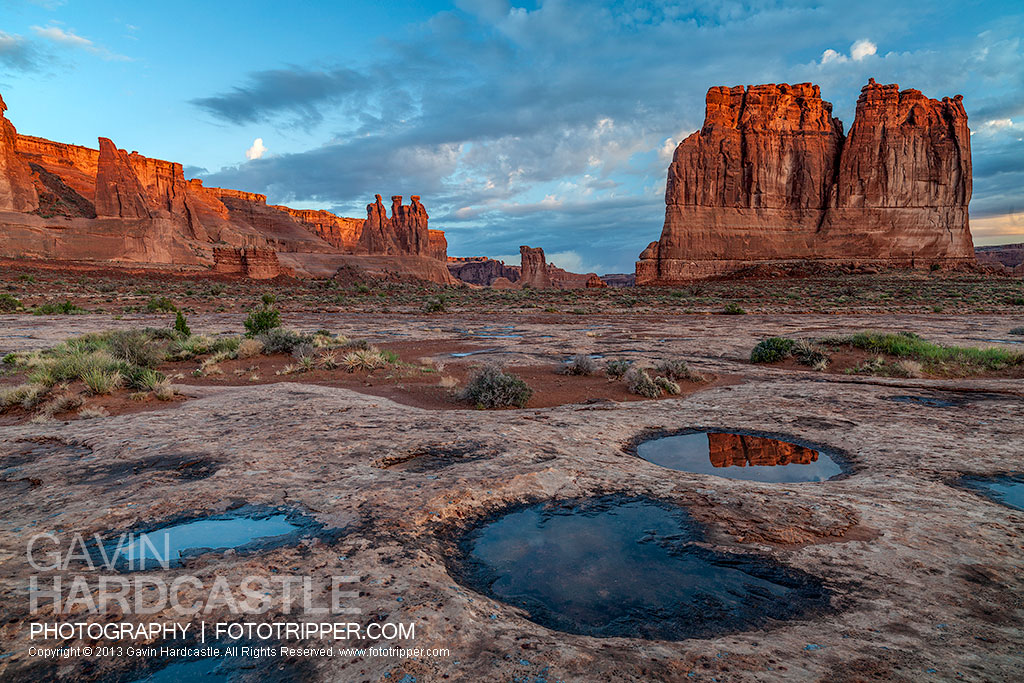 Where to Go
When entering the park, Courthouse Towers is one of the first places you'll see, right after 'Park Avenue'. Mine was the only car in the car park which fed my suspicion that there were so many other amazing places to be that perhaps I ought to move on.
I continued driving through the valley towards the Courthouse Wash, checking my rear view for compositional ideas while trying not to plow my car into the minor oncoming traffic. Needless to say I witnessed so much photography gold surrounding me that I was suffering 'Photographers Remorse'. That feeling you get when there's a chance you made a bad choice by not stopping three miles ago.
So I made a bad choice by not staying put, but I resolved to make up for it on the next sunrise. Courthouse Towers had just moved up to the top of my list. Let's see what tomorrow brings.
Then it rained.
When it rains, keep shooting
The following two days of rain did not dampen my spirits (lame pun intended). We'd packed our $6 rain covers or 'camera condoms' as I like to call them and we were keen to test them out. Two good things came of this, firstly we scouted out some great places to find puddle reflections in Courthouse Towers and secondly I got this great shot of a rusty old relic in Castle Valley. Thanks goes out to the truck owner.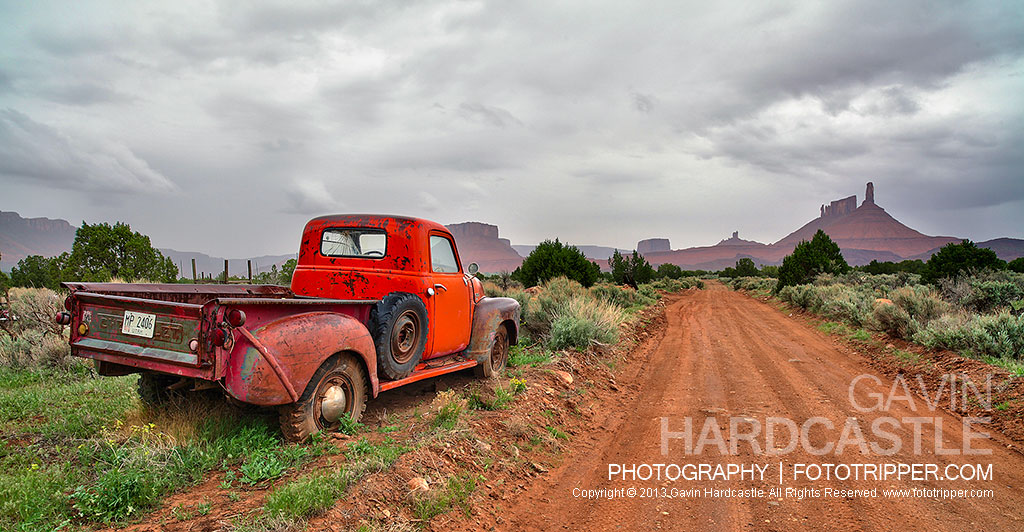 The next day..
Let there be Clouds
Courthouse Towers and Park Avenue feature these epic, towering fins of sandstone that look precariously fragile from certain angles. In the early morning light the clouds create interesting patterns on the fins where dappled sun light lands but, beware……
Top Tip – Changing Light, Work Fast
You'll need to work fast. These images were taken within a 20 minute window with rapid changes in light colour and quality. If you like to blend multiple exposures you'll learn that the patterned light on the fins will cause you problems in post processing, so if possible try and capture your image in one shot.
With that in mind set your exposure for the most important lighting factor. If you think the sky highlights will get blown out, expose darker and aim to brighten the shadows back later in Photoshop. You could use a grad filter but I think it's more trouble than its worth.
If you must use HDR you'll experience ghosting issues if there are clouds causing shadows on the fins so expect to do some tricky manual exposure blending in Photoshop.
Compare the light on the image below with the light in the image at the top of this page. Totally different yet only 20 minutes apart. I just love that super red first light, it doesn't last long so be prepared and shoot fast.
If you are lucky enough to get puddles try to get them to reflect the fins or clouds if the clouds are interesting. Ideally a big of both will give you plenty of interesting foreground.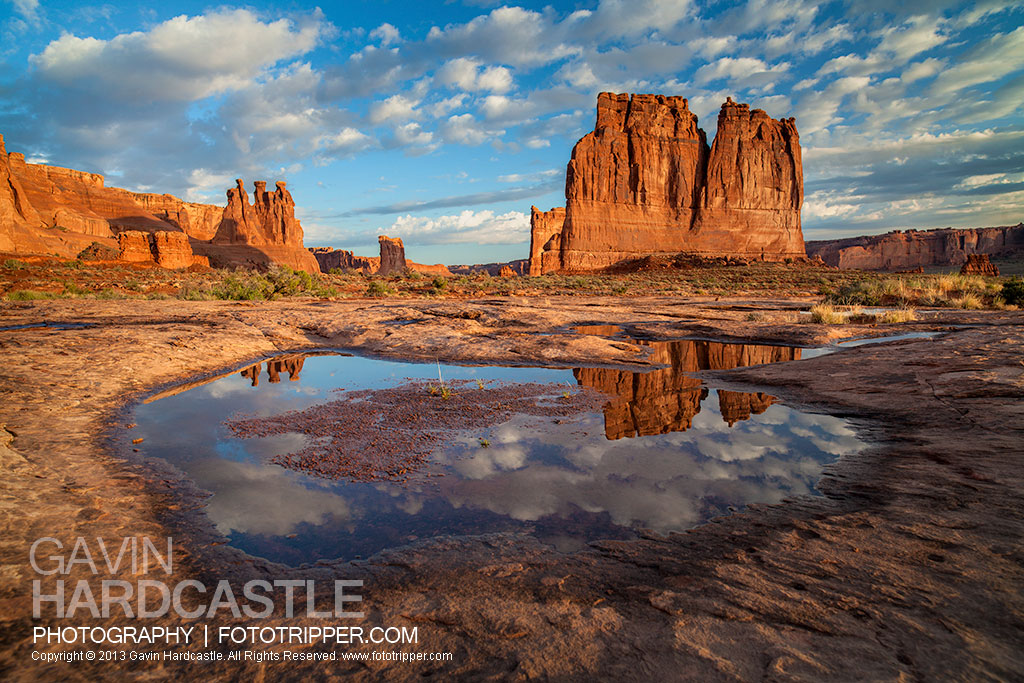 When to Plan Your Photography Trip
Arches National Park is awesome no matter when you go but here are three things to consider:
Summer will be HOT and less cloudy, remember clouds are ideal for landscapes
Winter will be cold but there's a chance you'll get snow, which makes for great shots
Spring will give you a chance of rain for reflections and wild flowers (see wild flower shot below)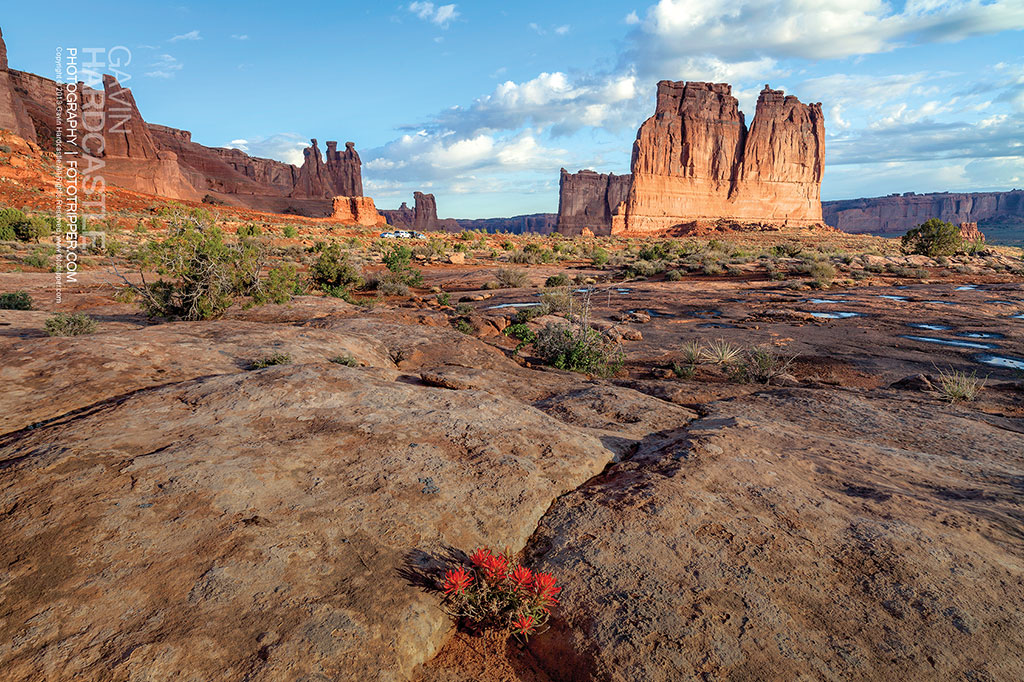 Shooting Panoramas
You'll most likely be tempted to shoot a panoramic or stitch shot for ultra high resolution. Remember that most wide angle lenses create a lot of distortion which will mess up your stitching in Photoshop, so be sure to carry a lens that is 50mm and upwards.
Getting There
Driving from Moab takes about 15 minutes. Leave Moab on Main St North which becomes the 191 North and after you've passed the turn for Castle Valley take the next right just a few miles up the road for Arches. It's well sign posted so if you miss it your driving too fast.
The entry fee is a mere $10 per vehicle, per week. How's that for an absolute bargain. The staff on the gate are friendly and the visitor centre is top notch.
Recommended Equipment
Polarizer – For control of blown out clouds and colour saturation
Tripod – It's the law
Wide Angle Lens
Zoom lens and something above 50mm if you want to do panos
Headlamp if you plan on arriving long before sunrise
Rain cover in spring and winter
While You're There
Moab is like Mecca for photographers. Legends include 'Delicate Arch', 'Mesa Arch', 'Island in the Sky' and 'Dead Horse Point' to name but a few. If you live to be 1000 you still won't have enough time to explore a fraction of what Moab has to offer, and then there's the rest of Utah.
Accommodation
There's plenty of choice for accommodation to suite all budgets. A quick search online will tell you all you need to know. We'd give Days Inn a miss and spend a little more next time, or camp.
Camping
Each Park has a few camp sites but I expect they fill up quickly during peak season as they were pretty full while we were there in May. Book ahead to avoid disappointment.
Dining
In Moab we had the best ever fish tacos at Cabo Grill towards the South side of Main St. I expect it was because of the bass from Lake Powell. The Sing Ha Thai was OK and the salads at Eddie McStiffs were great value. There are some great local beers but beware of the high alcohol content.
What's Your Shot?
Please leave a comment and let us know about your best shots from Arches National Park. Please post questions or suggestions.