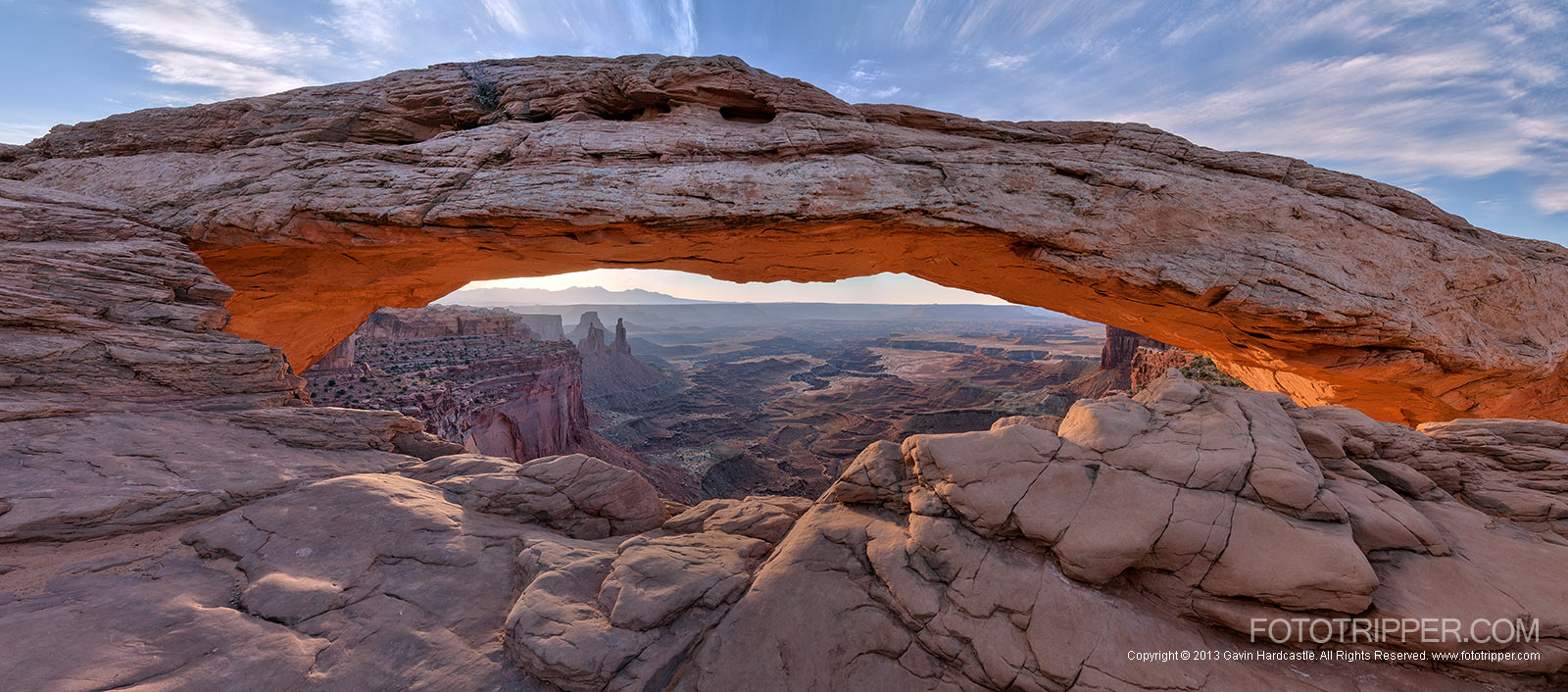 I'm willing to bet that Mesa Arch is one of THE most photographed natural stone arches. It's no surprise that thousands of photographers a year set their alarm clocks at some ungodly hour so that they can beat the crowd for sunrise. I'm not ashamed to admit I was one of them.
I think it's because the arch creates a perfect frame for the spectacular view of the mesa below while the sun rises over the La Sal mountain range. If you can use a camera and the light is right you can virtually guarantee an awesome shot.
That being said, it's better to go prepared so here are my Mesa Arch Photo Tips.
1 – Go in Winter Time
Canyonlands in Moab gets less tourism in the winter so you can expect less competition for the premium spot in front of the arch. You'll also get better lighting angles when compared to spring because the winter sun will be placed more to the right of the arch.
Winter will give you better atmospherics with a higher chance of mist and of course if you're really lucky, snow!
That being said, it's stunning all year round. If you prefer a shot where the buttes to the left are wrapped in light rays then spring would be an ideal time, provided there's plenty of moisture in the air.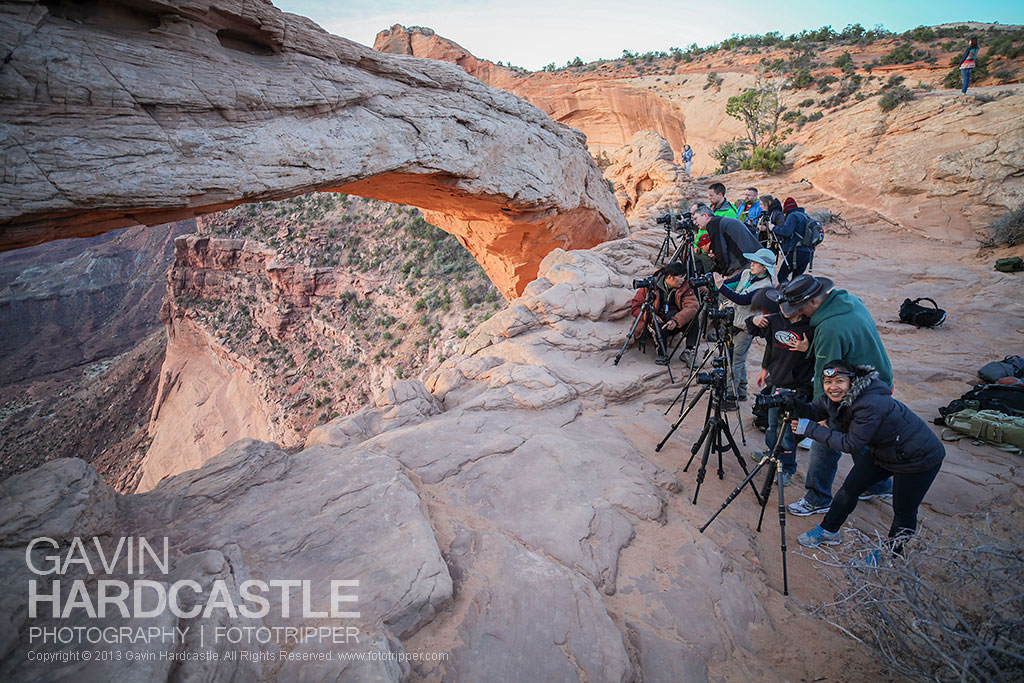 2 – Go Early
Obviously the time of year dictates exactly how earlier you have to set the alarm but aim to get to the arch a good hour before the sun is scheduled to rise. I say this for two reasons:
Pre-dawn light gives your clouds the best colours and can really create atmosphere
Stake out your position and claim it like a grizzly bear with cubs.
3 – Allow the Crowd to Clear
I'm always amazed at how quickly people leave the scene after the sun does its business. While I was there we had about 20-30 other photographers lined up, gagging for a sunstar shot. Once they'd got it they all cleared out or started taking shots of themselves walking along the arch (don't pretend you'll resist the urge).
By the time the arch had reached it's maximum luminosity with the sun fully lighting up the inside of the arch most of the people had gone. I'd say this was a good 45 minutes to an hour after the sun first showed up.
I was one of the few taking pictures long before the sunrise and long after it.
Be Respectful
Let's face it, we're all in the same boat. We just want to create a beautiful photograph we can be proud of. Nobody has any more right to this spot or that spot. The reality is however that some people can really take the piss. One of the shooters at my most recent visit had to be told off for being a pain but by and large most people are respectful.
Just accept the fact that you can't possibly have this place all to yourself and work with what you have. Be courteous to others but if someone is playing silly beggars be sure to let them know it's not acceptable. Be nice and make some new friends.
5 – Cheat – If you can live with yourself.
I may regret telling you this but I had a mini brainwave while at Mesa Arch. As I took my camera off the tripod and stalked around for compositional ideas I noticed that miraculously, people respected the personal space of my lone tripod.
After 5 minutes nobody had muscled in on my little dot of tripod space even though my camera and myself were not present. It occurred to me that if I'd brought along a couple of extra tripods and placed them either side of myself I could have claimed a much larger space.
Very wrong I know. I'm embarrassed for even thinking it. Forget I mentioned it, but If I see a line of vacant tripods next time I'm at Mesa Arch I'll know the guy in the middle has been reading my blog! Busted.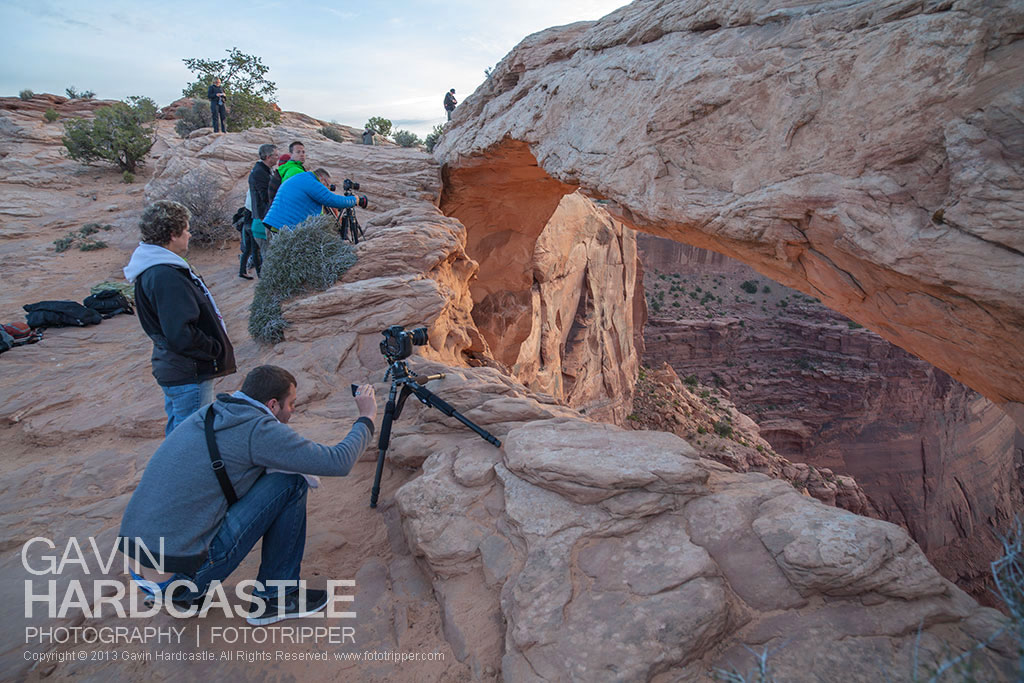 6 – It's not all about the Sunrise
I think people overlook the fact the Mesa Arch is stunning at any time of day (and possibly night). Good light is good light regardless of the time of day, so if you get out there during a thunder and lightening storm or during an amazing sunset that lights up the easterly clouds, you've got yourself a work of art.
Try some light painting and star trails at night or even a moonrise shot. If you could spend a whole week there what type of shot would you go for?
7 – Shooting Panoramas
You'll most likely be tempted to shoot a panoramic or stitch shot for ultra high resolution. Remember that most wide angle lenses create a lot of distortion which will mess up your stitching in Photoshop, so be sure to carry a lens that is 50mm and upwards.
For this shoot I used the Zeiss 21mm Distagon wide angle lens and I had some serious issues trying to stitch the images together in Photoshop. I'd almost resigned myself to losing any chance of a usable pano of Mesa Arch until I discovered an app called PTGui which did a much better job than Photoshops limited 'PhotoMerge' function.
It took me a while to learn the software but it was well worth it. I only had one repair job to do in Photoshop that was caused by parallax issues in my original photos. If Photoshop doesn't cut it for you, try PTGui and do it right.
Getting There
Driving from Moab takes about 45 minutes if you drive at a decent clip.
After stopping at the all night gas station for coffee, leave Moab on Main St North which becomes the 191 North and take the left on the 313 for Canyonlands National Park. This will become the 'Island In the Sky Road' and eventually 'Grand View Point Road'. You'll see the sign for Mesa Arch and the car park on your left. Watch for freezing temperatures in the dark, we were there in May and it was well below freezing in certain areas.
The Trail
It's a super easy 10 minute hike from the car park to the arch. Take a headlamp so that you can see in the dark. I say "super easy" but remember it's at fairly high altitude.
Recommended Equipment
Polarizer – For control of blown out clouds and colour saturation
Tripod – Bring a weight bag in case it gets windy.
Wide Angle Lens
Zoom lens and something above 50mm if you want to do panos
Headlamp if you plan on arriving long before sunrise.
While You're There
If you don't already know, Moab is a wonderland for photographers. There are literally thousands of spectacular photo opportunities in each and every one of the National and state parks. An entire lifetime is not enough to see all there is to see. Prepare to be completely overwhelmed.
For amazing places near Mesa Arch be sure to check out 'Island in the Sky' and 'Dead Horse Point' which are very close by.
Accommodation
Moab has accommodation to suite all budgets. We were cheapskates and stayed at the Days Inn. Let's just say we'll be staying somewhere more luxurious next time as I value the speed of my internet connection at all times.
Camping
Each Park has a few camp sites but I expect they fill up quickly during peak season as they were pretty full while we were there in May. Book ahead to avoid disappointment.
Dining
In Moab we had the best ever fish tacos at Cabo Grill towards the South side of Main St. I expect it was because of the bass from Lake Powell. The Sing Ha Thai was OK and the salads at Eddie McStiffs were great value. There are some great local beers but beware of the high alcohol content.
What's Your Shot?
Please leave comment and let us know about your best shot of Mesa Arch and your experiences there. If you have some unique perspective or tips on how to get the best shot please share with us.