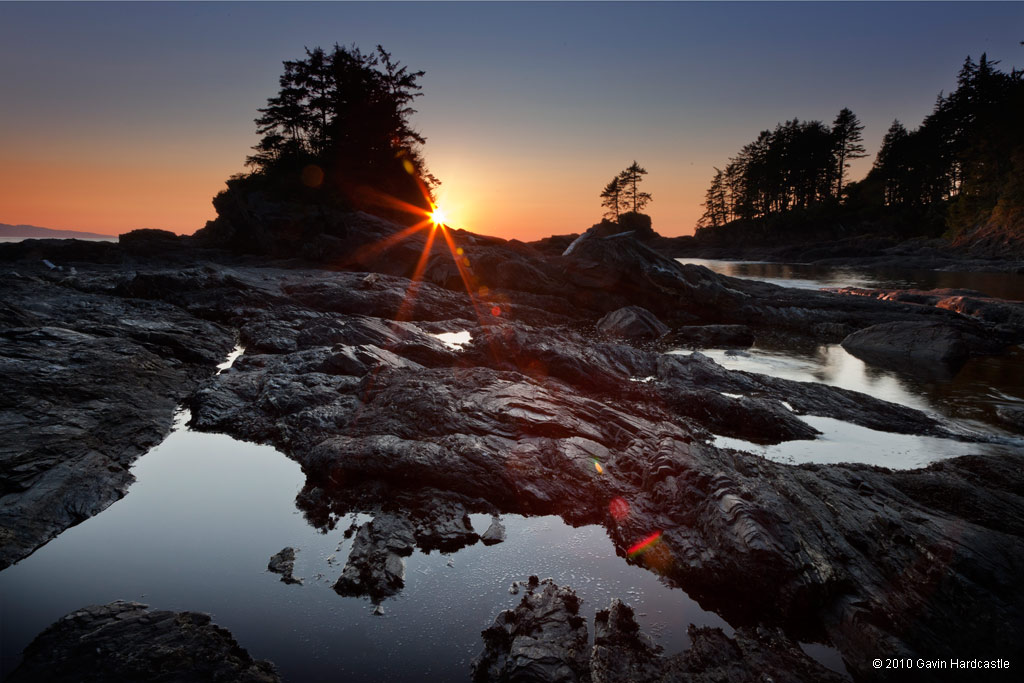 Botanical Beach is another one of those wild west coast locations that make you feel like you're standing at the edge of the world. Pacific waves pound the coast line creating dramatic sea stacks and age carved rocks. Trees desperately cling to existence as the winds blast them into submission. Hike along geological marvels that look like knife edges while the sea life trapped in the tide pools settle in for a long wait.
Located in Port Renfrew on the lower West coast of Vancouver Island, Botanical beach is relatively easy to access by car and offers excellent photo opportunities and a great place to take the family for a day out.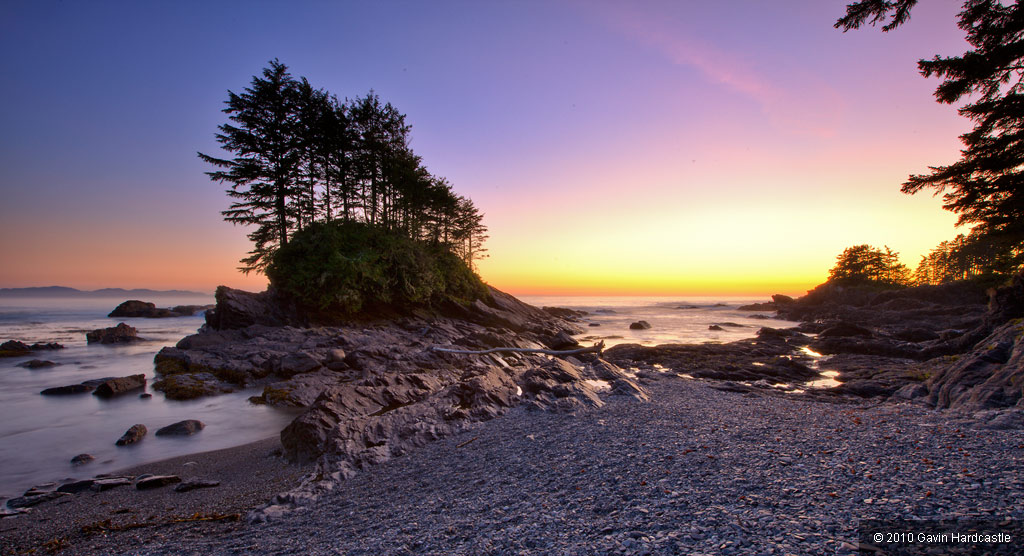 Getting There
From Nanaimo
You're looking at a 3 hour drive from either Nanaimo or Victoria. If driving from Nanaimo I recommend taking the Island Highway South until you reach the exit for Lake Cowichan on to Cypress Street (18). Continue until you get to the small town of Lake Cowichan and the road turns into S Shore Rd. Follow this out of town, pass the smaller village of Mesachie Lake and look for a left turn to Port Renfrew which will be sign posted.
This used to be a logging road and the online maps will tell you it's unpaved but it has been recently paved and is now a great road for all types of vehicles. Stay on this road which is basically a long mountain pass until you see a sign for Deering Road, take that left and then turn right into Parkinson. Parkinson turns into Cerantes Rd and continues all the way to the car park for Botanical Beach.
From Victoria
Follow the Trans Canada highway North then take the Sooke Rd 1A highway to Sooke and simply follow this all the way up to Port Renfrew. This road eventually turns into Parkinson which then turns into Cerantes Rd and continues all the way to the car park for Botanical Beach. The road from Sooke is paved but in pretty bad shape after Jordan River, slow down if you drive a car with low clearance as there's a few spots that might catch you out.
The Trails
From the car park there are two trails down to the beach. Either one takes you to really interesting parts of the Juan De Fuca coastline but if you want to head straight to the sea stacks you'll need to take the trail on the right side of the car park. This trail takes about 10 minutes to reach the beach and is pretty easy going with mild hills. The trail on the left of the car park takes about 15 minutes and can be much wetter and at one point has a steeper hill.
Recommended Equipment
Rain Cover – The weather is treacherous.
Heavy Tripod – The winds get pretty aggressive so if your tripod is super light you'll need some weights.
Polarizer – For control of reflections, glare and colour saturation.
ND Filter – For those milky water shots.
Cable Release – For fast capture of crashing waves during storm season.
Wide Angle Lens – Goes without saying really.
Warm Clothes – It never gets HOT in Port Renfrew.
Headlamps if you plan to walk back on the trail in the dark. A post sunrise fog can often creep in.

Top Tips
If you get there and it's foggy, stick around. The fog can create stunning atmospherics, especially if the sun gets the chance to break through just a little. Make sure you bring that polarizer so that you can cut through the glare in those tidal pools to see the critters within.
As I mentioned above, the rocks on this beach can be very dangerous even if you're pretty agile. At places it's like walking along slimy knife edges so take your time and don't take crazy risks. Also watch out for those Pacific waves as they can easily take you by surprise.
Accommodation
Sooke has plenty of options for lodging and there's something for all tastes and budgets. There a quite a lot of high end places if you like to spend the big bucks.
Camping
Try the 'Pacheedaht First Nation Campground & RV' site or the 'Port Renfrew Recreational Retreat'. This is a popular area for fishing and it's not far from the famous 'West Coast Trail'. I believe it's OK to camp right there on the beach but don't hold me to that.
Dining
The Coastal Kitchen Cafe did surprisingly good food when last I was there (summer 2011). The washroom wasn't the cleanest I've seen but I'll forgive that. You might also get lucky and meet some interesting locals in the cafe. We might a 1960's draft dodger from North Carolina who'd sunk a few too many ales but was quite entertaining. I seem to be a magnet for these types.
Wildlife
Be aware that you are sharing the environment with predators. Use common sense and don't create a situation that would put yourself or an animals life in danger. It's normal to cross paths with bears on the West coast so give them plenty of space and avoid creating a temptation for them. If you're carrying a whole smoked salmon in your backpack don't be surprised if a bear starts eyeing you up.
While You're There
Between Port Renfrew and Sooke there are some nice beaches worth checking out. Mystic Beach and Sand Cut Beach both feature waterfalls that run from creeks directly on to the beach. The best time to visit these is late winter after a heavy rain. If you time it right Sand Cut beach will have two mini falls gushing into the Pacific.
Please leave a comment and et us know about your experiences or any tips you can add for other photographers planning to take this road trip.