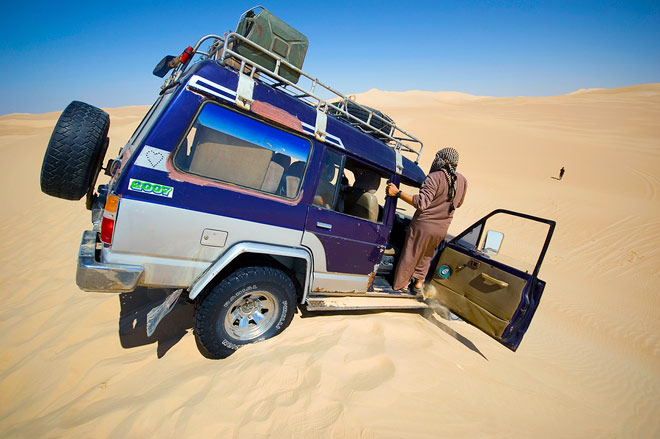 Plan Your Epic Photography Adventure
Avoid disaster and get the most out of your epic photography road trip. Use these essential tips to ensure that your  trip goes smoothly and gives you the freedom to focus on your photography instead of worrying about what you might have forgotten.
Carry a Phone and Charger
Be sure to have a car charger for your phone and try and make sure your phone has some charge at all times. Get one with GPS so you can let the recovery truck know exactly where you are.
Carry a Universal Charger
I can guarantee that at some point your camera battery will die on you while miles from anywhere. If you're near the car and have a universal power charger or two you can be back in business fairly quickly. This happened to me in Joshua Tree just as the light was getting magical.
Carry a Spare Camera Battery
Always carry a spare camera battery with a full charge. The cold will suck the energy from your battery while your working and no amount of warming it up in your pocket will suffice. Enjoy the sweet feeling of smugness you'll get from knowing you've got hours of battery life at the ready in your camera bag.
Use GPS
To avoid arguments and to possible divorce causing situations use GPS. If the GPS get's it wrong it;s nobodies fault. It's also much safer than messing around with maps while driving on a solo expedition.Don't forget to update your maps.
Take a SAT Phone
I'm recommending this yet I've never even seen a Satellite phone. I don't think they're cheap but if you plan on going to very remote locations with no infrastructure a SAT phone could be a real life saver.
Buy Another Memory Card
You just can't get enough memory for your camera. Most memory formats are getting cheaper all the time so buy way more than you think you'll ever need, you'll thank yourself later.
Carry Spare Lens Caps
It's almost guaranteed that you'll loose your original lens cap. Buy some spares on Ebay or at the big photo superstore next time you're there.
Carry a Cleaning Kit
Rain and dust will conspire to make a mess of your lens so be sure to pack at least one cleaning kit.
Take a Laptop or Backup Drive
As your memory cards fill up you'll need to regularly dump your images to free up space. Dump the images on to your laptop or buy one of those portable hard drives with disc readers. I prefer a laptop because I always need web access and like to check my images to see ways I can improve my shots while still close to the shooting location.
Backup to Dropbox
God forbid your laptop or hard drive gets stolen but if it does you can kiss goodby to the amazing images you just spent two weeks capturing. Prevent this nightmare by uploading your images to a dropbox account when you get access to good WiFi. Can you imagine?
Get the right car for the job
As photographers embarking on an epic road trip it's essential that you take care of your vehicle and prepare for the type of terrain you're likely to encounter. Although it might be great fun to cruise through California in a classic convertible with the top down it's not very practical if you plan on doing any off-roading or logging roads to remote locations. Even some car parks are sketchy enough to make you wish for a high clearance SUV or truck.
That being said you've also got financial concerns as well as comfort and accessories. A big thirsty SUV is likely to cost a small fortune in gas not to mention it's contribution to pollution.
Try and strike a happy medium with your choice of vehicle and research the roads and weather conditions for the time you'll be traveling. Snow and ice require 4X4 and good snow tyres but would be total overkill in summer.
Service your vehicle
If you're not planning on renting a vehicle make sure your own car is up to the task. If you're road trip is epic this might possibly be your cars largest ever journey so make sure the fluids are all topped up and any essential maintenance updates are dealt with before you set off. A breakdown in the dessert will not be fun.
Check that Spare Tire
Make sure your spare has plenty of air and is in good shape. Just as important are the tools you need to change the tire. You need a tire iron and a jack and you also need to know the best place on the chassis to place the jack. If you've got the space in your vehicle maybe consider taking a piece of plywood on which to place your jack just in case the terrain is difficult.
Pack a torch (flashlight in American) and a blanket on which to lay in the event you get a flat at night in the rain.
Update Your Breakdown Cover
Make sure your breakdown cover is up to date and that you are covered for the place in which you are traveling. The last thing you need is for the AA to deny you coverage because you're in an excluded area.
Carry more than one credit card
For international travelers I advise carrying bank cards from two or more different banks. If one of your banks is having a technical issue or just decides to cancel your card for security reasons it wont be a disaster if you have other options. Be sure to let your bank know that you'll be traveling abroad so that they don't place country based restrictions on your card.
Let People Know where You're Going
Don't advertize to burglars on Facebook "Hey we're not home", but do email a few close friends regularly to let them know where you are, especially when traveling to remote or even questionable places.
Please let me know if I've missed any essential tips or feel free to share your experiences by leaving a comment below.