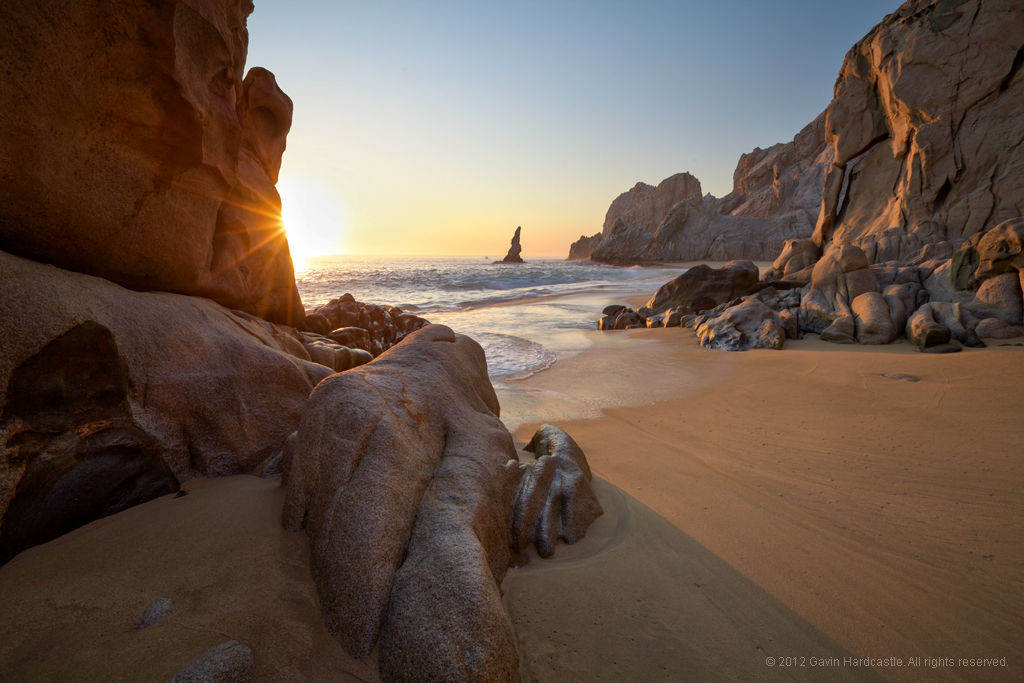 Los Arcos in Cabo San Lucas, Mexico is one of those iconic places you just have to add to your bucket list as a photographer. Cabo is a really small party town that exists purely for tourists and wealthy snowbirds but in addition to glorious weather it boasts magnificent views of Los Arcos and the park that surrounds it.
Marine life is abundant so if you want to see jumping manta rays, whale sharks and all manner of fascinating sea life you won't be disappointed. Cabo San Lucas sits on the very edge of the Baja California Sur peninsula where the Pacific ocean meets the Sea of Cortez. The amazing scenery has been carved out by the crashing waves to create inspirational seascapes that you will love. Here are my Los Arcos Photo Tips.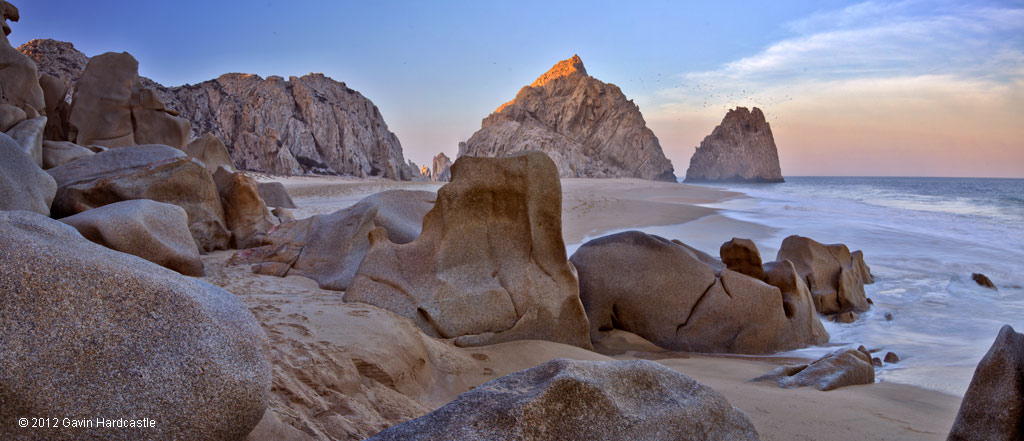 Getting There
Typically you'll fly in to Los Cabos airport which is about a 45 minute drive from Cabo San Lucas along Highway 1. Everything is well sign posted so you won't even need directions from the airport.
To get to the Los Arcos park area you have two options, one of which depends on the tide.
Option 1 – Drive, bike or walk to the end of Boulevard Marina and walk on to the public beach which is mostly used by the locals. If the tide is not completely in you'll be able to climb over the tricky wet rocks and get to the more picturesque beaches of the park. This is the quickest option but more challenging and very busy in the day time. Obviously keep an eye on the tide as you don't to get stuck.
Option 2 – I prefer this option and that's why I chose a hotel at the end of Avenda Solmar. Instead of going to the end of Boulevard Marina take a right on Avenda Solmar and continue to the very end of the road. This is all hotel property which is why I chose to stay at one of these hotels on the Pacific side. You can still walk through and the security guards won't bug you but I didn't try this at 5am so they may ask questions.

Once you go through the hotels and on to the beach at the Pacific side of the peninsula just walk south (or left) down the beach until you can't go any further. Do NOT try to beat the crashing waves, you'll be crushed to death! Instead look to the left for a small trail up into the rocks and boulders. If you go in the day time you'll most likely see others doing this.
You'll reach and high point and then start climbing down on to 'Divorce Beach' which is still on the Pacific side. From there you can walk over to 'Lovers Beach' which is on the Sea of Cortez side. You can't actually walk to the big famous arch unless it's one of those rare years when the tide goes out enough to expose the sands under the arch. Apparently this happens once every few years so if you really need to get that shot maybe book a last minute trip when the time is right.
Recommended Equipment
Polarizer – For control of reflections, glare and colour saturation
Tripod
Wide Angle Lens
Zoom lens
Sunscreen
Sensible footwear, there are some slippery rocks and treacherous waves
Headlamp if you plan on arriving long before sunrise.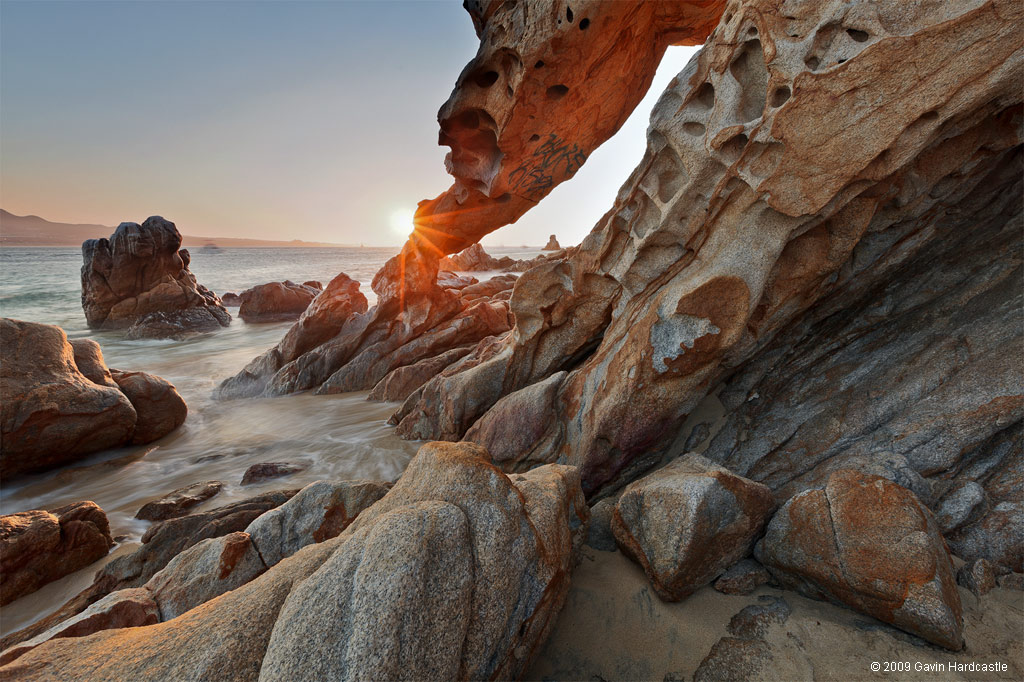 Top Tips
Take a headlamp if you intend to hike through the rocks on the Pacific side. It's not a difficult climb but could be dangerous when dark. I forgot mine the first time but was lucky enough to have plenty of moonlight.
Wear some good running shoes for handling those slippy and sandy rocks but maybe pack some flip flops for when you want to get your feet wet.
Do not trust those waves even on the Sea of Cortez side, they will surprise you every time.
For shooting the arch chat with the boat owners in the dock who ferry people out to Lovers Beach all day long. For a fee they'll pick you up at 5 or 6 am and take you around the arch on your own so that you don't have to dodge other boaters, there's also no diving boats out at that time and you'll be there before the fishing boats set off. I paid about $50 and had as long as I needed. It's 5 times what you'll pay in the day time but at least you jump the crowds and get the best light.
While You're There
Los Arcos is by far the best scenery that the area has to offer but you can shoot it from the opposite side of the bay if you have a good zoom lens. There are many beaches that you can access along Highway 1 which all face South towards the arch and the setting sun, rent a  car and explore.
Accommodation
If you like the sound of my 'Option 2' for reaching the best areas of the park try and choose a hotel on Avenda Solmar so that you can easily access the Pacific side of the peninsula.
Other than there are countless hotels in Cabo so pick one that suites your budget and comfort requirements.
Dining
If you like Mexican food you'll be in paradise. I prefer to walk back from the main strip a couple of blocks to where the locals eat. The food is better and the prices are great. I particularly love the street food and the vendors were really honest when I stupidly paid with a $20 bill instead of a $2 bill and started wandering off with my tasty treat.