Upper Antelope Canyon in Page, Arizona offers some superb  'Abstract Photography' opportunities due to the mesmerizing sandstone rock formations. The scenery there is so spectacular that you might forget to look up, in which case you'll miss some of the most amazing abstract shapes that nature has carved out ready for you to capture.
Here is the second part of my Antelope Canyon Photo Guide for Abstract Photography. If you missed Part 1 be sure to read my Antelope Canyon Photo Tips on how to get the best 'Scenic' shots of Upper Antelope Canyon.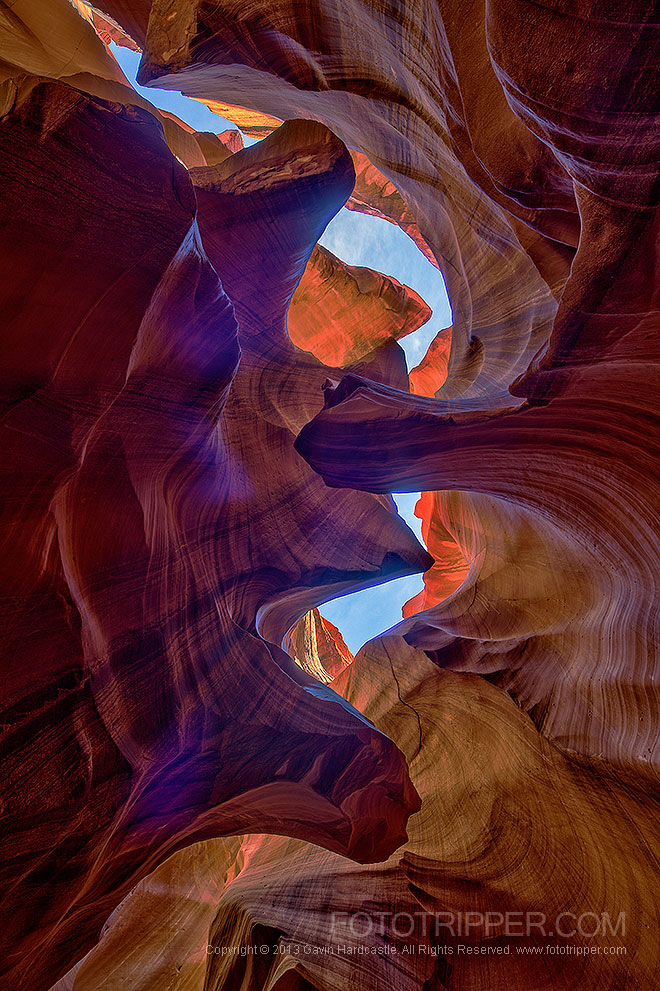 Remember to Look Up
I realize I just mentioned this but seriously, try to keep looking above your head as often as possible. Your Navajo guide will probably point out the obvious areas of interest but don't rely solely on that. Your guide might also advise you not to get any sky in your shot so as to avoid blown out highlights but I'm telling you to IGNORE that advice so you can get shots like the one above.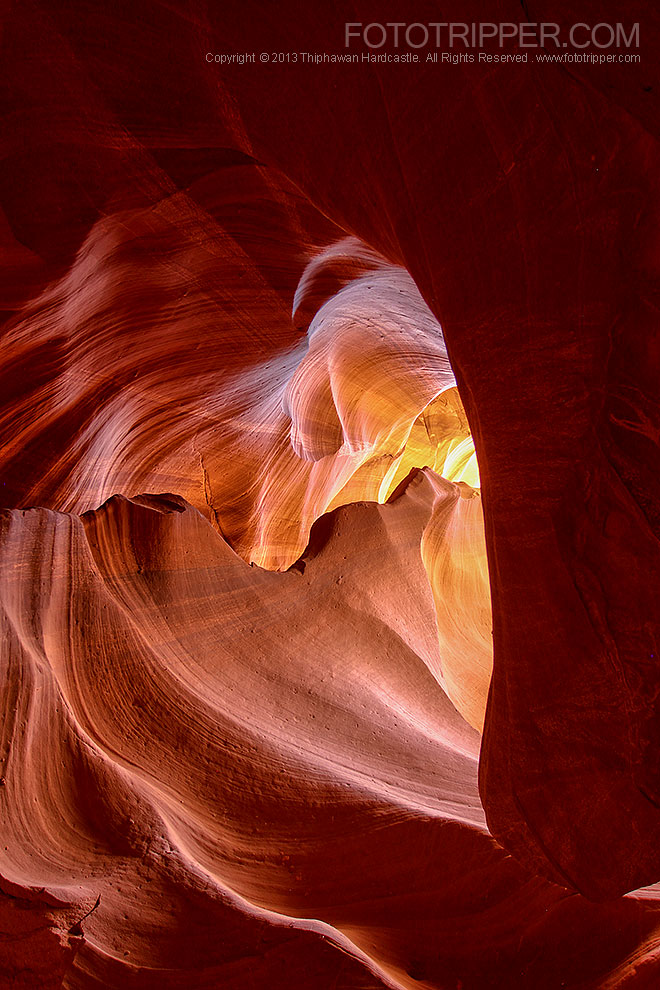 Top Tips
High Dynamic Range – If you plan on including the sky in your shots you'll need to bracket and shoot many different exposures to capture the huge dynamic range and contrast of the canyon. You can use HDR software or manual exposure blending in Photoshop to fix blown out sky's and dark black shadow areas. I recommend this technique for ALL of your abstract shots.
ISO Settings – Try and keep it at ISO 100. If you read part 1 of my Antelope Canyon Photo Guide you'll know that ISO 100 will slow you down too much for the scenic shots but for the abstract shots you won't have to worry about people photo bombing your shots because usually the most fascinating shapes are up above head height.
Use a Zoom Lens – These amazing rock formations might be 50 ft above your head, using a zoom allows you to dedicate all of your resolution to your point of interest and also excludes any human heads getting in your shot.
Aperture Settings – Unless you are using the Focus Stacking in Photoshop technique you'll want to choose an aperture setting in your lens's sweet spot like F/11. This will allow plenty of 'depth of field' while still retaining sharpness. If you have a tilt-shift lens you'll be in your element here.
Tripod Challenges – Pack a tripod that works well with a narrow footprint. Cheapo tripods need to go in the trash. If you think you'll be able to spread those tripods legs like you usually do – think again. Get them as narrow as possible to avoid people kicking the legs and sabotaging your shot.
Focusing – With the abstract shots you'll have more time so use your camera's 'Live View' to focus manually on the most important part of your image.
Remove Filters – Unless you absolutely have to use a polarizer for lets say 'cloud definition' I'd advise you remove it. Parts of the canyon get pretty dark and filters will slow down your shots.
Go Portrait – Don't forget to switch your camera to the portrait position and maybe even flip it upside down. Some of those abstract canyon shapes come at all angles so if you have a flip viewfinder you'll be feeling smug.
Use the Finger Filter – You'll be doing lots of bracketing so use your hands and fingers to block out the brighter parts of your image so that you don't get crazy lens flare.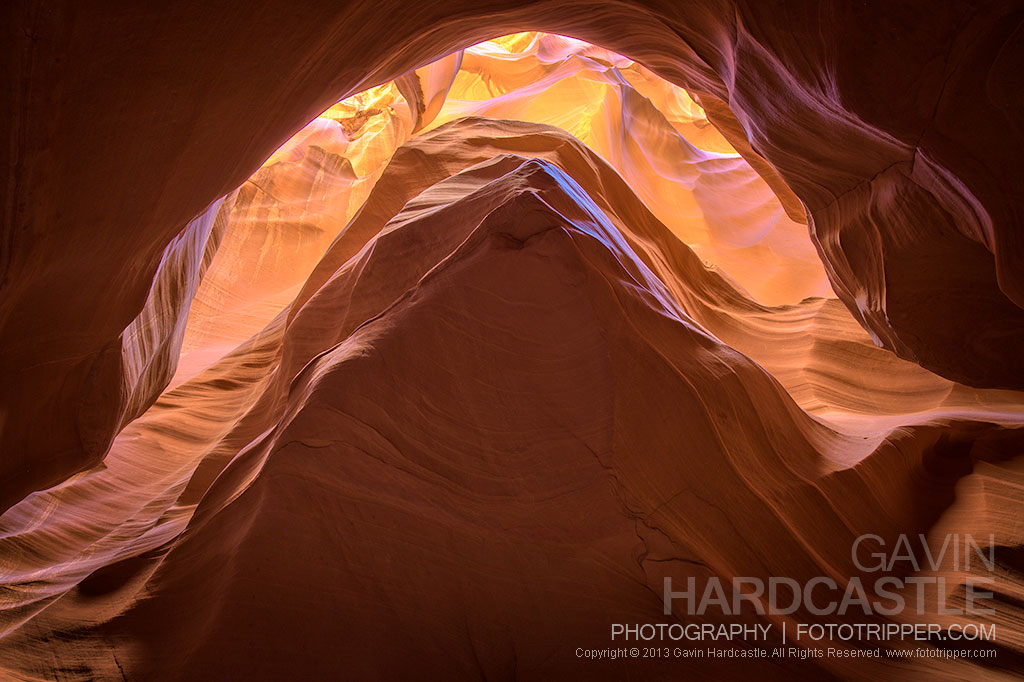 Don't loose your temper
I had more than one person bang my tripod legs and ruin my shots. If you expect this to happen you'll be able to cope with it. I knew it would be something of a gong show so I was mentally prepared to deal with it. You'll be sharing a small canyon with 200-400 photographers over a short period of time so keep cool.  Most people are usually respectful and quite apologetic if they ruin your shot.
Consider Taking Two Trips.
Having been there just the once I'm pretty sure I missed out on lots of other amazing photo ops. Here's how I would do it a second time. Dedicate one visit entirely to abstract photography and the other to the scenic photography. By doing it like that you can be in the exact OPPOSITE places to the crowds. While everybody is off shooting light rays you'll be on the other side of the canyon shooting up into the walls and sky to get shots like this.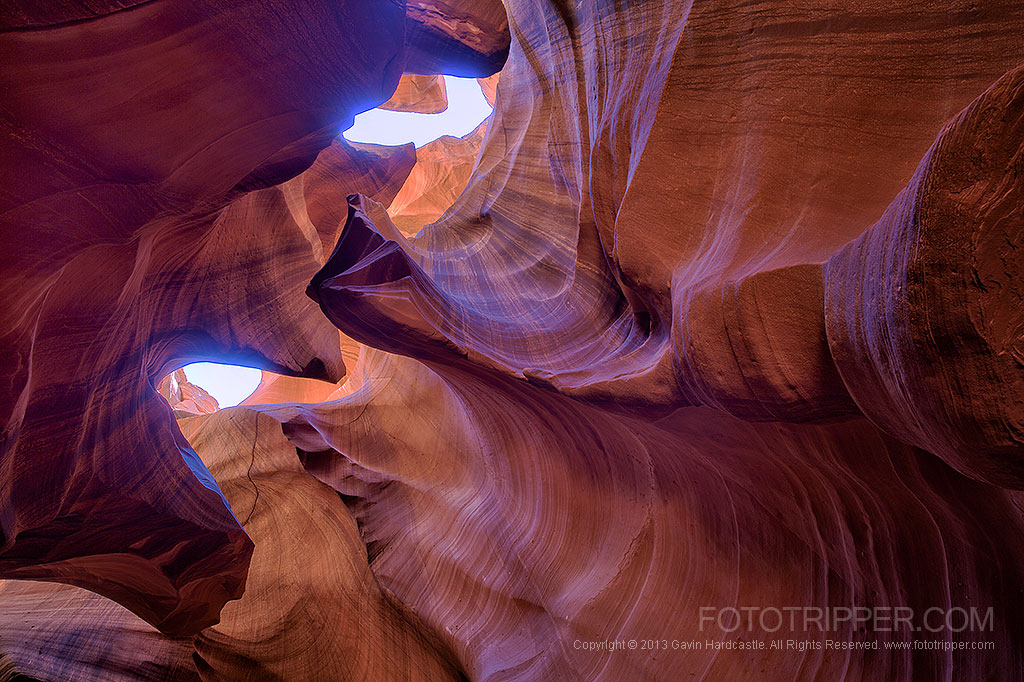 Recommended Equipment
Rain Cover – To protect your camera from dust if not weather sealed.
Fast Tripod – You'll need a small footprint in these close quarters
Dust Blower to keep your lens clean
Wide Angle Lens
Zoom Lens
2nd Camera for hand held shots
Getting There
From Page
You cannot enter the canyon without a Navajo guide. Go into the tourist information centre and book a guide through them. You meet the guide at their place of business and they will drive you to and from Antelope Canyon. We went with 'Overland' tours for $80 per person which means you don't have to pay the additional park entry fee.
Accommodation
Page has lots of choice when it comes to accommodation. As usual we stayed at one of the cheaper places so the Travelodge fit the bill. It's close to everything and the essential wifi was usable.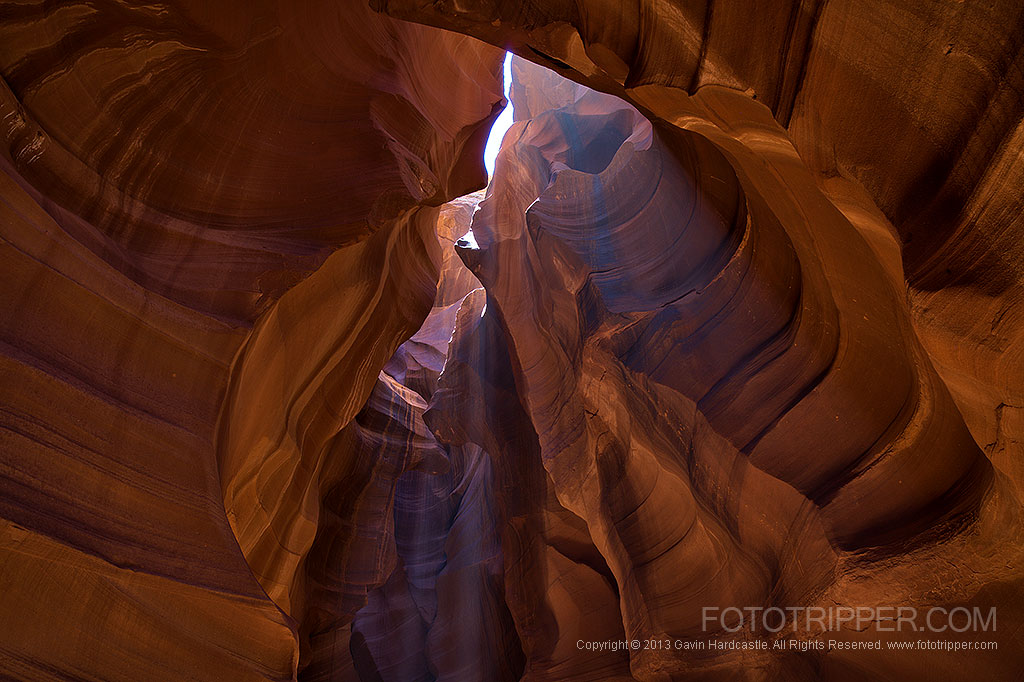 Dining
There are plenty of dining choices in Page, Arizona. We frequented the 'Asian Cuisine – Indian and Thai' which was decent and close to our hotel. Stromboli's also did decent salads that were good value for money.
While You're There
When in Page you MUST go to Horseshoe Bend. There are also countless places on Lake Powell that will yield amazing photos but you'll need to hire your own boat to get anywhere during good light. We paid top dollar to go on the round trip to Rainbow Bridge during mid day light which was not ideal. Next time we'll rent a little speed boat and get there for early evening light.
Also check out Lower Antelope Canyon and if you're up for a drive, take a trip to Monument Valley.