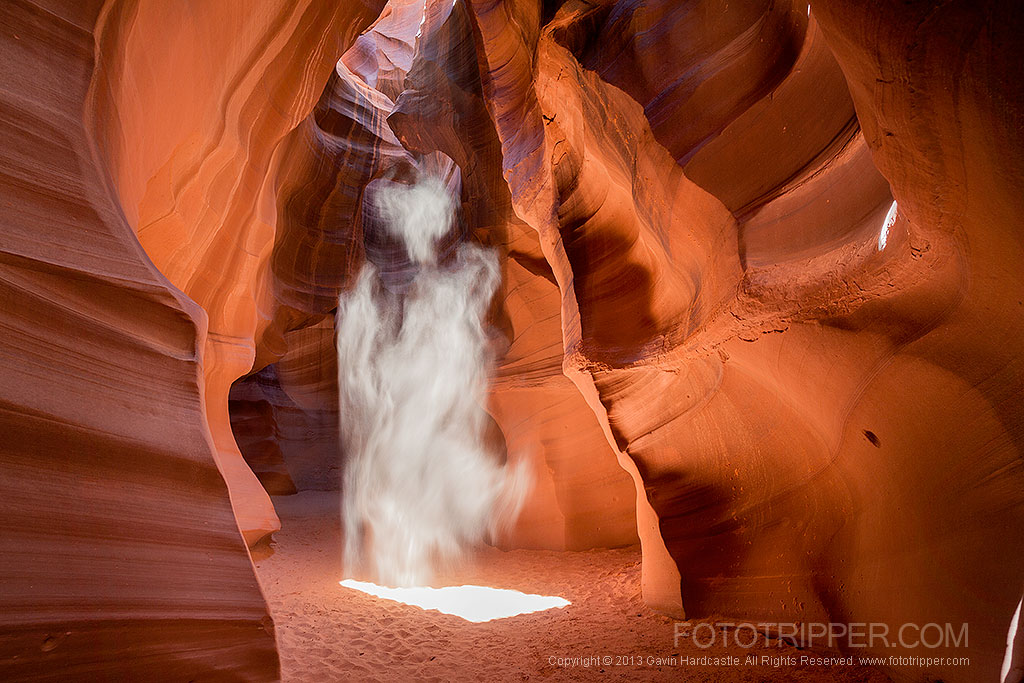 Page, Arizona is home to some of the most spectacular geological marvels you'll ever see. Upper Antelope Canyon is possibly the most famous slot canyon on the planet, and with good reason. For photographers it's as rewarding as it is challenging so here are my Antelope Canyon Photo Tips to ensure you get the best pictures you can. All of my pictures shown on this page were taken in a 45 minute window of opportunity. Here's how to do it.
This article focuses on the scenic photography within Upper Antelope Canyon but there is so much scope for abstract photography within the canyon that it deserves it's very own Part 2 – A Photographers Guide to Antelope Canyon.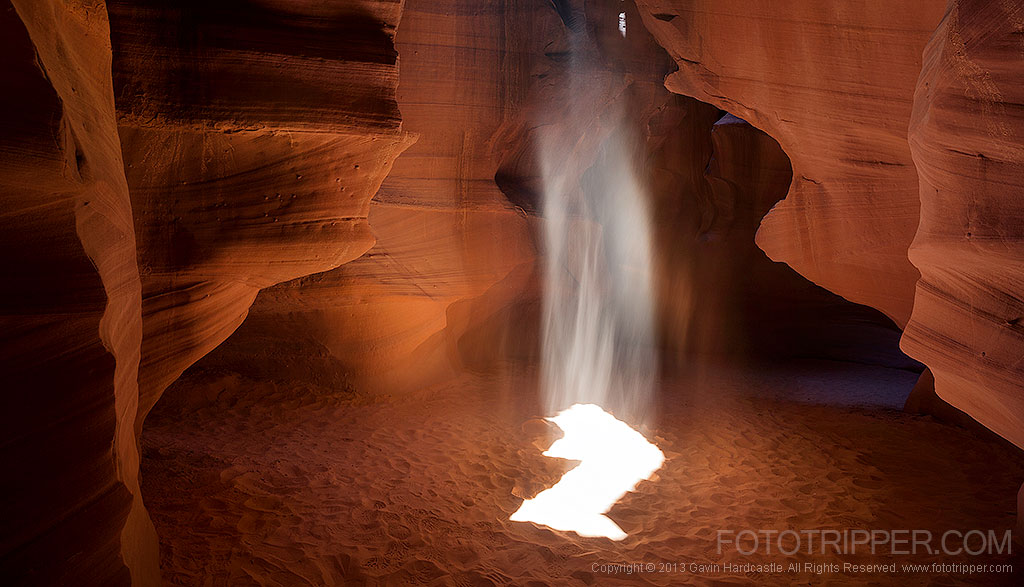 Top Tips
First and foremost you're going to need to make some vital adjustments to your camera settings before even entering the canyon. This will ensure your camera is optimized for the rushed and challenging conditions inside the canyon.
ISO Settings – Set the ISO slightly higher than usual. Landscape photographers rarely go above ISO 100 because we usually have the luxury of time and always use tripods. With Antelope Canyon you do not have that luxury. It's dark and there are lots of people moving around so you'll need to shoot fast. Set your ISO to between 200 and 400. Try 200 first to see if you can get away with it as 400 will start to introduce noise and degrade sharpness on most DSLR cameras.
Aperture Settings – Set your aperture to slightly wider settings like f/8 to allow for faster exposures but still retaining some depth of field. You could go as wide as your lens will allow (lets say f/2.8) but that means shallow depth-of-field with the foreground blurred as you'll introduce bokeh which you probably won't want for these shots.
Tripod Challenges – Pack a tripod that works well with a narrow footprint. Cheapo tripods need to go in the trash. If you think you'll be able to spread those tripods legs like you usually do – think again. Get them as narrow as possible to avoid people kicking the legs and sabotaging your shot.
Focusing – Forget 'Live View' for focusing, you won't have time. Practice focusing manually with the view finder or get to grips with your cameras 'auto-focus' controls and pick your focus point carefully. I focused manually with the Zeiss 21mm Distagon and it was a joy to use. Typically I would pick a contrasting rock line about a third of the way into the image and adjust focus until it was as sharp as I could determine.
Remove Filters – Ditch the polarizer or any other filter that slows down your shots. You do not need long exposures to capture the light rays.
You will only get the light rays on a clear, sunny day. Check the forecast before booking.

Timing is Everything
Here's how it works. To get those stunning light rays, your Navajo guide will chuck a small shovel full of sand into the shaft of direct sunlight. The light hits the airborne sand and illuminates it beautifully. Here's where the magic happens. The illuminated sand grains now bounce light off the canyon walls to create a momentary 'light from within the canyon', it's quite astonishing the first time you see it. Here's a shot of the process in action, see how the
lower wall is lit up from the reflected light that hits the falling sand?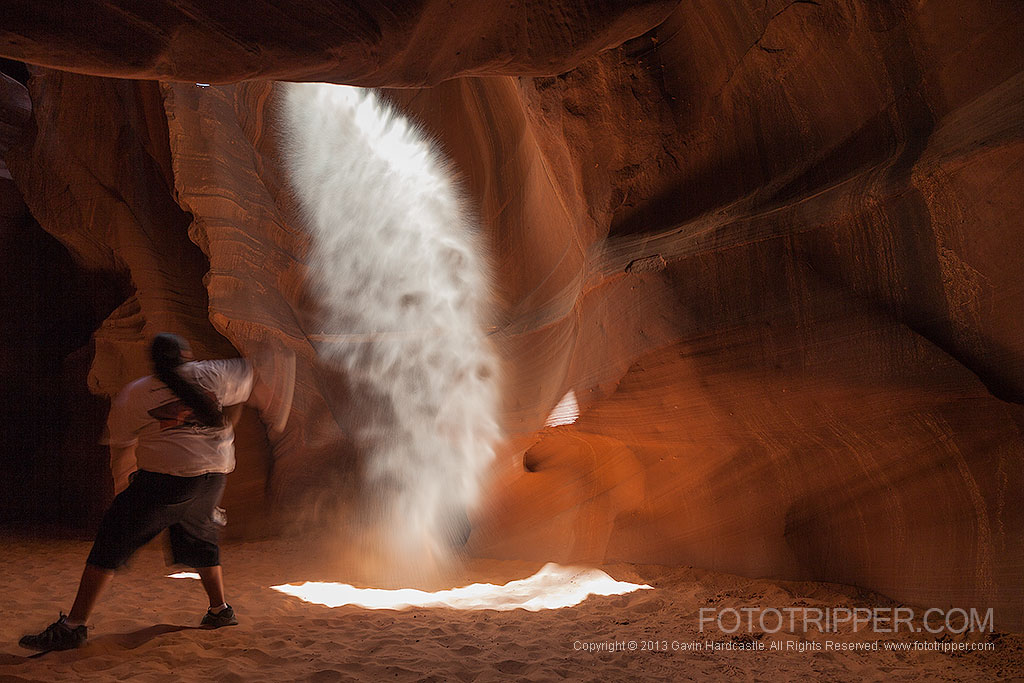 The trick to capturing the right moment is timing. If, like me, you are obsessed with image quality you'll no doubt have mirror lockup enabled and maybe a 2 second timer release. If so, you'll need to watch your guide carefully and hit the shutter just as they throw the sand in the air. Time it too early and you'll just have a shot of a sand cloud, time it too late and the effect has faded. You'll get plenty of chances to get it right if nobody walks into your shot – which, I'm afraid, they will.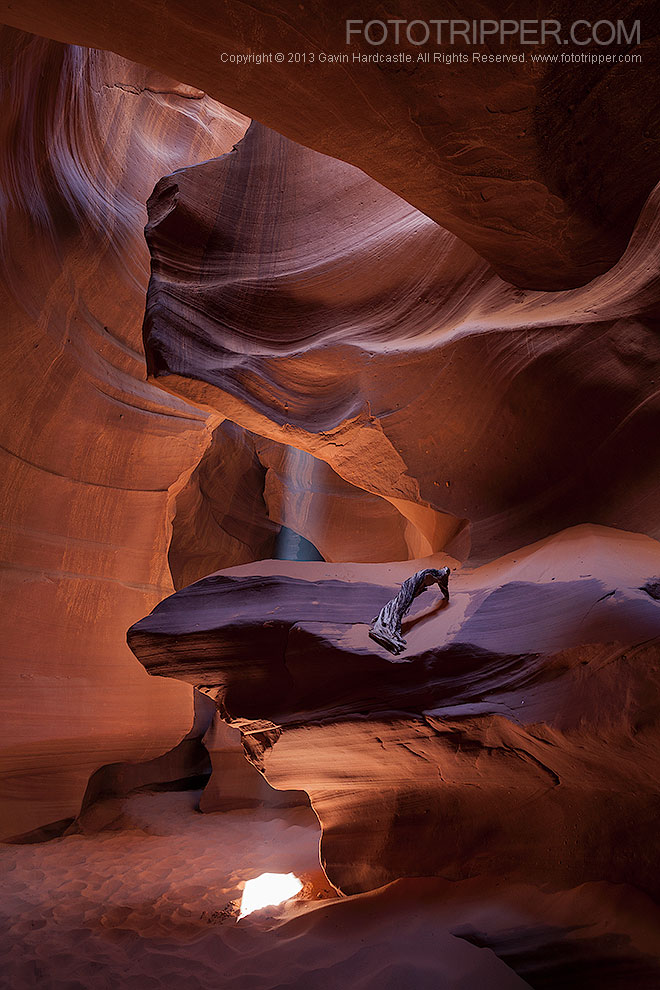 Stay Calm and Assertive
As I've already mentioned, shooting in Antelope Canyon is a challenge. Photography is often a solitary pursuit and we aren't used to sharing a tiny space with 200 other photographers but, that's exactly what you'll be dealing with in Antelope Canyon. Keep calm and mentally prepare for a scrum, stay cool and you'll get your shot.
At times it felt chaotic and rushed. Those shafts of direct sunlight only last for about 45 minutes so people are herded around in small groups in an attempt to make sure everyone gets a chance at the right shot. If you aren't very practiced with your camera controls you might miss your opportunity, so get plenty of practice adjusting focus, exposure and aperture, as well as tripod adjustments.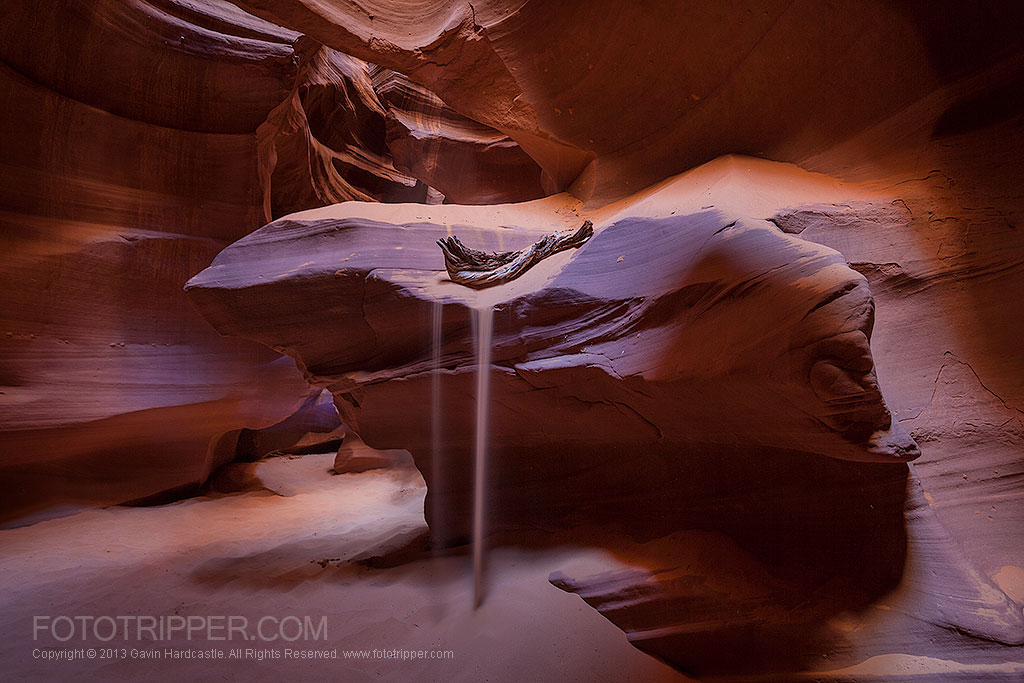 Make Friends with Your Guide
It pays to get on the good side of your Navajo Guide. If you act like a spoiled brat they won't be inclined to help you get the shots you desire. You need them to get you in the right place at the right time and to put in some effort tossing up the shovels full of sand and pointing out the interesting formations you might miss.
A lot of people complain about the profiteering of the Navajo by not allowing unguided tourists into sacred areas.
Personally I think it's essential that they keep things tightly controlled. Think about it for a minute. If they allowed all and sundry into Antelope Canyon it would end up being destroyed. Another thing to consider is that for $80 each we had a guide who helped us take LOTS of beautiful pictures. Compare that to the cost of a tank of gas to visit some other location which, if you're lucky, might give you just one good shot. $80 starts sounding like a Bargain!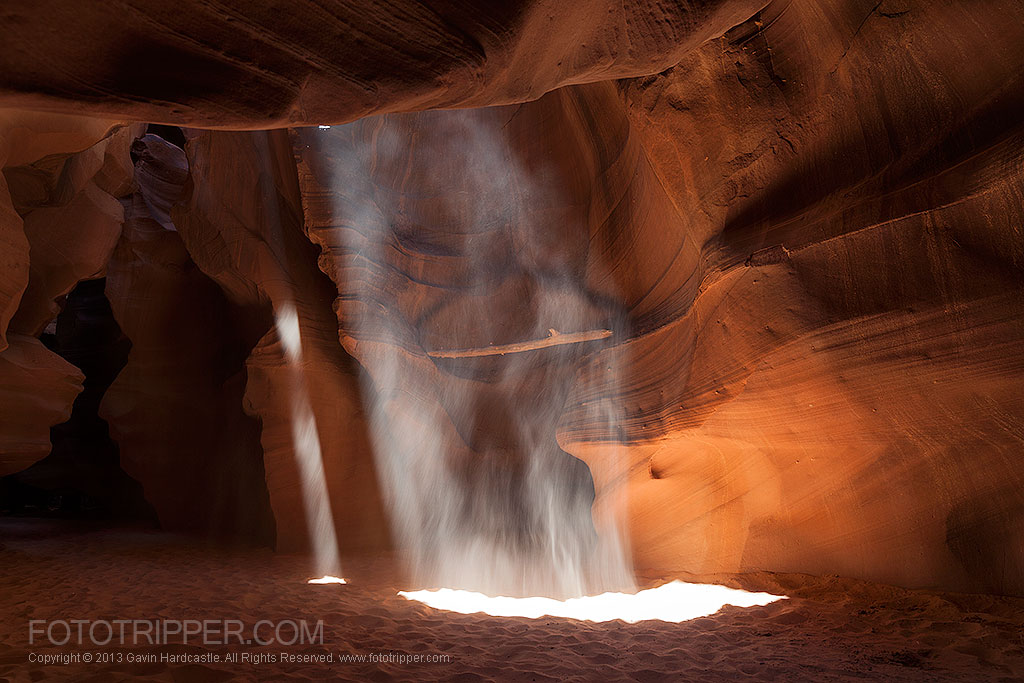 Thank GOD for 'Content Aware Fill'
I can guarantee that someone will walk into your perfect shot. Take multiple exposures so that you can blend in a version where the photo bomber isn't there. You can also use Photoshops 'Content Aware Fill' to remove them.[ml-adverts location=in-content]
Recommended Equipment
Rain Cover – To protect your camera from dust if not weather sealed.
Fast Tripod – You'll need a small footprint in these close quarters
Dust Blower to keep your lens clean
Wide Angle Lens
Zoom Lens
2nd Camera for hand helds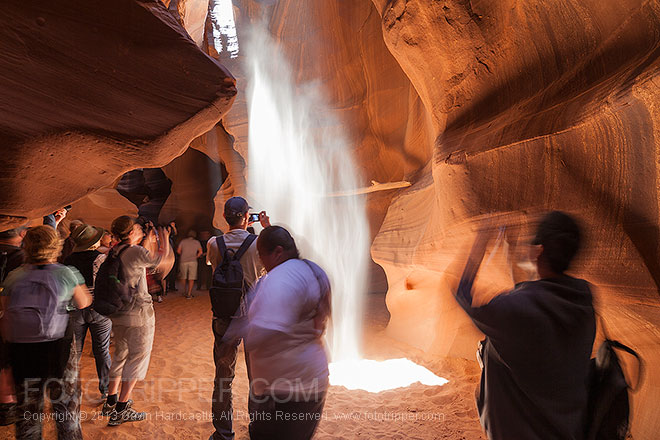 Getting There
From Page
You cannot enter the canyon without a Navajo guide. Go into the tourist information centre and book a guide through them. You meet the guide at their place of business and they will drive you to and from Antelope Canyon. We went with 'Overland' tours for $80 per person which means you don't have to pay the additional park entry fee.
Accommodation
Page has lots of choice when it comes to accommodation. As usual we stayed at one of the cheaper places so the Travelodge fit the bill. It's close to everything and the essential wifi was usable.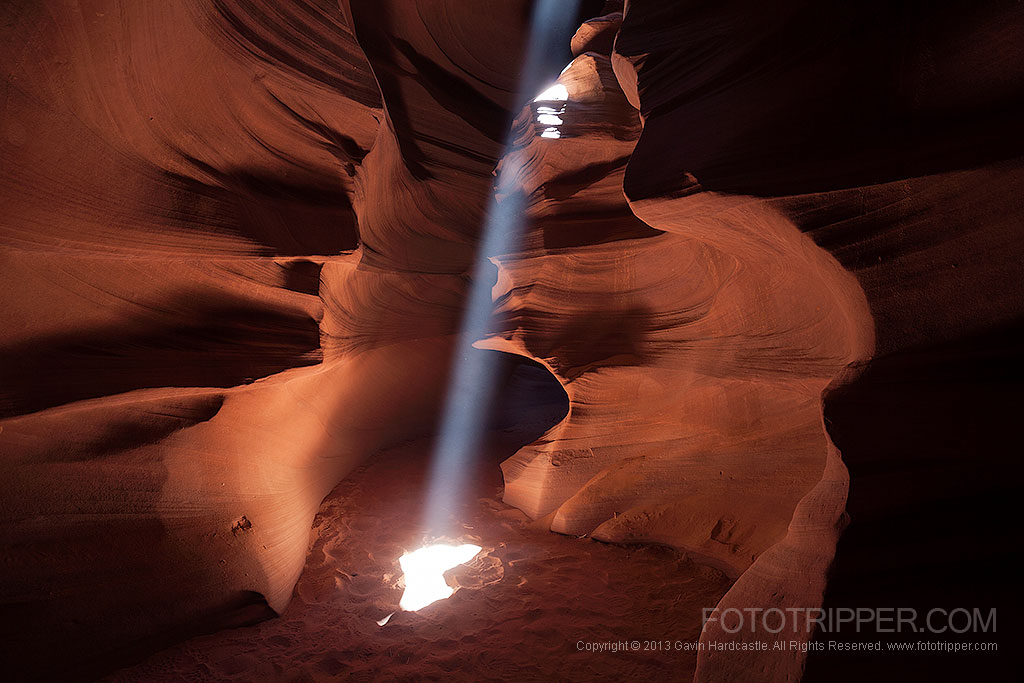 Dining
There are plenty of dining choices in Page, Arizona. We frequented the 'Asian Cuisine – Indian and Thai' which was decent and close to our hotel. Stromboli's also did decent salads that were good value for money.
While You're There
When in Page you MUST go to Horseshoe Bend. There are also countless places on Lake Powell that will yield amazing photos but you'll need to hire your own boat to get anywhere during good light. We paid top dollar to go on the round trip to Rainbow Bridge during mid day light which was not ideal. Next time we'll rent a little speed boat and get there for early evening light.
Also check out Lower Antelope Canyon and if you're up for a drive, take a trip to Monument Valley.
Please Post a Comment and Share
Please feel free to ask questions, post your thoughts and experiences and by all means share this article with your friends.

Part 2
Antelope Canyon Photo Guide Part 2 – Abstracts.