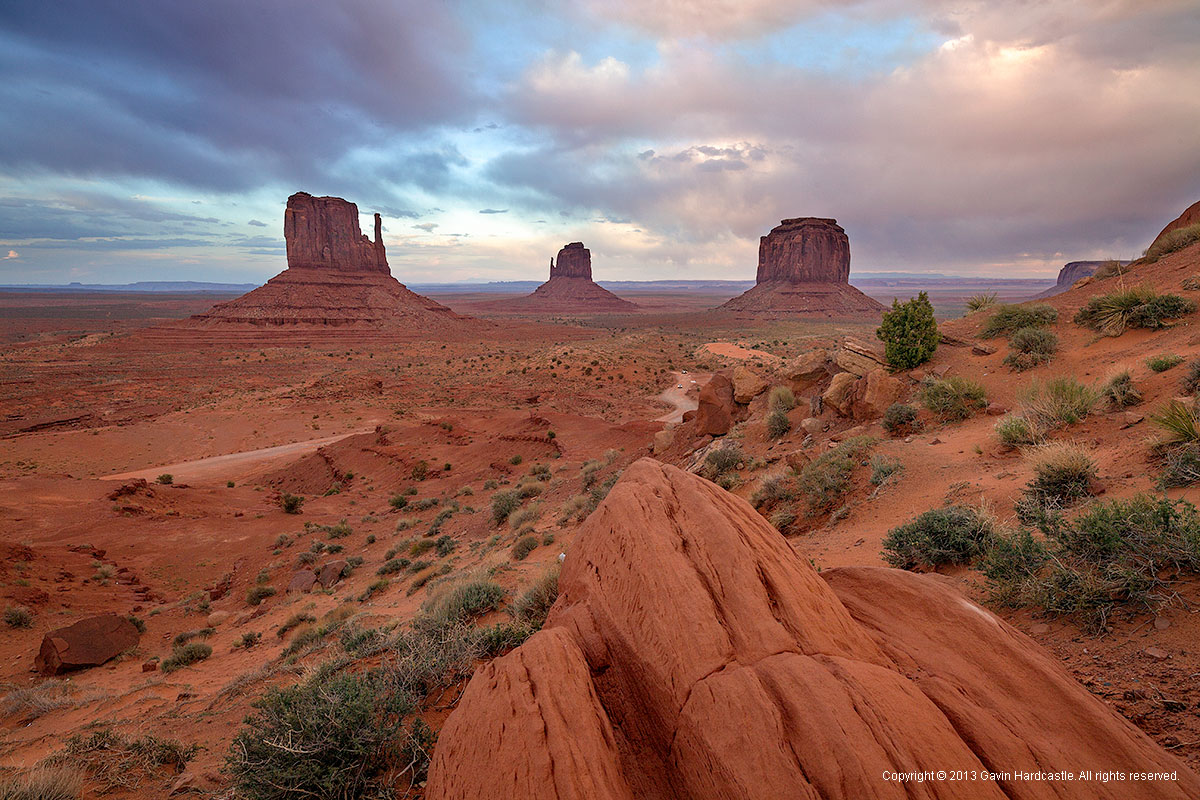 Monument Valley is one of those places that makes you go "Woah" even if you hate that particular declaration of modern slang. It's one of the most imposing landscapes I've ever seen or photographed.
It's barren, desolate plains are interrupted by these giant sandstone monoliths (known as Buttes) that slice into the sky and seem strategically placed to make beautiful compositions for photographers and painters.
Even though you've probably seen the classic shot of the West and East mittens from the main hotel viewing area I defy you to resist taking that shot. I wrestled with my inner snob for a whole 5 minutes before giving in and trying to take my own interpretation of the cliche valley overlook. Even though I hated myself for doing it I'm still pretty happy with the results. Here are my Monument Valley Photo Tips.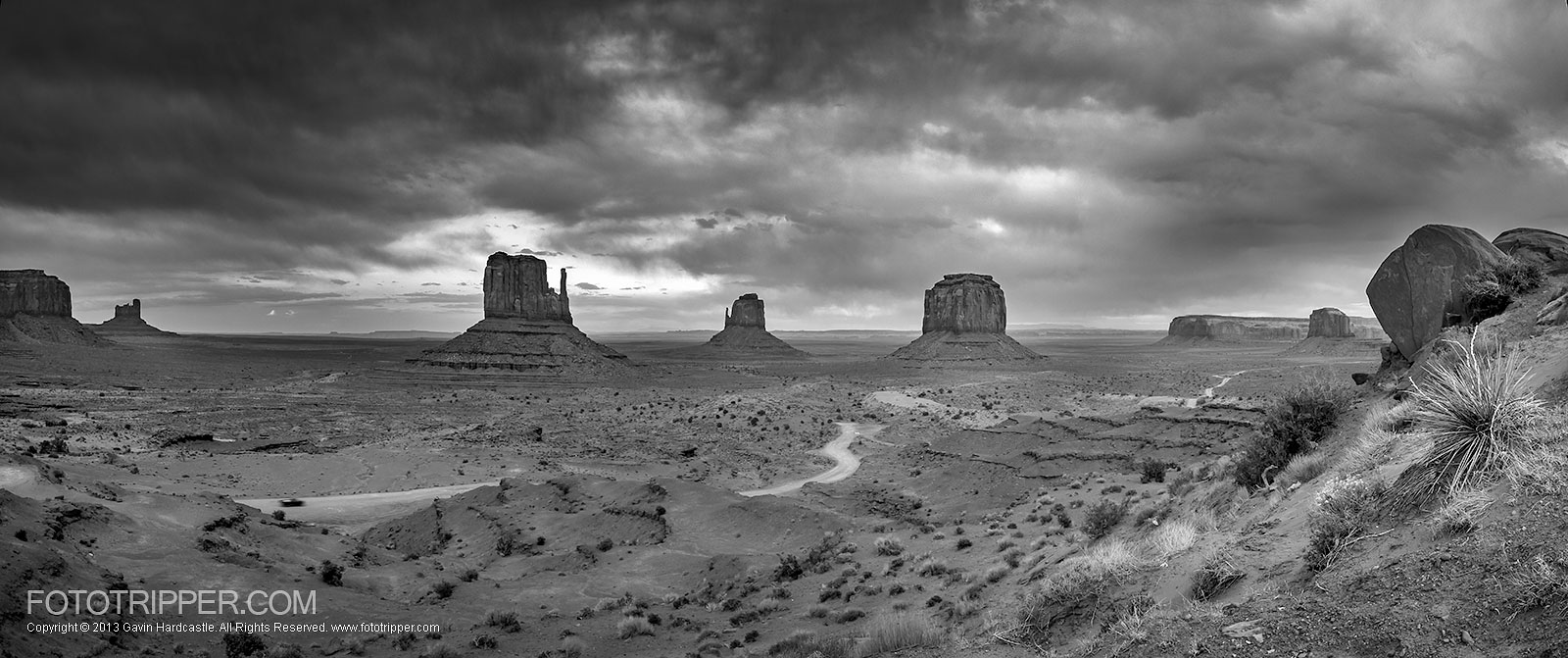 Getting There
From Moab
It's a very easy drive down from Moab, just follow the 191 South and then take the 163 Scenic Route. When you get to the main intersection in Monument Valley simply turn left up Monument Valley Road. You'll have to pay around $5 per person per day at the toll booth to get access to the valley. The drive from Moab takes about 3 hrs.
From Page
Drive East on the 98 to Kayenta. When you hit the 160 take a left and go North-East to Kayenta and then join the 163 to Monument Valley which is left again. This drive takes about 2 hrs.
The Trail and Loop Road
There is only one walking trail that is accessible without a Navajo guide and you can access it from the car park at the visitor centre / View hotel. It's called the 'Wild Cat Trail' and takes you all the way around the West Mitten Butte. If you hire a Navajo guide you can get access to much of the valley.
The Loop road that snakes through the valley is 17 miles long and unpaved. It ranges from smooth sand to brutal potholes to slick rock and will seriously test the suspension of your vehicle. We were in a large 4X4 SUV with plenty of clearance so we had no problems. I watched one guy in a nice new Mustang creep his way out of the valley – that must have been one slooooow drive.
Private residents live in the valley itself and you'll pass their homes on the loop road so be careful not to accidentally trespass on private property. For an excellent map of the loop road and valley go here.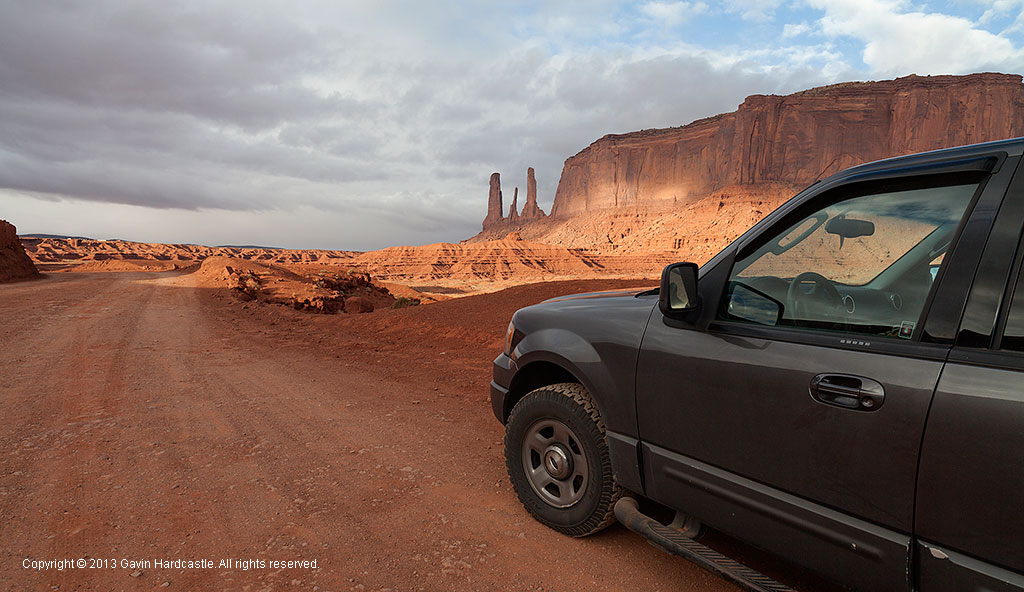 Recommended Equipment
Rain Cover – We were there mid May and it rained a lot.
Heavy Tripod – The winds get pretty aggressive so if your tripod is super light you'll need some weights.
Polarizer – For control of reflections, glare and colour saturation.
Wide Angle Lens – Goes without saying really.
Warm Clothes – it was freezing on the second morning during mid May.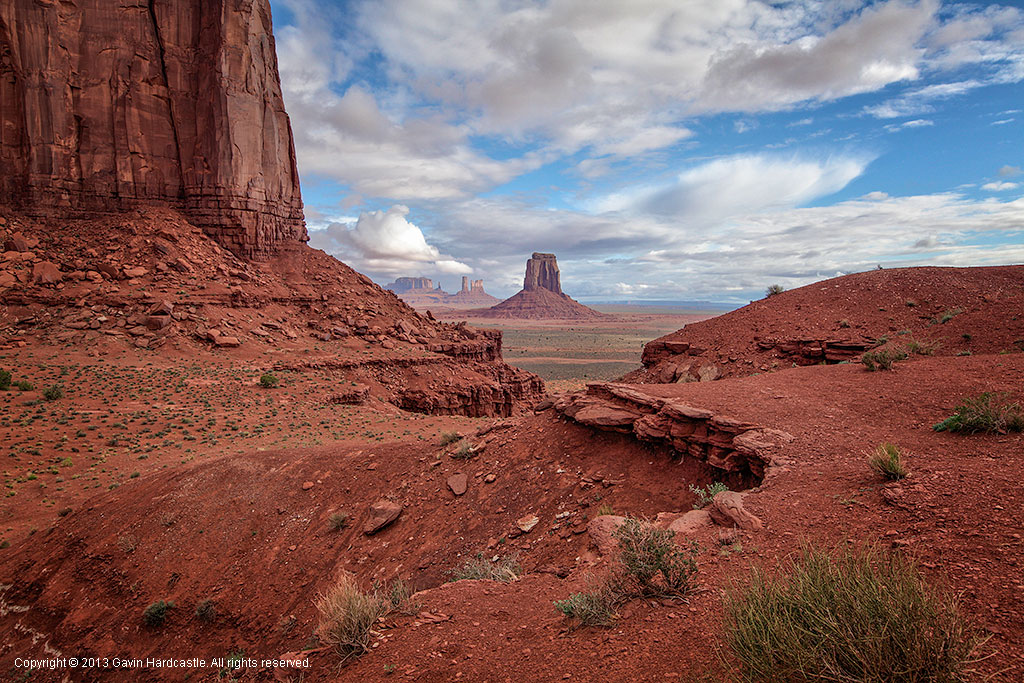 Top Tips
For sunrise, skip the obvious overlook at the start of the valley and drive right to end of the loop road to 'Artists Point'. The sun will light up the Buttes from the East while you face West and you'll get an immense valley view during the best light. I got there about an hour too late because I'd opted for the classic backlit buttes shot – lesson learned.
If thunderstorms are forecast you'll get some spectacular weather conditions but don't expect them to be during typical golden hour. Any time of day can yield fleeting moments of amazing light so just fill up a thermos, strap on your rain cover and be ready.

Accommodation
You have three choices if you are staying close to the valley itself. There is 'The View' hotel which sits at the very lip of the valley and is where you'll start the Valley loop drive. The other option are Gouldings Lodge or camping. We stayed at the Gouldings campground near the Gouldings Lodge and it was not bad.
There are other places to camp in the area but they seem pretty ramshackle. Apparently you can even camp right in the valley itself near the Buttes so if you fancy that I would ask at the visitor centre as I never actually saw anyone camping down there.
If you prefer more choice of accommodation there are a few chain hotels in Kayenta, which is about 20 miles South of Monument Valley.
Dining
I have to say that the dining options in Monument Valley are pretty grim. The only two restaurants are situated in the only two hotels and both offer similar food. I did however get a taste for the Navajo taco – that fry bread is pretty good.
Wildlife
I live in BC which has abundant wildlife so I was pretty shocked out how little life there is out here but it is the desert after all. I saw no snakes or lizards, few birds. I did however see lots of feral dogs, one poor fella was limping along on a maimed foot that he'd obviously gotten used to. I couldn't get him to come close.
Oh and I did see a rotting horse carcass beside the road right near the toll booth. The cycle of life continues.
While You're There
This area has so many world class destinations for photography that you'll be spoiled for choice. It depends on which road you take to get here but if you're coming from Moab be sure to check out the 'Natural Bridges National Monument'. If you're coming from Page be sure to visit 'Navajo National Monument' which has 3 preserved cave dwellings.