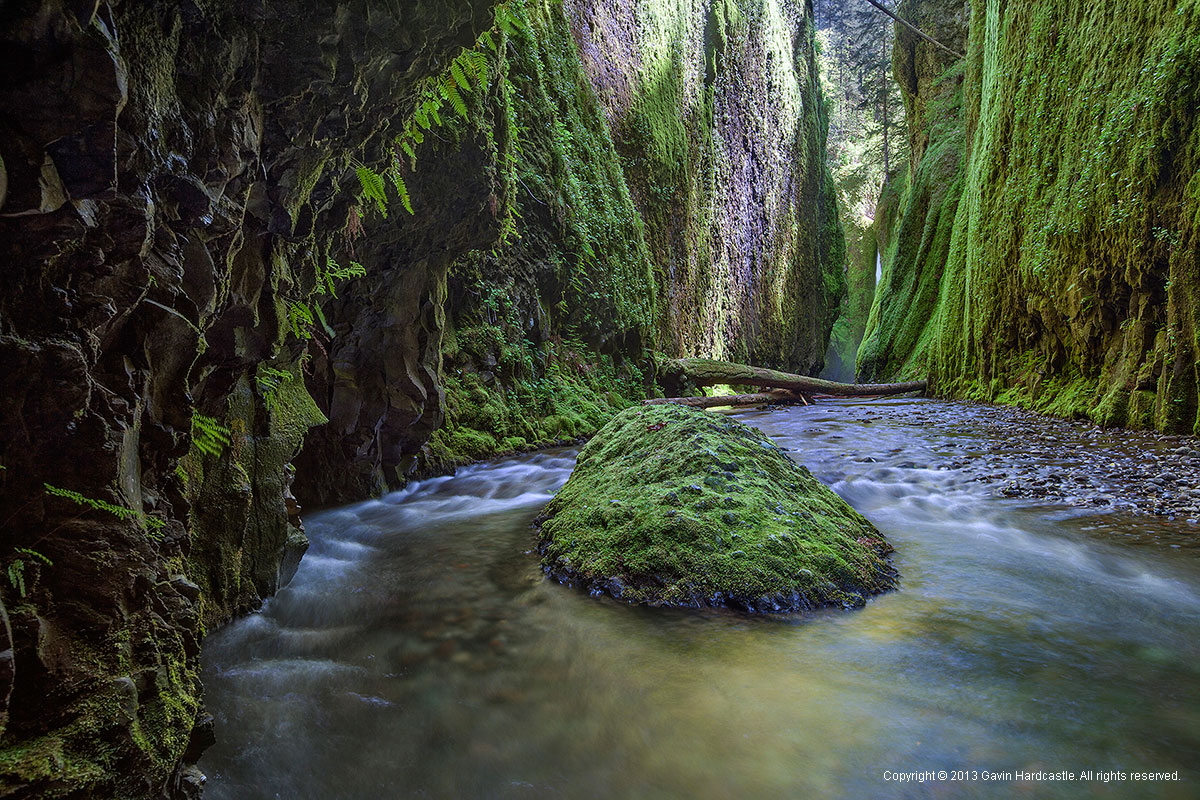 Oneonta Gorge is the ultimate location if you're really into forest and water photography. The greens are so vivid they almost look fake. The water is crystal clear and the sheer walls of the canyon rise up like giant emerald slabs of rock that tower over you.
You'll be forgiven for expecting Gandalf and the Elves to appear from around the next corner, such is the cinematic beauty of this place. Here are my Oneonta Gorge Photo Tips.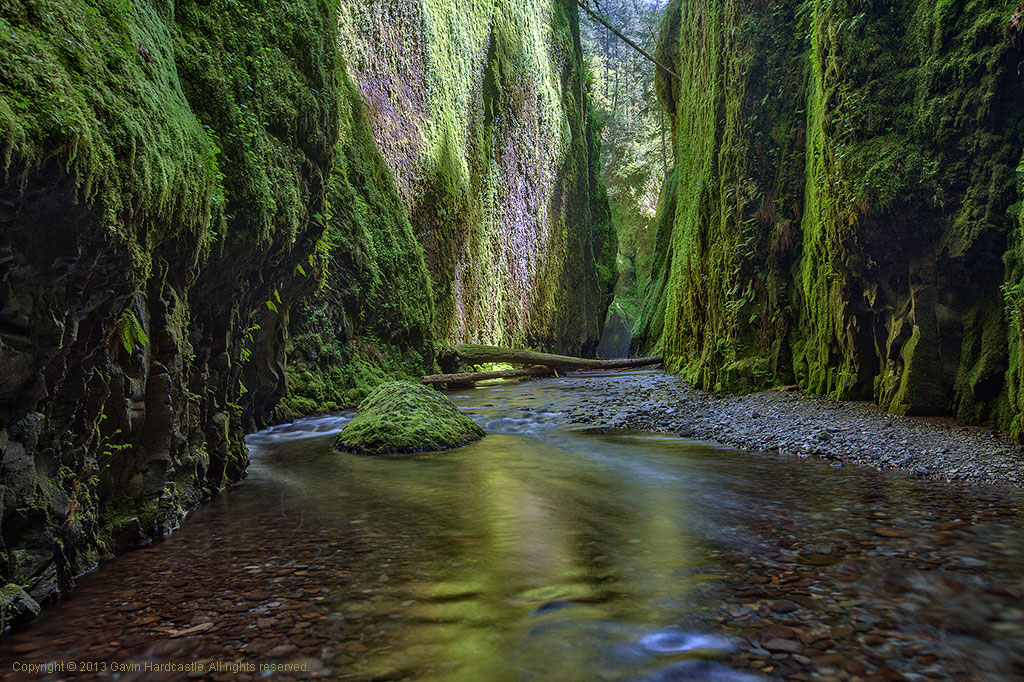 Situated in the Columbia River Gorge Historic Highway area and close to popular water falls like 'Multnomah Falls' and 'Bridal Veil Falls' it's a veritable playground for photographers.
While the entire Columbia River Gorge area is stunning, this article features just Oneonta Gorge specifically.
I'd done my research and knew what to expect. Still, I thought I'd risk a visit without hip waders or wet suit just to see how much of a tough guy I really am.
Turns out I'm a wimp. The water was so called that I only managed to tolerate the thigh deep snow melt for just 30 minutes. My chattering teeth and shivering body finally convinced me to take my last shot and head home.
What to Expect
Once you've arrived at the Oneonta Gorge car park it's just a short (and wet) hike up the river bed before you hit the legendary log jam of doom. Walk from the car park and take the trail along the right hand side of the bridge. Don't cross the bridge. This trail takes you to a place before the log jam where you now have to cross to the other side of the river.
I advise taking a pole to hike across the river so you have an extra point of contact for stability. The rocks are slippy and the water can move pretty rapidly. I almost lost my camera when I slipped and my camera bag went for a little dunk in the ice cold water.
The Log Jam of Doom
If you've read other posts about this you'll already know this is the point where the faint of heart turn around. My advice is to take your time, move very carefully and methodically. Assume that every step you make might break your neck if you don't get it right. You'll have to clamber over dozens of logs that are slick and slimy. A fall in these conditions would be a disaster.
I went very slowly and it only took me about 10 minutes to clear the log jam. Once you've cleared the log jam things start to get gorgeous but you've now got the river to contend with.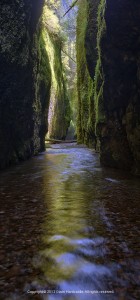 The Icy River of Calamity
Did I mention that the water was cold?  You'd think water this cold would turn to ice but no, not here. For some reason the laws of physics don't seem to apply in Oneonta Gorge. I've been in the freezing cold creeks of Vancouver Island in the winter and I've even been in the North Sea but nothing ever gave me quite the same jolt as the water in this gorge.
I was here at the end of April and the water was just up above my knees for most of the hike. After a heavy rain the water can be considerably deeper, up to chest high depending on your size.
Regardless of the height, I'd recommend bringing a wet suit or dry suit if you plan on getting the most out of your visit. I rented some river hiking gear when in Zion National Park which was much warmer and I'd have killed for the same gear at Oneonta.
In the summer however, this would be total overkill as the river can be reduced to a mere trickle. Either way, keep an eye on the weather forecast and plan accordingly
Getting There
From Portland
Oneonta Gorge is a relatively shorty drive from Portland. From the I5 take the 84 East on the Banfield Expressway. This then turns into the Columbia River Highway. Follow this for about 40 minutes and then take E Bridal Veil Road to join the E Historic Columbia River Hwy. Follow this until you see the sign for Oneonta Gorge.
You can download an excellent Map of the area in PDF format here. Columbia River Gorge Map.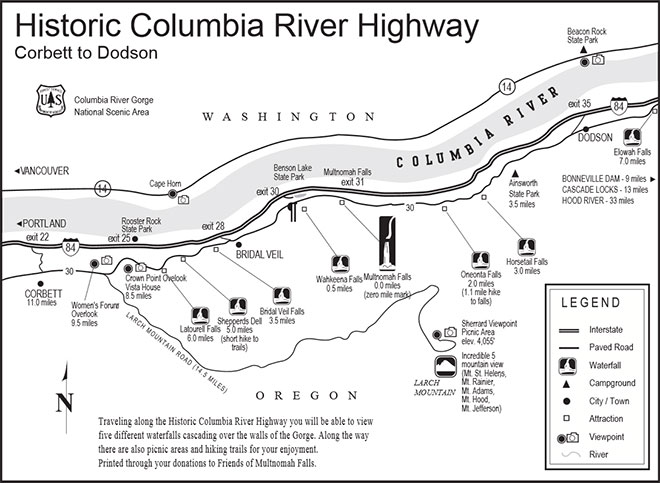 The Columbia River Gorge area is worth it's own dedicated road trip. We tagged this in at the start of our epic road trip to Utah so we didn't get much time to explore. We'll be back very soon.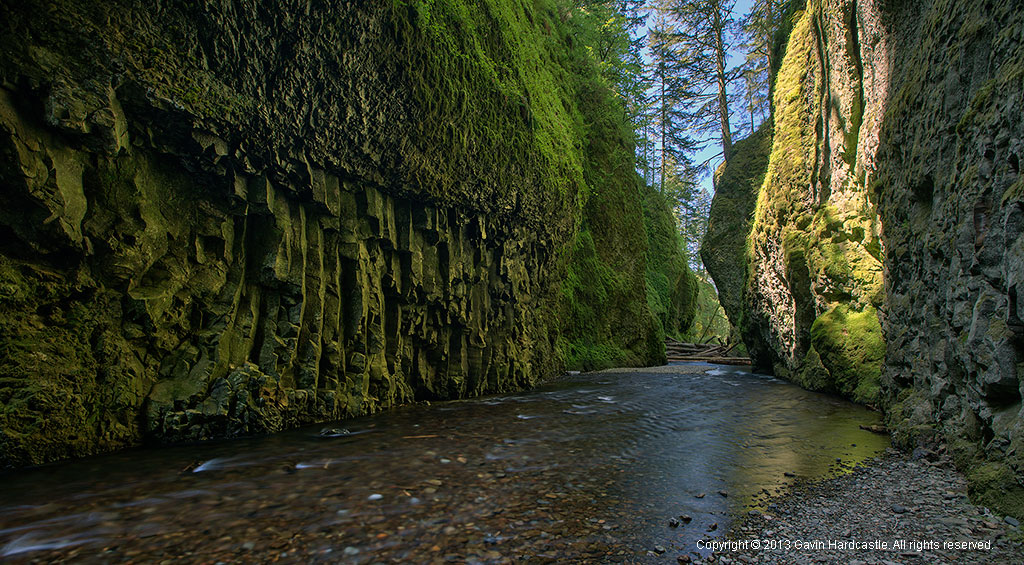 While You're There
If you have some time to spend in the Columbia River Gorge area you won't be disappointed.  Other beauty spots include Latourell falls, Shepperds Dell, Wahkeena Falls, Multnomah Falls and Elowah Falls. While in Oregon check out Proxy Falls if you fancy something a little further South.
I hope you like this short guide. Please feel free to share the page, give it a like, post a comment.