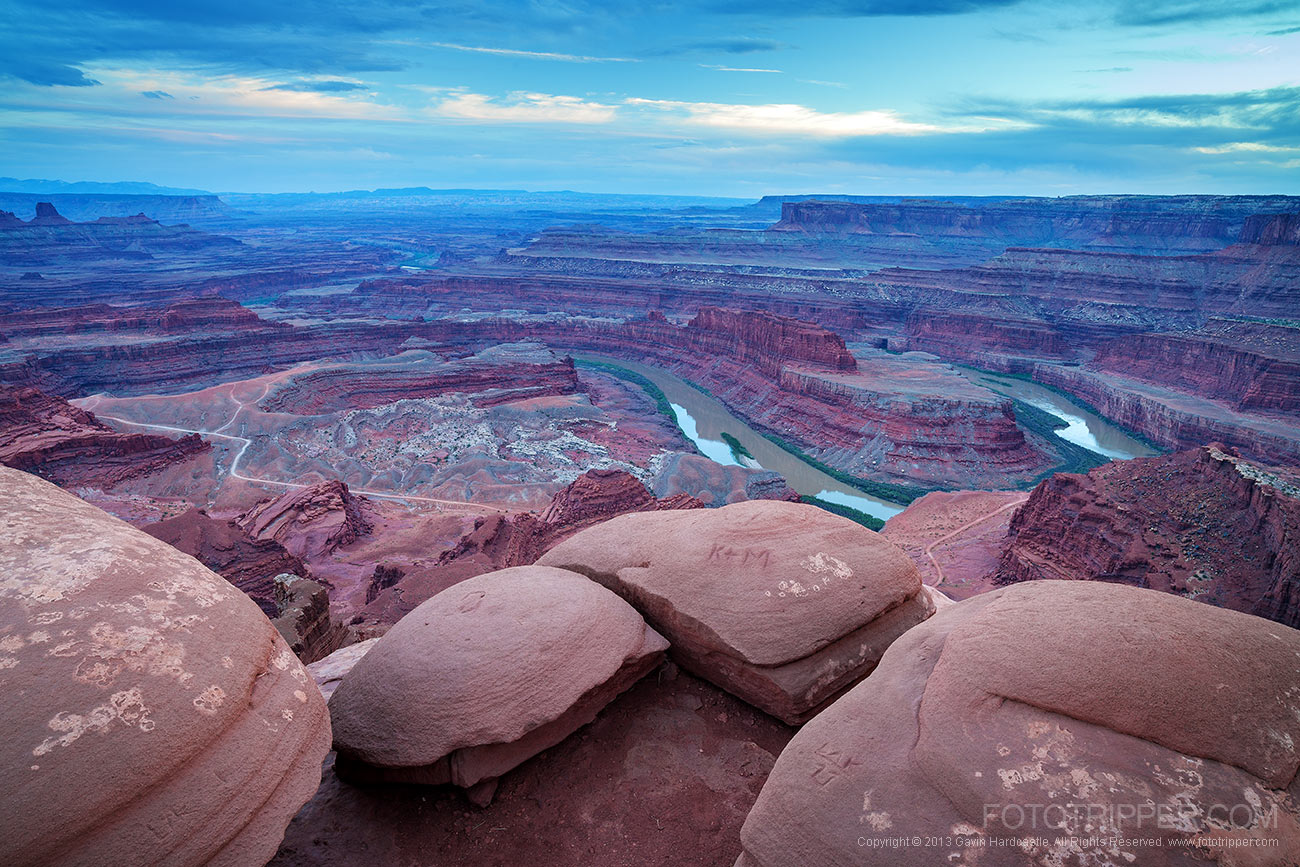 A photography trip to Moab wouldn't be complete without a visit to Dead Horse Point State Park. Like many of Utah's spectacular landscapes, it's been photographed a gazillion times but don't let that stop you from getting your own awesome shot of this jaw dropping vista. Here are my Dead Horse Point State Park Photo Tips.
Please subscribe to the Fototripper mailing list or hit this 'Follow' button below to get Facebook updates. We'd also love it if you tweeted this page.
1 – Sunrise and Sunset are equally impressive.
Because Moab is so packed full of amazing landscapes you'll have to prioritize your shooting plans. You may not get the chance to shoot both the sunrise and sunset. The shot below  was taken during sunset so you can expect the light to come from pretty much the opposite direction for sunrise.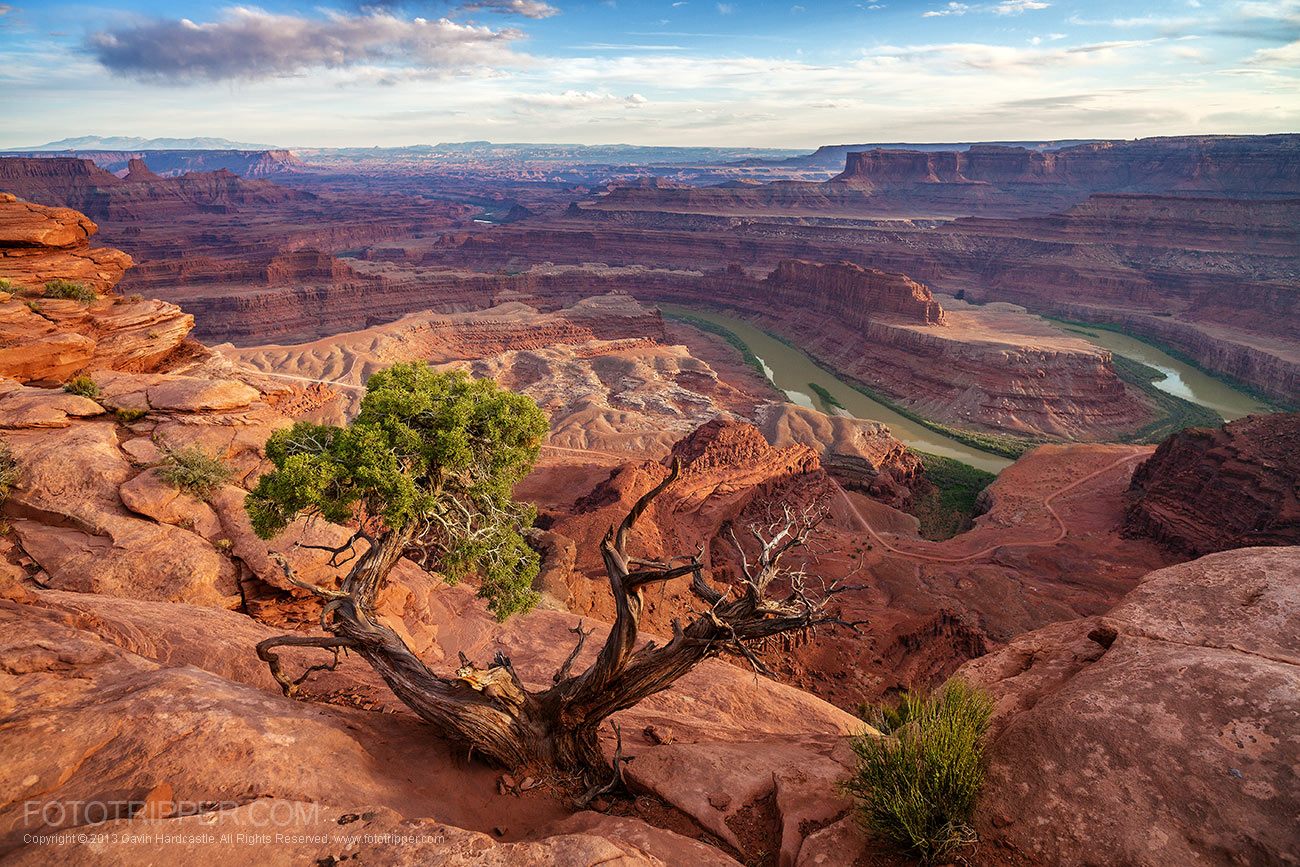 2 – Go Early and pick your spot
Dead Horse Point doesn't get quite as overrun with photographers as Mesa Arch but it's still pretty popular and the summer months will see some fairly large crowds. With that in mind turn up with plenty of time to scope out the best vantage point. There are countless trees and rocks to choose for your foreground so don't limit yourself to one location, go and explore to find interesting site lines and objects to place in your foreground.
3 – Go during bad weather
There's nothing more boring than a cloudless sky when it comes to shooting canyons and mesas. Sure, you want the clean side light from the sun as it rises/sets but it's the clouds that make things interesting. If you get really lucky there might be thunderstorms and that's when you'll get some spectacular atmospherics. So if it's raining and wet, take a chance and get out there with your rain cover and wait for a break in the clouds and maybe some rainbows. Everything will be wet so the colours will be more saturated and you'll get deep dark black tones.
Just remember to bring a polarizer and a lens cleaning kit.
4 – Be there for Twilight
If you're there before sunrise or after sunset you'll get some very interesting light. The shot above was taken about 30 minutes after the sun went down and offers an interesting contrast between the blue haze of the sky and the red rocks in the foreground and middle of the scene.
5 – Where to Be
The classic Colorado River overlook shown in my images is to the right of the main parking area. There are a couple of restrooms with an overlook just outside where you'll see the Colorado River snaking through the valley floor. Take a right from the there and follow the rim of the mesa West towards the setting sun.
The whole area has some fantastic vista's so don't limit yourself to just the overlook shown in my images, walk around the rim and follow the best light, that's where your shot will be.
6 – Shooting Panoramas
You'll most likely be tempted to shoot a panoramic or stitch shot for ultra high resolution. Remember that most wide angle lenses create a lot of distortion which will mess up your stitching in Photoshop, so be sure to carry a lens that is 50mm and upwards.
Getting There
Driving from Moab takes about 40 minutes if you drive at a decent clip.
After stopping at the all night gas station for coffee, leave Moab on Main St North which becomes the 191 North and take the left on the 313 for Dead Horse Point State Park. Follow it all the way, pass the visitor centre and then park in the main car park for Dead Horse Point.
The Trail
There is a short, paved trail around the rim of the mesa but you'll need to leave the trail behind and walk further along the rim to find your shot. You can't really get lost and the car park is visible from most vantage points. Be careful with your footing and fall of the edge![ml-adverts location=in-content]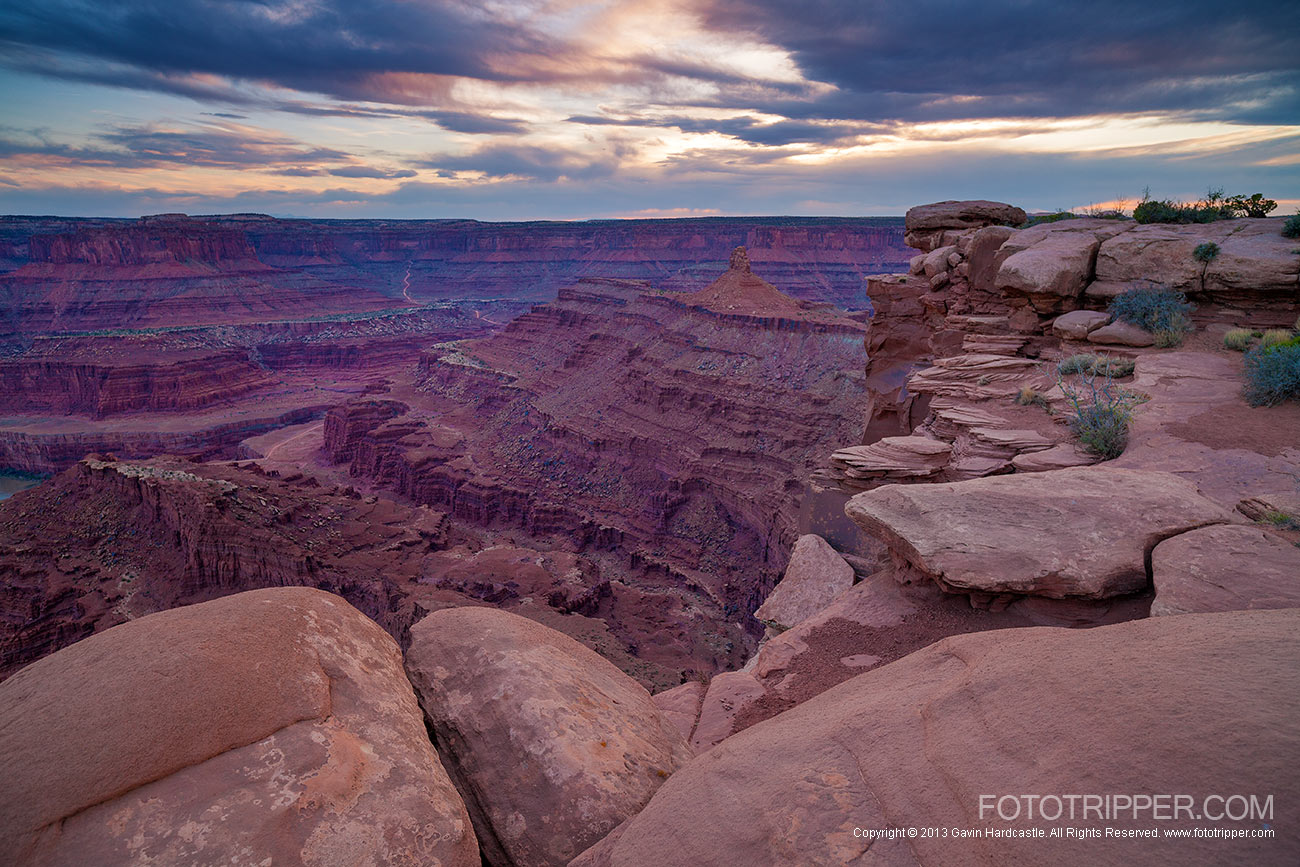 Recommended Equipment
Polarizer – For control of blown out clouds and colour saturation
Tripod – Bring a weight bag in case it gets windy.
Wide Angle Lens
Zoom lens and something above 50mm if you want to do panos
Headlamp if you plan on arriving long before sunrise.
While You're There
If you don't already know, Moab is a wonderland for photographers. There are literally thousands of spectacular photo opportunities in each and every one of the National and state parks. An entire lifetime is not enough to see all there is to see. Prepare to be completely overwhelmed.
For amazing places near Mesa Arch be sure to check out 'Island in the Sky' , 'Delicate Arch' and 'Mesa Arch' which are very close by.
Accommodation
Moab has accommodation to suite all budgets. I would not recommend the Days Inn but then you do get what you pay for. Shop around and pay what your comfort level requires.
Camping
Dead Horse Point Sate Park has a campsite just up the road from the main parking area for the Park. It's an ideal location if you plan on staying within the park to get quickest access and maybe even some star shots.
Dining
There's plenty of choice for dining in Moab. It's a small town but has lots of restaurants and a few pubs serving decent food of all kinds. There's even a little Thai restaurant in town that was OK. If you find places selling fish don't be worried as the bass most likely comes from Lake Powell and should be very fresh. We had excellent fish tacos as the Cabo grill.
Please leave a comment and let me know if these tips were helpful.