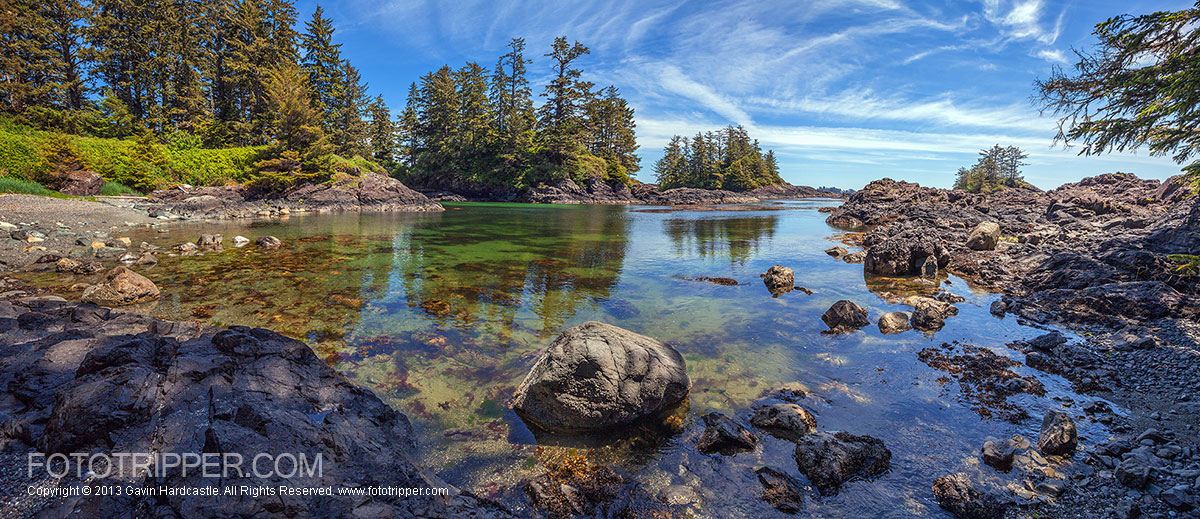 Florencia Bay sits on the edge of Ucluelet on the West Coast of Vancouver Island. It's close to where Ucluelet ends and Tofino begins. Here are my Florencia Bay Photo Tips.
The hidden gem seen in the picture above is overlooked by most tourists but is easy to find. I've no idea what the official name of this section of beach is but here's how to find it.
When you reach Florencia Bay you have to walk down a wooden staircase to reach the sand. As soon as you reach the sand turn right and walk along the beach as far as you can until it ends with a spit of land. Quite close to the water you'll see a couple of rough trails that lead into the bush. Take any of these trails and follow them until you come out the other side of the spit and see those beautiful emerald green waters from the Pacific Ocean.
Alternatively you could hike around the waters edge but it's really slippery and probably not a good idea.
You could also kayak directly from Florencia Bay to this secluded beach pretty quickly and you'd get to glide through those gorgeous emerald waters.
Hiking time from the car park to the green waters is about 40 minutes. Florencia Bay is really long and the bush wacking will take around 10 minutes unless you bring a machete.
If you're feeling adventurous you'll find some similar spots further along the craggy coastline if you don't mind more bush wacking. Eventually you could make it all the way to South Beach near the Kwisitis Visitor Centre.
Top Tips
This isn't a golden hour location. You'll find the best light in the middle of the day when the sun is directly overhead. With the midday sun the green algae in the water really lights up and reflects the bright sun. The geography of this cove also means that your late afternoon sun just won't find it's way in to light up the rocks.
Bring a polarizer to minimize water reflections and maximize the richness of those greens.
Bring a tripod so you can bracket your shots for HDR. That midday sun will create outrageous contrast with deep blacks and  blown out highlights so you'll struggle with handheld.
Do a Pano. You'll probably want to take a panoramic stitch to fit the entire scene into your sensor so again you'll need a solid tripod for that.
Getting There
From the Pacific Rim Highway 4 take a right towards Tofino instead of turning left for Ucluelet. You'll see the sign for Florencia Bay in about 5 minutes. Take a left onto Wick Rd and then a second left to the car park at Florencia Bay.
From here it's a short walk to the steps that take you down to the beach.
Recommended Equipment
Rain Cover – The weather is treacherous.
Heavy Tripod – The winds get pretty aggressive so if your tripod is super light you'll need some weights.
Polarizer – For control of reflections, glare and colour saturation.
ND Filter – For those milky water shots.
Cable Release – For fast capture of crashing waves during storm season.
Zoom Lens – There are many far off scenes you'll want to capture, especially for wildlife.
Wide Angle Lens – Goes without saying really.
Warm Clothes – It never gets HOT in Ukee.
Sensible Footwear – Don't be mincing about in flip flops on those dangerously slippy rocks.
Accommodation
Ucluelet and Tofino have a glut of high quality accommodation from BnB's to Hotels to cabins. Our favourite place to stay is the Black Rock Ocean Resort. It's a little pricey because of the spectacular location. You can get some pretty good photos just from the balcony in your room.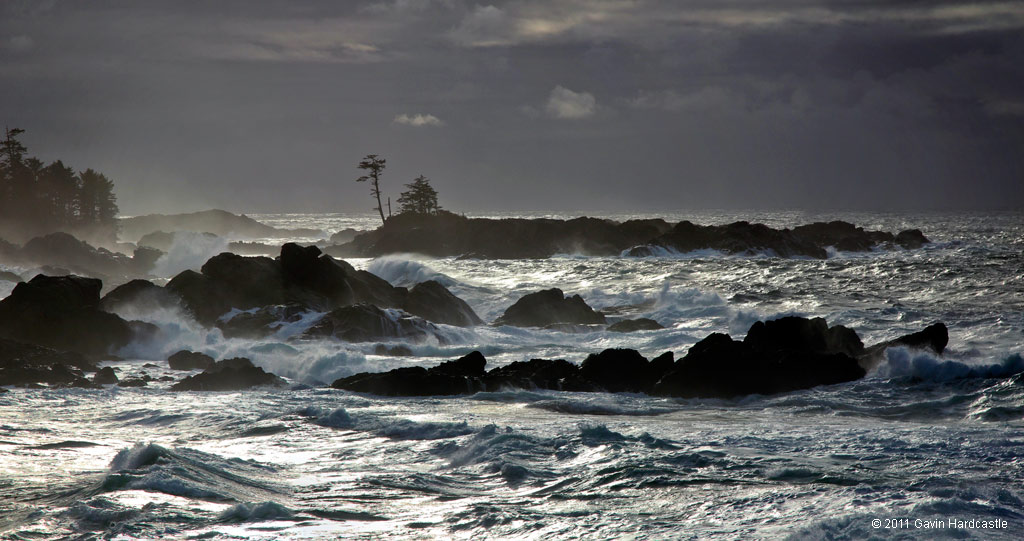 Camping
I tried one of the yurts at Wya Point Resort which is next to the Wya Point campground and it was pretty deluxe. The campsite and the yurts are right on the edge of a nice beach.
Dining
With Ucluelet being such a small town your dining options are pretty limited. If you want fine dining don't mind paying big city prices try 'Norwood's' on Peninsula Rd or 'Fetch' inside the Black Rock Ocean Resort. There are cheaper places to eat like 'Romans' but I've found them to be inconsistent. We tend to either splash out on the good stuff or cook our own meals. If you have any recommendations please leave a comment below.
Wildlife
Be aware that you are sharing the environment with predators. Use common sense and don't create a situation that would put yourself or an animals life in danger. It's normal to cross paths with bears on the West coast so give them plenty of space and avoid creating a temptation for them. If you're carrying a whole smoked salmon in your backpack don't be surprised if a bear starts eying you up.
What's your favourite place in Ucluelet and Tofino? Where should I photograph next?