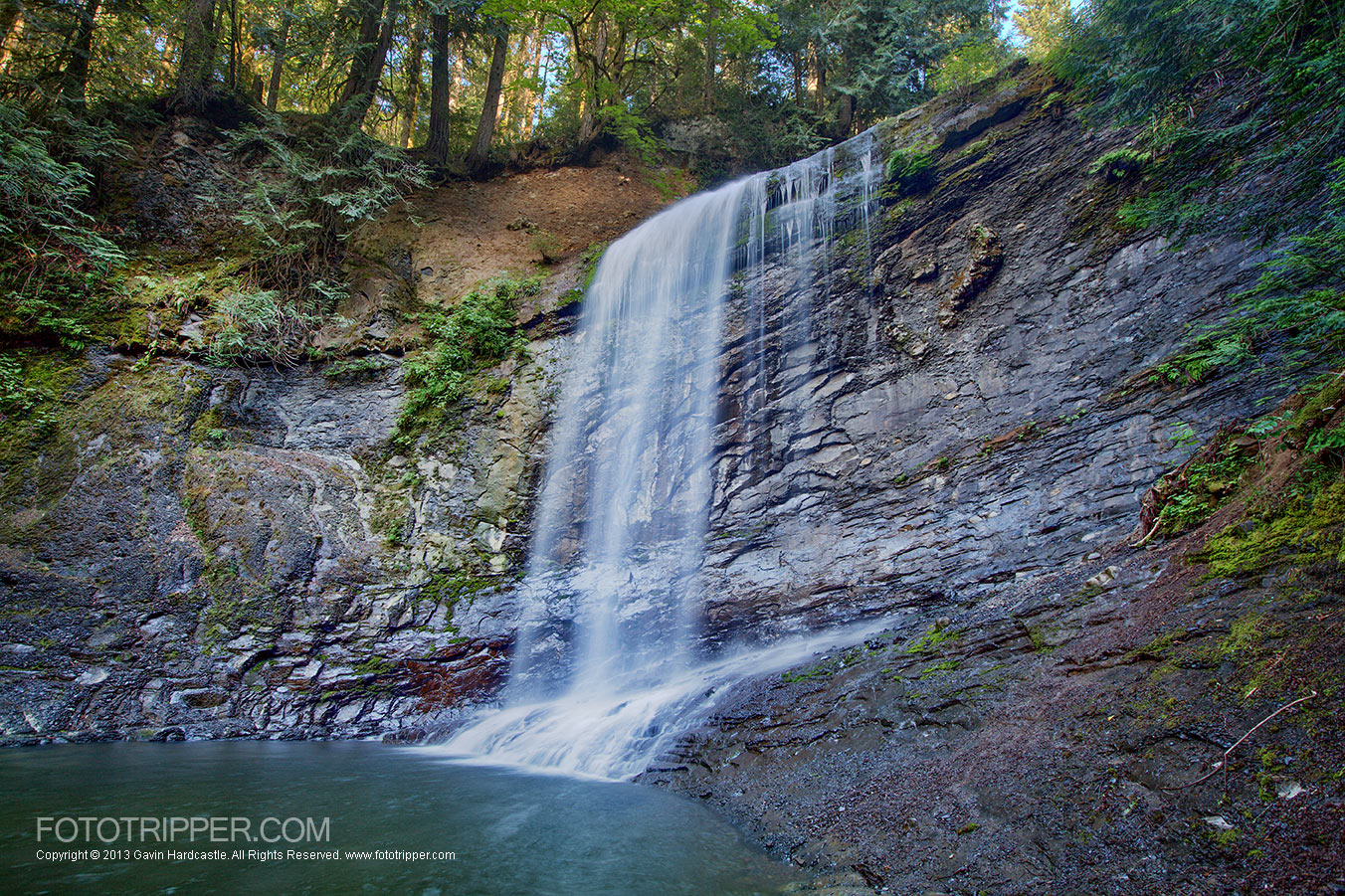 Just inside the foothills of Mt Benson there runs a creek that drops dramatically over a steep shelf of fossil rich rock layers to create one of Nanaimo's most well kept and most beautiful secrets. Here are my Ammonite Falls photo tips.
As with all waterfalls, your biggest challenge as a photographer is the spray. I visited Ammonite Falls in the early summer so the flow rate and spray were not too bad but still, I was unable to get any closer than the image above without my lens getting a good soaking.
Top Tips
Waterfalls usually look better when in shade. If you prefer bright light directly on the falls you'll need to come at midday. If you want a long exposure on the moving water during midday light you'll need a strong neutral density filter.
Bring a polarizer to minimize water reflections and maximize the richness of the forest greens.
Obviously a tripod is essential for long exposures
Bring a rain cover if your camera is not weather sealed as there will be lots of spray.
Bring a friend or let people know where you are going. Sloshing around in creeks can be dangerous.
Most of the other shots I've seen of Ammonite Falls don't capture its impressive size. When I first arrived I was shocked at how tall the falls were. I tried to capture it's immense size by showing the trees in the top of the frame as a comparison. Try and get a shot the captures the size of the falls by including the surroundings for scale.

Getting There
Driving – Apparently there are two routes but I chose to take the most straightforward. The nearest place to park your vehicle is at the very end of the Benson Meadows development on Jameson Road.
Drive West along Jingle Pot Road until you reach the Benson Meadows fire hall. Turn left at the fire hall and drive through the Benson Meadows estate until you hit Jameson Road. Take a right on Jameson and drive until the road ends at a logging road complete with yellow steel gate.
There is about enough space for one car right next to the gate so I prefer parking further down on the paved road so as not to block access to any of the private residences that are on that logging road. This will only add a few more minutes to your hike.
The Hike – Hiking time from the 'car park' to the falls is about 30-40 minutes depending on your fitness level.
Hike up the logging road, pass the yellow gate. Ignore the first left turn and the right turn and continue straight until you see two signs. One sign is an old hand made sign that states 'Ammonite Falls', the other is a Provincial Park sign is for 'Benson Creek Falls Regional Park'. I guess that is the official name of the falls.
Both signs indicate that you now take a right turn on to a small forest trail. This will take you down a steep incline into a valley and you can now hear the creek. You're about half way there. Follow this trail down and then back up the valley with the sound of the creek always to your left.
You'll eventually come to the end of the trail with a very steep climb down to the falls through firm dirt and tree roots. At the time I was there the ropes were in good shape and it was easy to get down. I'd be more careful if it was wet.
Accommodation
If you're are visiting Nanaimo there are lots of hotel and motel options. A quick look on any of the hotel sites will give you what you need to suite your budget. Anything in the downtown area will be centrally located if you plan on traveling around the mid island area.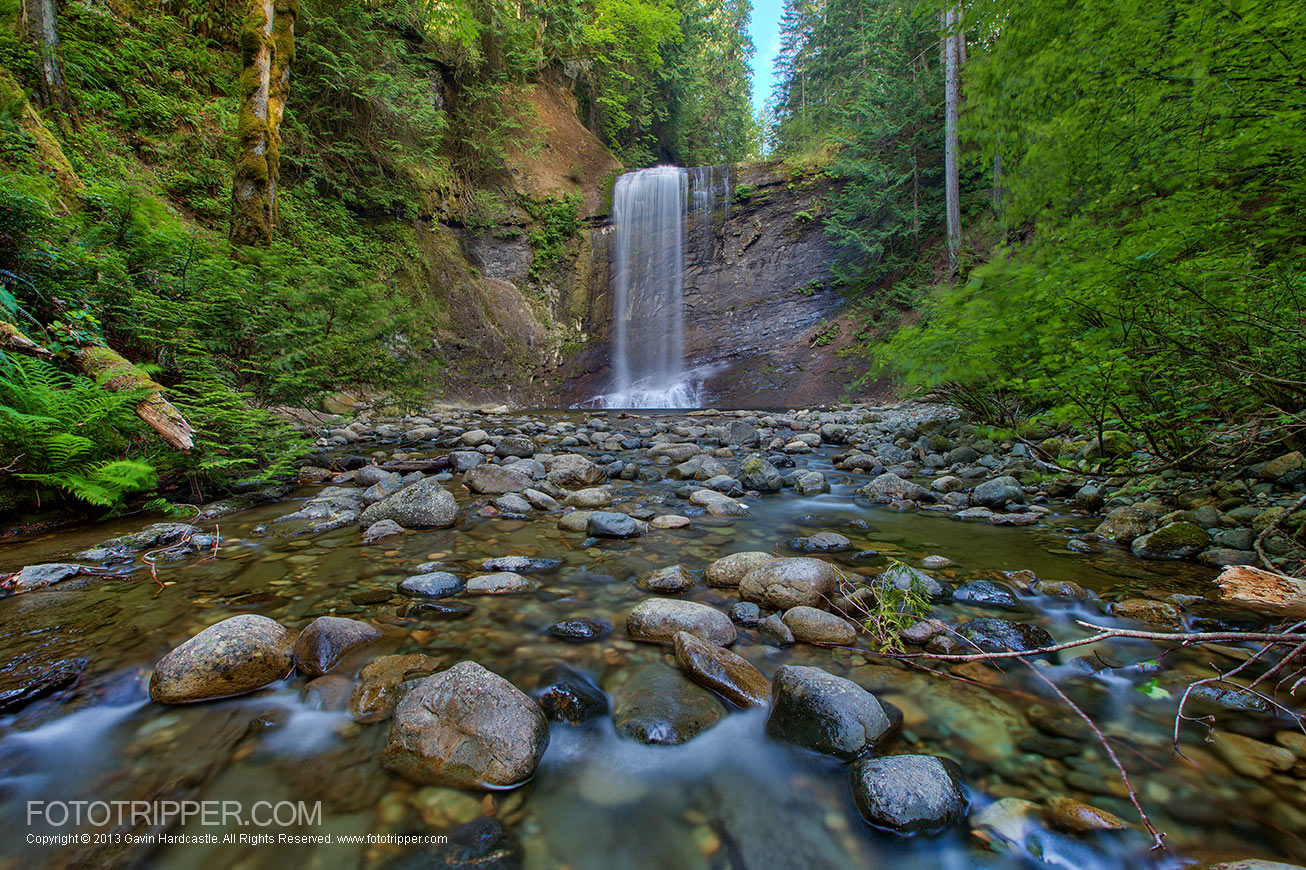 Camping
The two most popular campgrounds would be 'Westwood Lake Campground' which is very close to Ammonite Falls and situated on a small but beautiful lake and then 'Living Forest Campground' which is located at South Nanaimo on the coast.
Dining
If you fancy dropping some dollars for the best food in town go to Asteras Greek Taverna. It's very pricey but the food is superb. Book ahead as it always gets busy.
If you like good Indian food but don't mind abysmal service go to 'Gateway to India'. It's about the best curry you'll find on the Island but you can expect to be waiting a good hour before your food arrives, even if the place is dead. God help you if you turn up 30 minutes before closing time, they'll simply turn you away.
Wildlife
When I was at Ammonite Falls I came across a hastily buried deer head in the river rock right next to the falls. This will most likely have been the leftovers from some predators feast. Just be aware that you are sharing this land with wild animals so don't be shocked if you bump into a bear or if you're really lucky a cougar. It's their land after all.
Please like and share this article if you found it helpful