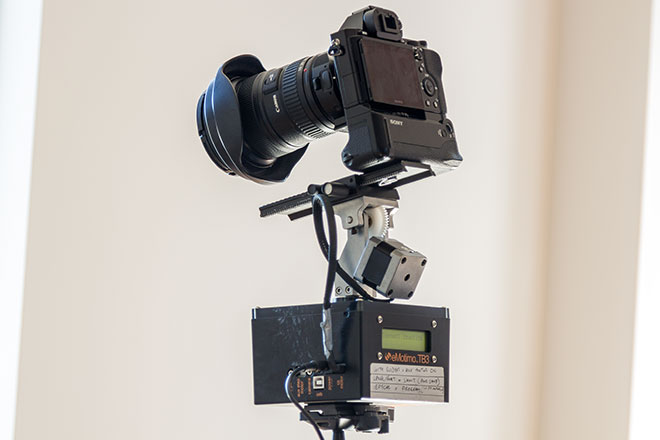 I can count on one hand the number of times that I've made an emotional connection with a product. My 'Incredible Hulk' pyjamas at age 4 would be the first and the TB3 from eMotimo at age 40 would be my most recent. As a cynical consumer, it takes a lot to get me fired up, so take a few minutes to read my eMotimo TB3 review and find out why this little gizmo earned my respect.
Before you read the full review, here is some footage that was shot entirely using the TB3 on a 4ft slider.
What does the TB3 do?
If you ever shoot video or time lapse footage, you're going to love the TB3. The TB3 from eMotimo can turn your boring, static video recordings or time lapse shoots from 'meh' to 'whoah' simply by adding movement to your shoot via the power of precision robotics.
The magic of the TB3 comes from the fact that it can pan AND tilt your camera simultaneously while you record your footage. It does this so smoothly and accurately that your footage gets an instant boost in production value.
When you want your footage to look like a million bucks, just place the TB3 on a slider and now you've got yourself a killer 3 axis rig that creates mind blowing repeatable camera moves.
What's the big deal about pan AND tilt?
You'll notice the emphasis that I place on the AND? That's because the TB3 is currently the only robotic tripod head on the market in this price bracket that can boast such functionality. There are plenty of robotic heads that can pan OR tilt, but having a sub $1k head that does this simultaneously makes a huge difference to your creativity.
Add to this the fact that you control these beautiful moves via the wireless joystick remote and you're starting to see where that emotional connection begins. The first time you use the TB3, expect to be wearing a Cheshire cat grin as you fully realize the possibilities at your fingertips.
What can the TB3 do for me?
Let's face it, with any type of camera gear, it's all about what that gear does for you, how it helps you to create art, that's why I love the TB3. After 4 months of use I'm still discovering cool new ways that this device can help me to create inspirational footage.
The TB3 has become an integral part of my creative process. For time lapse photography it's just as essential as my camera. But even though the TB3 has earned it's place among the time lapse Elite, that's not all it does.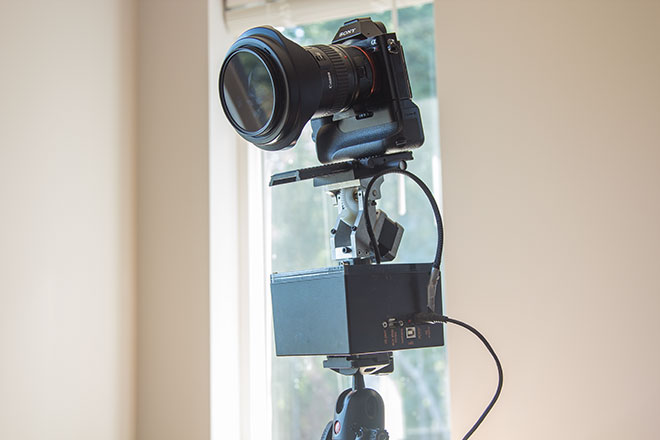 Can it do more than just time lapse photography?
Oh yes. While the TB3 was forged in the fires of the time lapse boom, it's steadily evolved to add more and more skills to its bursting bag of tricks that aren't just limited to time lapse shooting.
For Video Shooters
Cinematographers are starting to take notice of the TB3 because of its smooth, silent and repeatable moves. Set that TB3 up on a slider, program a push move with a pan and tilt and you're now making films that look as if your camera is gliding through thin air.
If you're already rocking high end cameras and lights, the TB3 on a slider can give you stunning smooth jib shots using a much smaller and more portable rig than you're used to. For location shooting this is essential.
For landscape shooters making huge panoramic prints

If you want to take multi-gigapixel panoramas, the TB3 can handle that for you. Just use the joystick to program your start and end points and the TB3 will move your camera and trigger the shutter to nail the perfect pano. I've only used this feature a few times but the results are so much cleaner than doing this manually with a ball head.
When you consider that there are similarly priced tripod heads out there that ONLY do this one job, the TB3 starts to look like a very fairly priced Swiss Army Knife.
Build Quality
I'll be blunt. The TB3 is a brick. It's not the prettiest looking device but who cares, the build quality is very high, sturdy and durable. I've done shoots with the rain pouring off the TB3 while my camera was carefully ensconced in one of those rain cover camera condoms, the TB3 laughs at rain. That being said, I wouldn't want to submerge it in a river or the ocean.
My one gripe about the build quality is that the test device that I was sent by eMotimo has a very well worn 4 pin connector which connects the TB3 to the motor on the slider. It ruined a few shoots because the cable kept dropping out of the connector port on the TB3. I dealt with this by using Gaffa tape, but it's not ideal. You can see the tape residue here in this image on the side of the TB3.
I expect newer units don't suffer from this but I'd like to see the issue addressed. Perhaps a replacement port every couple of years? If so, what would that cost and could I fit it myself?
Ease of Use
I'm not gonna lie. There's a small learning curve. If you're totally new to time lapse photography maybe it'll be a medium sized learning curve. You'll be able to get up and running with basic moves without consulting the manual but I highly recommend you study the manual to get the most out of the TB3. I'll give you an example:
When using the TB3 on a slider to film a vertical jib move, the TB3 motor will suck a LOT of battery juice. Make sure to adjust your setup settings so that the TB3 knows not to use so much power when you switch back to horizontal moves.
With that in mind, I'd like to see eMotimo update the TB3 interface so that more of this is obvious and users have to do less consulting of the manual. I've read parts of the manual while sitting on the throne but it's easy to forget, so I'd prefer a more idiot proof interface to make some of the hacks more obvious.
The Results
I know it doesn't look all that smooth when you view the highly compressed Vimeo video that I embedded in this page, but trust me when I tell you that the movement of the TB3 is as smooth as a personal injury claims lawyer chatting up clients in the ER.
I've used other robotic heads for time lapse photography and the TB3 delivers the smoothest animation that I've seen. It's simply flawless and that is what you are paying for. Nothing else really matters except the results.
Accessories
Motor Assembly for 3 axis of movement
eMotimo sent me the motor and spindle rig which attaches to the Rhino Pro Slider 4ft to give me a 3 axis motion control system. My main challenge with this setup was that either the battery or motor cable would often get caught in the slider caddy and ruin a shoot.
There's no real way round this other than to always keep your eye on the cables to make sure they stay clear of the caddy wheels.
I also find the base plate that sits on the slider caddy to be very fiddly to setup. You basically have to feed the rubber belt into both ends of the base plate and tighten three grub screws to get it locked and tensioned. This takes so long to get right that I tend to leave it rigged up permanently so that when I arrive at a shoot, I just have tighten up the tension. It's not the fault of the TB3s but I think eMotimo could figure out a better solution.
I'd be interested to hear what other users think of this setup as I feel it ought to be better.
Summary
The TB3 from eMotimo gets 4.9 stars out of 5. It's not perfect, and I would normally give it 4 stars but I have to take into account the bargain price of around $999 which completely destroys any other device that features the same functionality and portability.
Should you buy it? If you plan on using motion control for video or time lapse, the TB3 is already a forgone conclusion. Make some space in your camera bag right now. Visit the eMotimo store here.