If you've ever wondered what actually goes on behind the scenes of my ridiculous vlogs, you might find this blog post interesting. This vlog took us to the Valley of Fire in Nevada where I'd planned on filming a focus stacking tutorial with cameraman Greg Snell.
By this point in the trip we'd been on the road with F4 for three weeks and my rapidly expanding gut was causing partial asphyxiation on an hourly basis. Simply crouching down meant that my lung capacity was immediately halved. Attempting to film a focus stacking tutorial in a very tight, confined space was in hindsight not a very good idea.
I'm always struggling with my weight but whenever embarking on a road trip to the US I can count on gaining at least 10lbs very quickly.
This trip was even worse as our chaotic schedule often forced us to eat grim food in even grimmer locations with no opportunity for exercise. My attempts at making salads in the 'Murder Box' trailer were simply not worth the hassle and the hygiene conditions were..….well lets just say 'questionable'.
By the time we'd reached the Valley Of Fire we were all totally burned out and excited to have a day off from working on our project.
Greg The Destroyer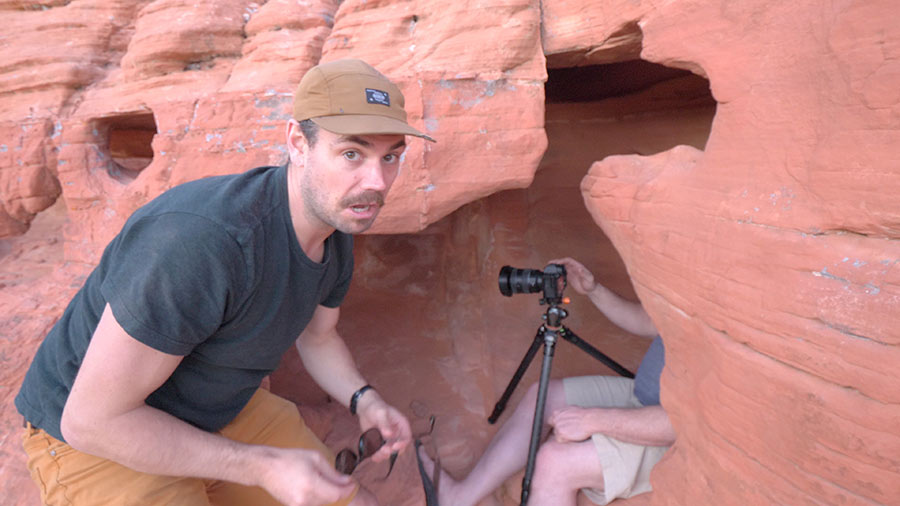 Ever the opportunist, Greg kindly offered to film me on my quest to capture a lovely shot of 'Windstone Arch' which I'd shot before and knew would work well for a focus stacking tutorial. We went in search of the cave with Uncle Grumpy not too far behind us.
After a few minutes of hunting for the cave I quickly settled in to my regular routine of talking bollocks about my shot and generally taking the piss out of Greg with some faux sexual harassment thrown in for good measure. As always, he outclassed me.
The Focus Stacking Tutorial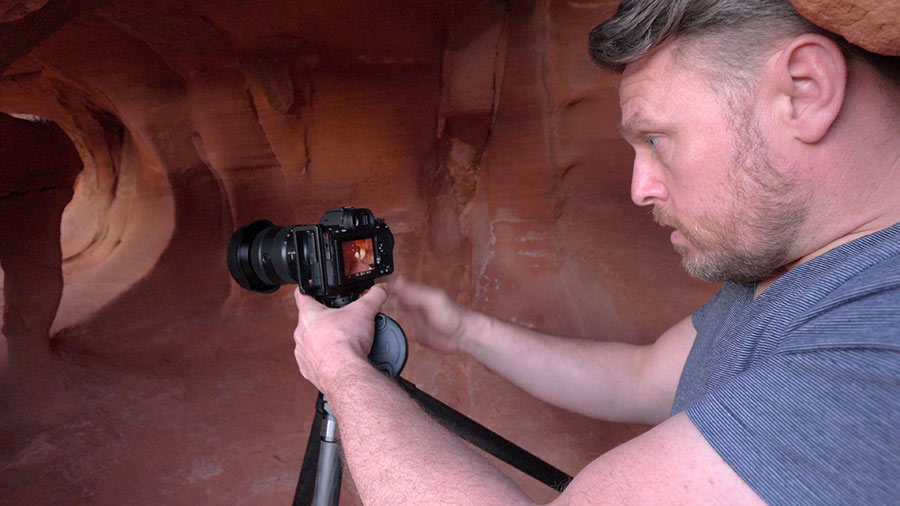 This part of the video went really well and I managed to capture a lovely shot of the arch inside the cave. You may be wondering why I chose to bracket only the shots that were focused in the middle and far distance and NOT the foreground shot? I often find that for my foreground shot (the exposure that has specific focus on the immediate foreground), I don't need to bracket as the highlights are usually not blown out.
This was the case with this shot. In the end I managed to capture all of the focus and dynamics that I need with the following
1 single exposure with focus on the foreground
2 bracketed exposures with focus in the middle of the cave
2 bracketed exposures with focus on the back of the cave
By choosing an aperture of f/16 I maximized my depth of field in each image. This made it easier for Photoshop to stitch together the three different focal points at the sacrifice of a little bit of sharpness that isn't noticeable in the finished image.
Hunting for a Bonus Shot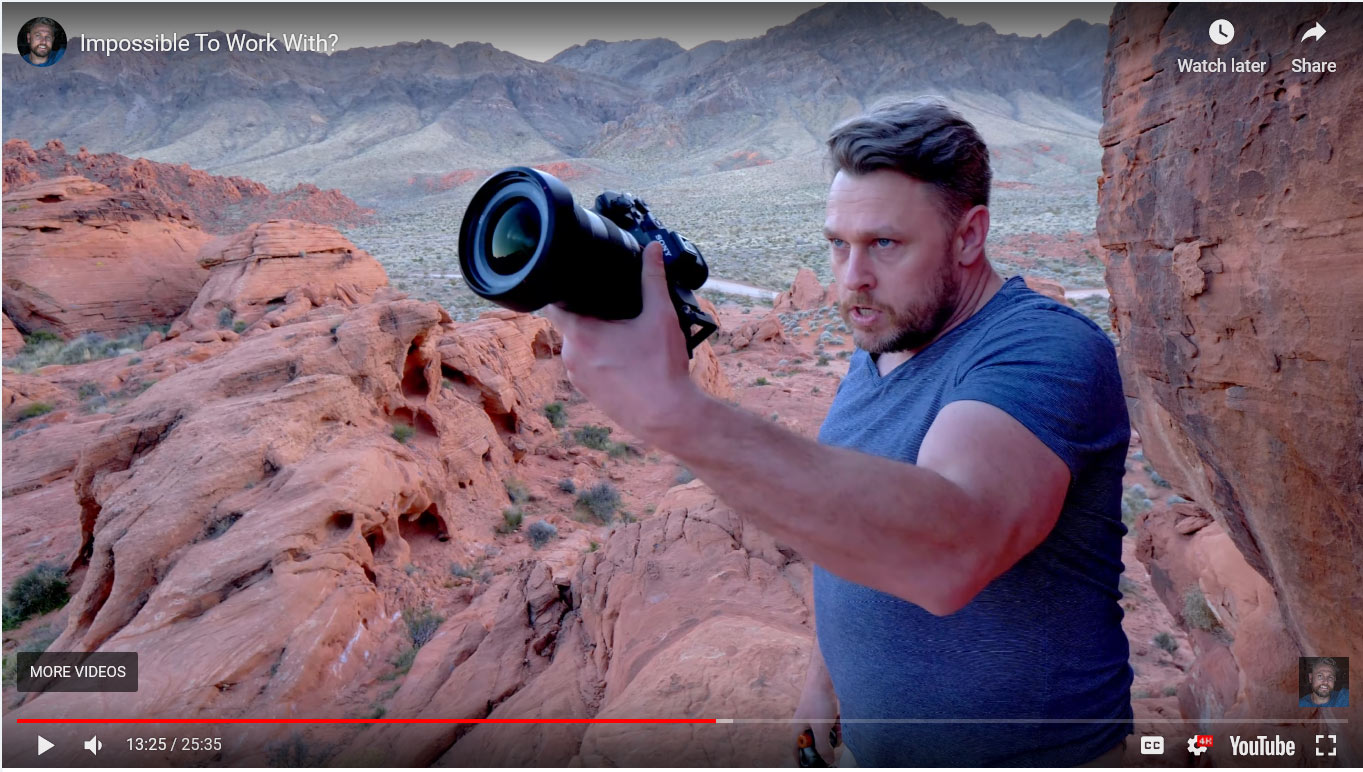 With the cave image in the bag, I went on a mad dash for a bonus image while the sun was going down fast. Greg took great delight in reminding me how old I was but my Gorilla shaped physique didn't let me down in spite of my 'asthmatic bag pipes' exhertions.
By the time I'd scrambled my way through the valley, the sun had set and the best of the light was over. I did however find a lovely composition that I figured would work well for sunrise the next day so it wasn't a total waste of energy and let's be honest ……. I needed the exercise.
The Return of The Sour One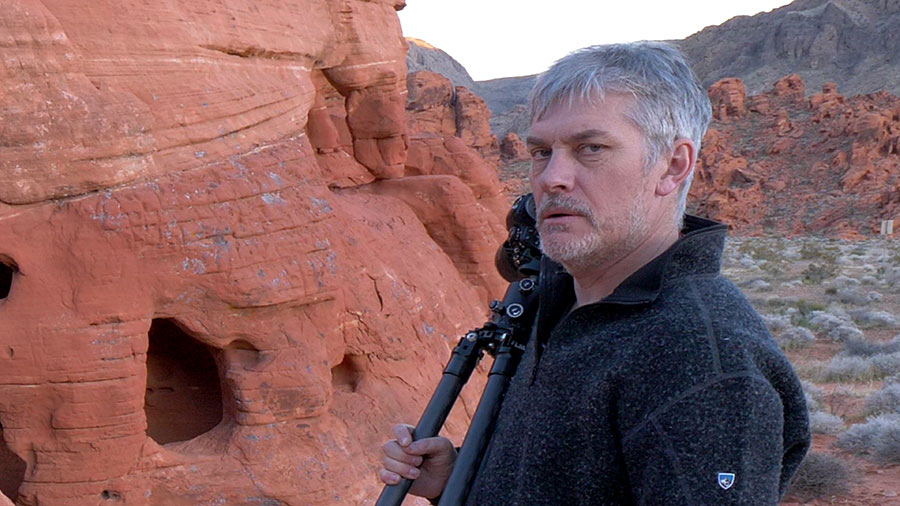 Before we could escape undetected, Uncle Grumpy showed up to steal my composition once again. He was none too impressed that we hadn't come to let him know we'd found the cave. I had no intention of sharing this spectacular location with him, mainly because he posts his videos at least a month before I do.
In this part of the video you see Greg and Uncle bonding with some sickeningly cheesy fist bumps. This wasn't just for show. It's no secret that Adam is everyone's favourite.
I however, had my fist bumps rejected. Am I really that impossible to worth with?
Me Myself and I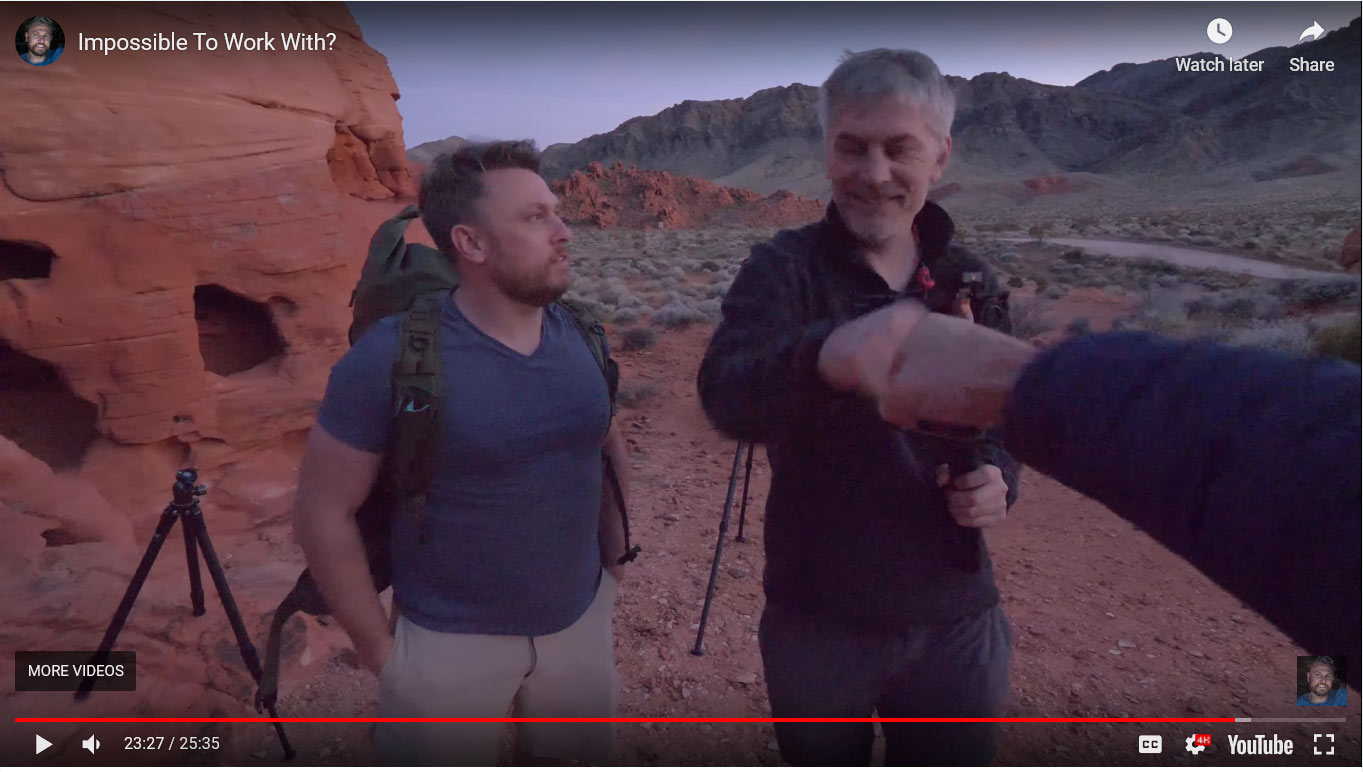 It quickly dawned on me that after this shoot I'd have to go back to filming my own b-roll. This was a bleak prospect as I actually hate filming myself. It's so much easier to come up with some entertaining monologue when you've got a lippy cameraman to bounce off.
You may think this vlogging stuff comes easy for me but in truth it's actually really difficult. There are rare occasions when it's easy because the light is fantastic and I'm capturing epic shots but more often than not it's a struggle.
At Least I've Got Uncle Grumpy Right?
One day maybe I'll get a fist bump from Uncle Grumpy. Till then I'll have to settle for being his side kick during our photography workshops. We've actually got one coming up in a couple of weeks if you'd like to join us. Click here to learn more.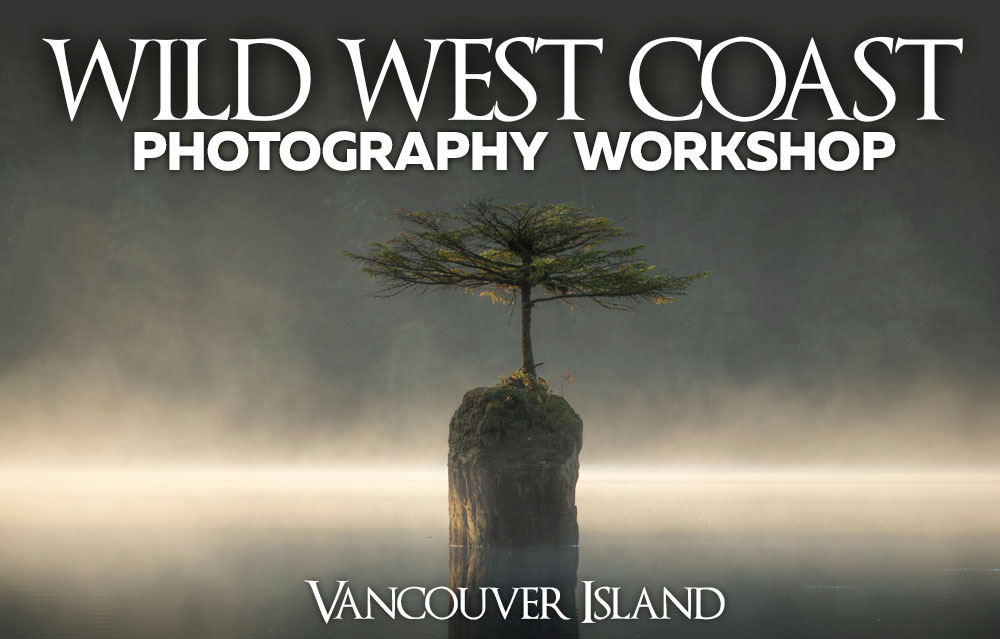 Thanks for reading.
Gavin Hardcastle