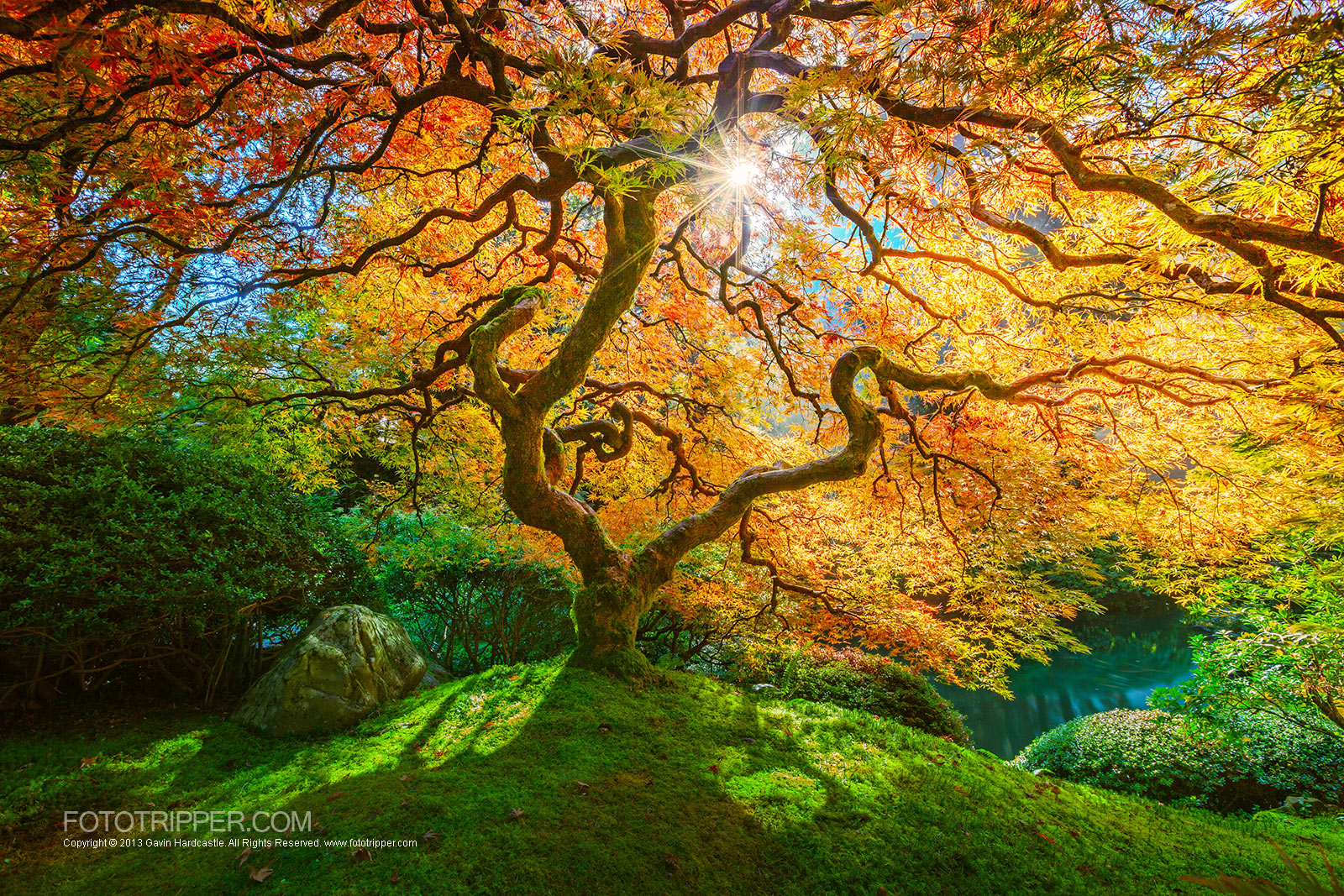 You'll really struggle to take a bad picture at Portland Japanese Garden in Oregon. It boasts one of the most famous maple trees on planet earth and offers infinite photo opportunities for capturing serene moments of nature.
When to Go
Spring and Fall will typically give you the best colours but in all honesty the garden is beautiful all year round. In the colder months you're more likely to experience fog which can make for amazing atmospherics in your photos. When it snows you can capture some amazing images with the bright white snow contrasting against the denuded trees and their 'vein-like' branch work.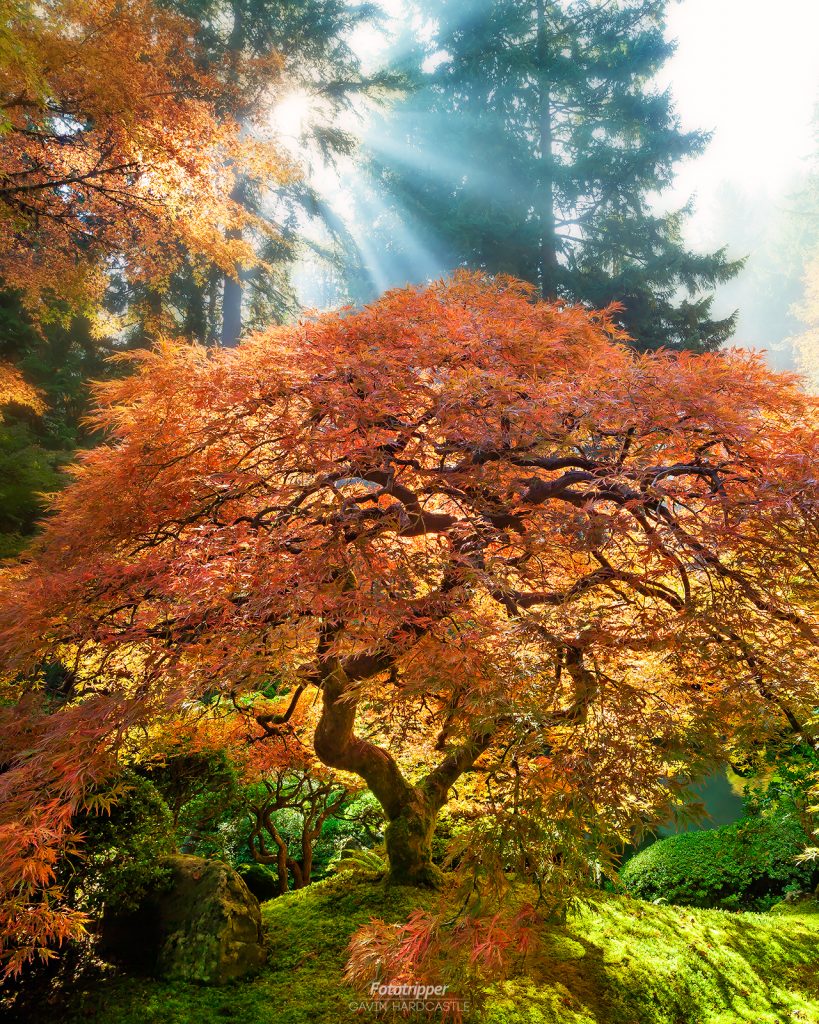 Best time of Day
Portland Japanese Garden offers a special membership for photographers which allows you to enter the gardens an hour before the crowds and also means you don't have to pay the additional $5 tripod fee every time you visit. For more info on their photo memberships go here.
In Autumn the sun won't fully creep in to the gardens until close to midday, so if you want to capture light rays plan a mid morning visit. Arriving later however, means you'll have to deal with the crowds. On my last visit in mid October the gardens were fairly busy but not overwhelming. There were times when I had to wait to get a clear shot but it wasn't a problem.
For the best fog shots get there as early as you can as the late morning sun will eventually burn off the fog and leave you with a bright sunny day, not ideal.'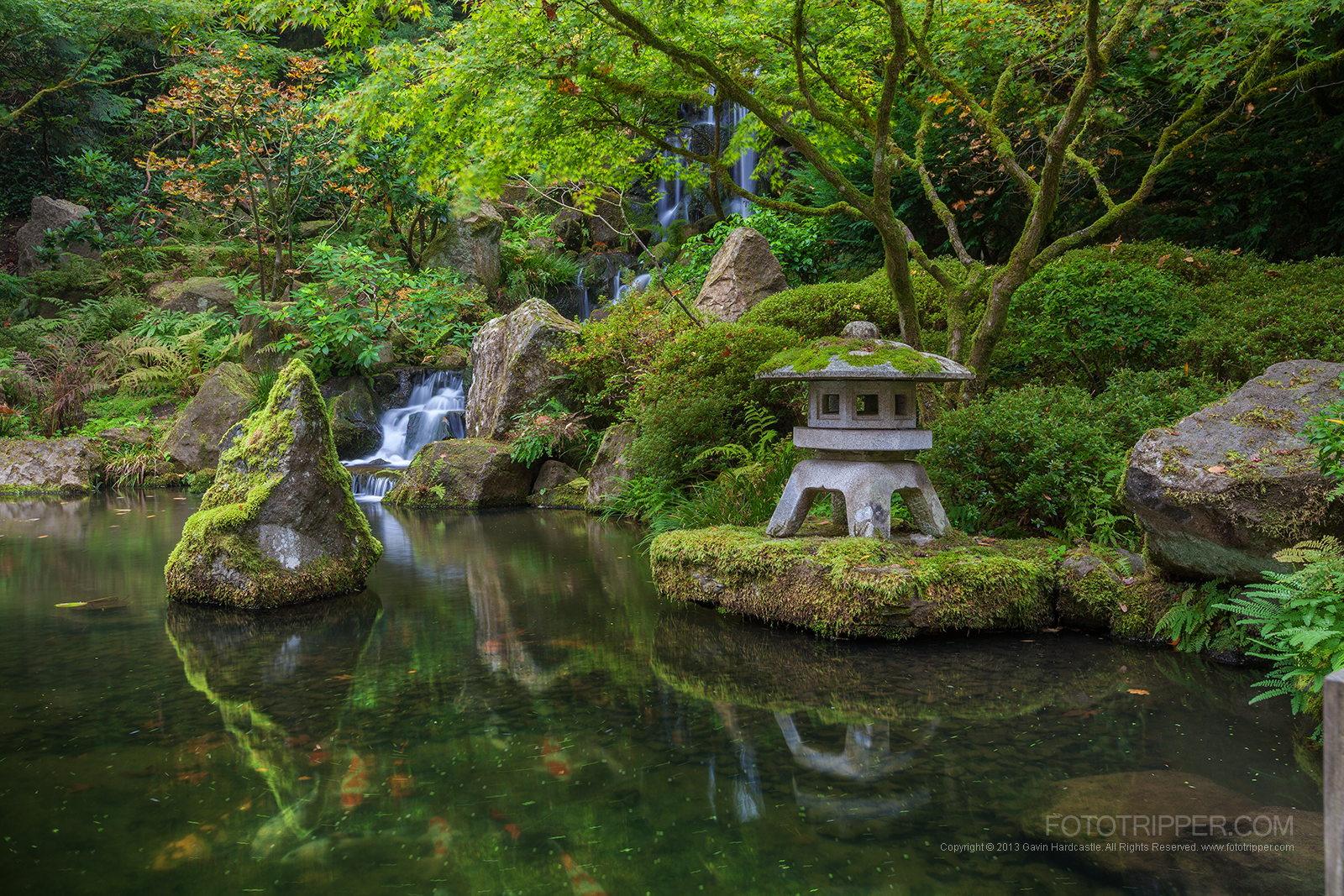 Top Photo Tips
Overcast , rainy and foggy days are great for shooting in the Gardens. The moisture will give colour saturation and the low light will mean you might not need to use HDR.
A polarizing filter is essential for the Gardens. This will reduce reflections and really saturate the colours.
Obviously a tripod is essential for long exposures but also bring one of those mini tripods for getting really low to the ground. Those maple trees are a lot smaller than you think and you're not allowed to cross the tiny fences.
Bring a rain cover if your camera is not weather sealed.
Bring some knee pads as you'll spend a lot of time low to ground shooting up. You'll look like a flooring contractor but your knees will thank you for it later.
Bring a lens cleaning kit, in wet months there's a lot of air borne water particles that will be attracted to your lens.
If you want lots of 'depth of field', pick a narrow aperture like f/16 and focus carefully. When shooting a tree I'll typically focus on leaves that are slightly behind the tree.
Keep noise levels low with ISO 100. If you're on a tripod this won't be a problem.
Don't be afraid to politely ask people to give you a clear shot. I met lots of really nice people there on my most recent visit and the general attitude of visitors is very friendly and respectful. People tend to appreciate that you're trying to make art.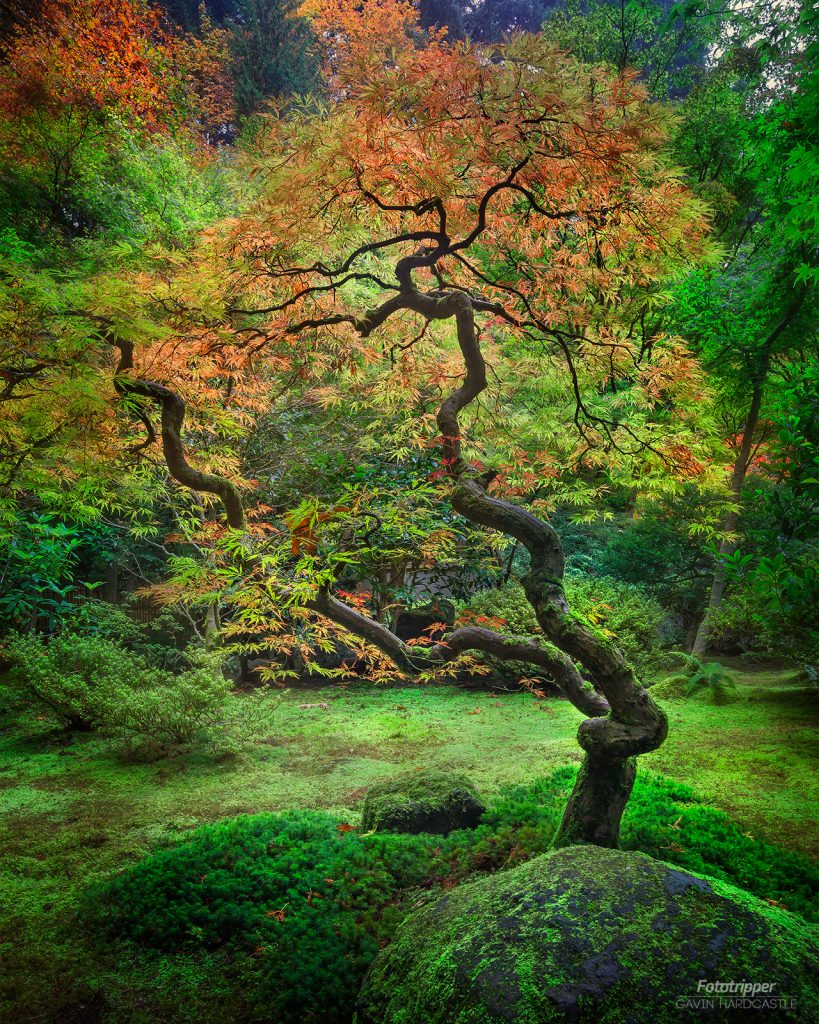 That Pesky Cleaning Crew
Portland Japanese Garden is extremely well maintained – excruciatingly so. Photographers love to see fallen leaves under the trees but the clean up crew are keen to clean those up so I had to grab a few handfuls of fallen leaves and put them back under the trees I was shooting. The things we do for art.
How to Get There
It's just a short drive from downtown Portland. From Portland travel West on Sunset Highway 26 and follow signs for the Oregon Zoo. Drive past the Zoo and head into Washington Park. You'll see signs for Portland Japanese Garden along the way. Park in the lower car park and hike up the 5 minute trail to the Garden. If you have mobility issues I think you can drive right up to the toll booth.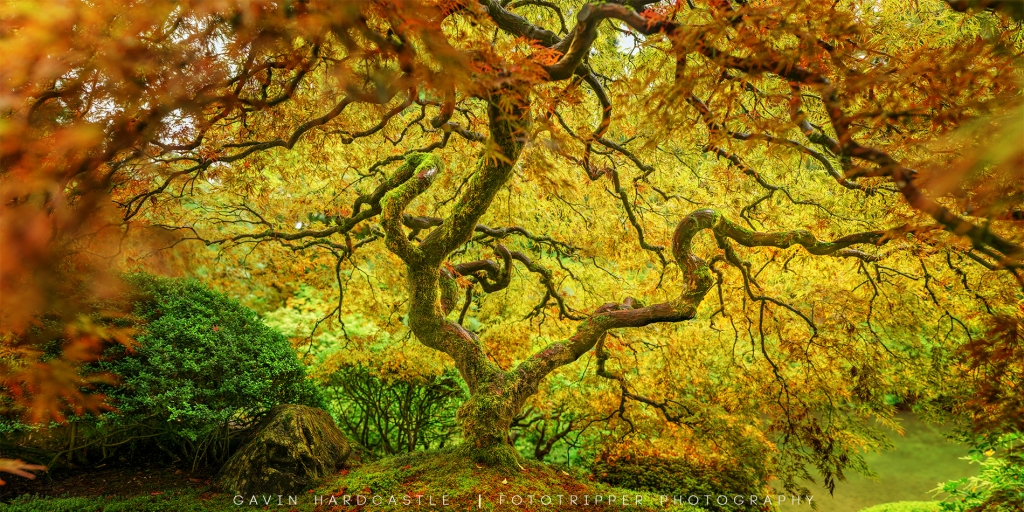 Visitor Hours
The Garden is open to visitors seven days a week year-round, closing only on Thanksgiving and Christmas.
Winter Season (October – March 31)
Monday: Noon-4pm
Tuesday'Sunday: 10am-4pm
Spring/Summer Season (April – September 30)
Monday: Noon 7pm
Tuesday-Sunday: 10am 7pm
As a photographer you need to be aware of the photo policies of the Portland Japanese Garden. Chief among these is the fact that you'll need to become a 'member photographer' if you want to sell your photos of the Garden.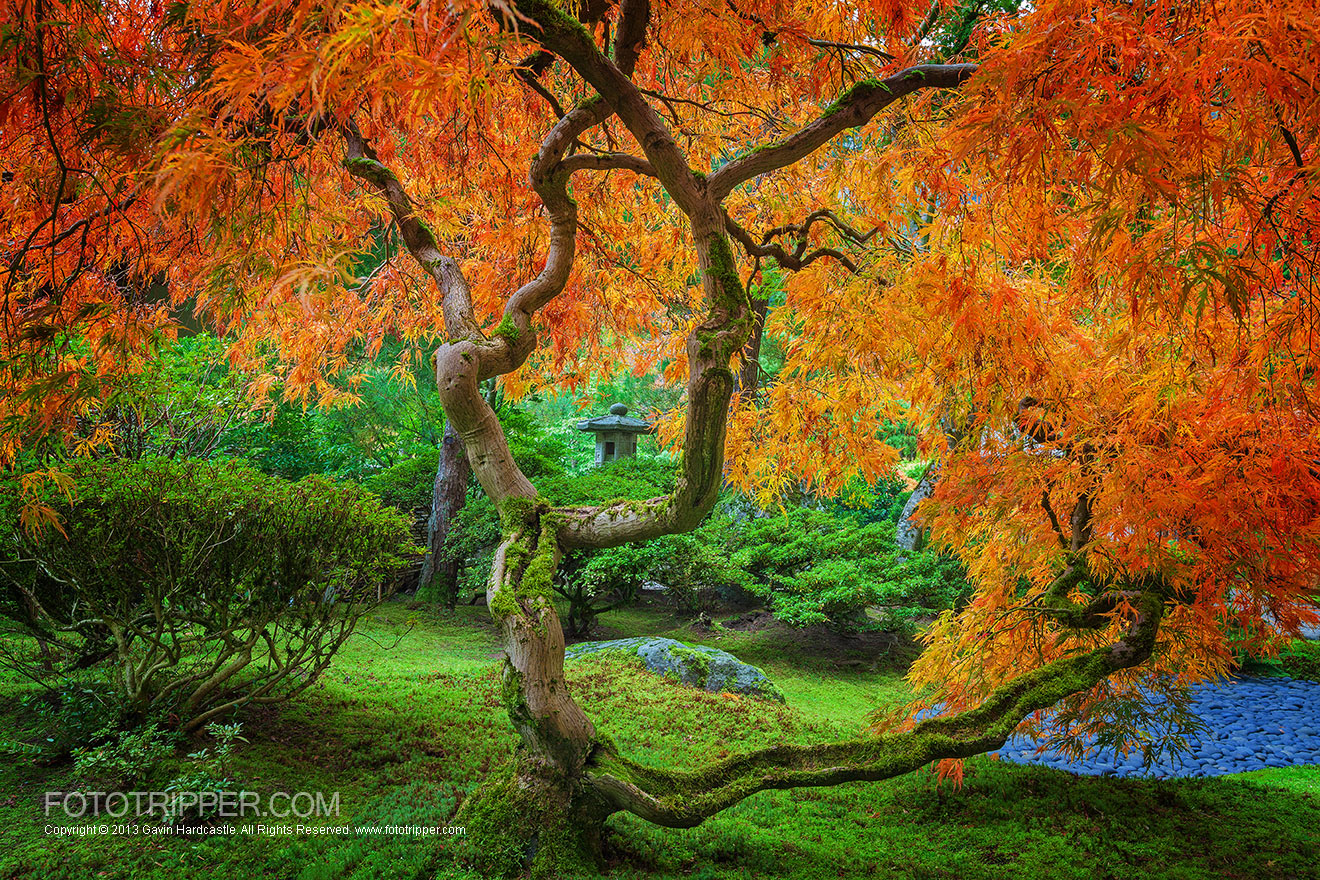 While You're There
I highly recommend a visit to the Columbia River Gorge region just East of Portland. The fall colours are truly spectacular and the waterfalls in the Gorge are virtually guaranteed to give you amazing photos.
Post a Comment, feel free to ask questions.