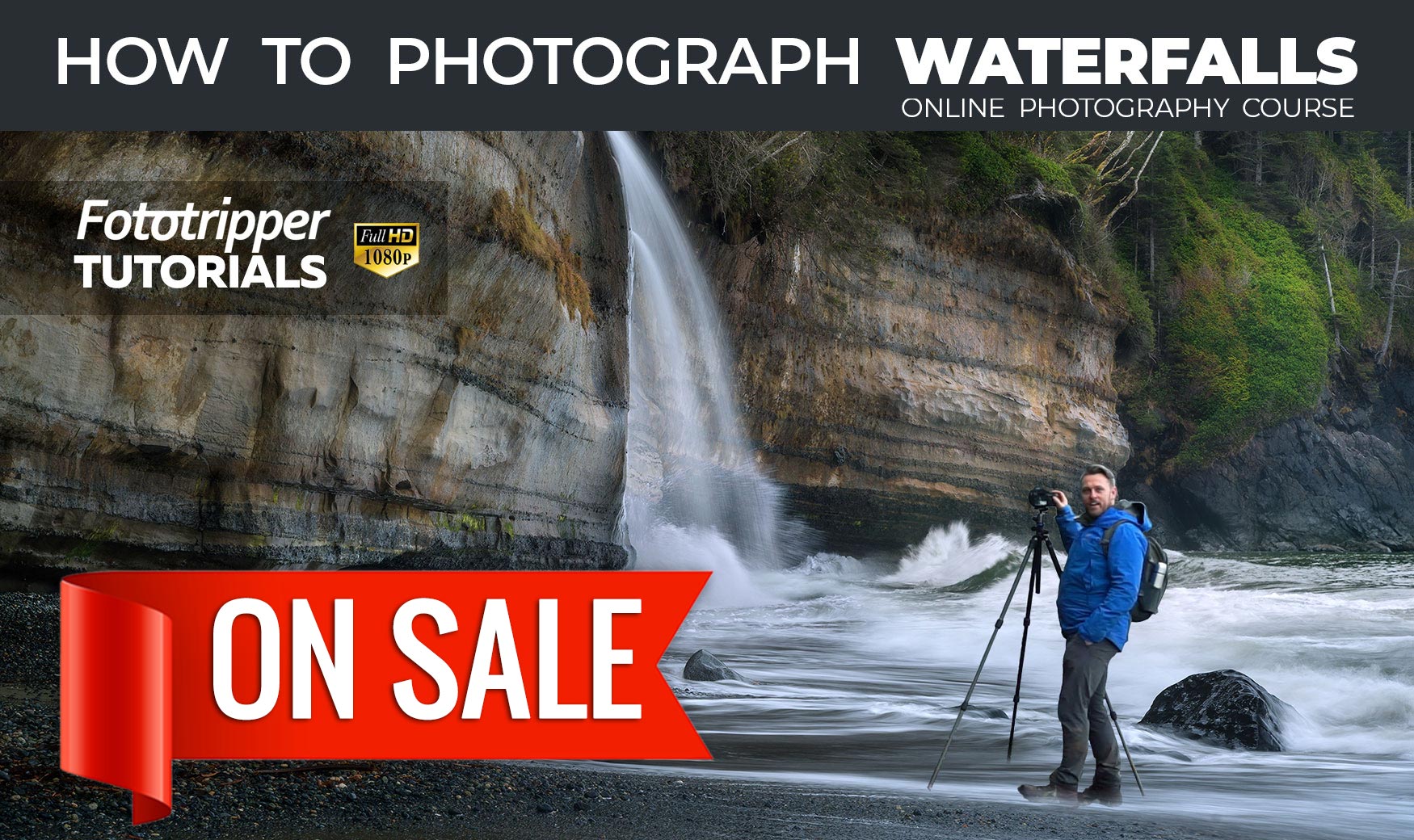 In this 10GB collection of three tutorials, I teach you how I shoot and process my waterfall images. This online photography course takes you from start to finish, beginning at three of my favourite shooting locations on Vancouver Island. I then take the RAW files into Photoshop and show you exactly how I process those images to get the finished product.
My goal with this online photography course is to show you my entire process with shoots that feature small, medium and large waterfalls. Each waterfall shoot poses different challenges with different light and weather conditions.
Once you've completed this online photography course, you'll have gained the knowledge you need to successfully shoot AND process your own beautiful waterfall images. Most importantly, you'll have FUN while doing it. You'll also get 10 bonus videos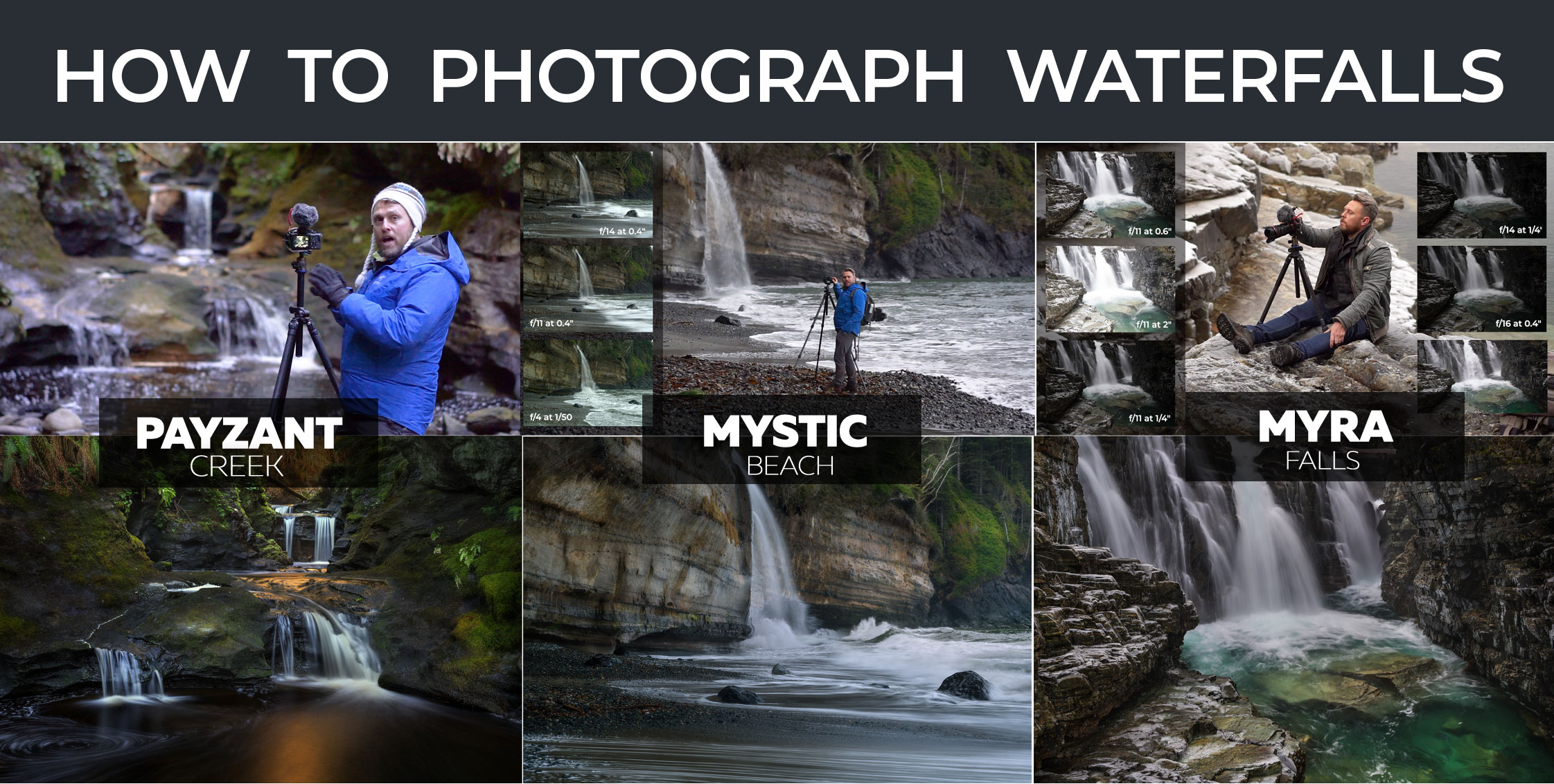 30% OFF TODAY
SEPTEMBER SALE ENDS IN:
Download 'How To Photograph Waterfalls' Now
$59

$39

---
Waterfall Photography Tutorial 1 – Payzant Creek, Vancouver Island
In this first tutorial, I begin with the smallest waterfall I could find. Payzant Creek is not only a very small waterfall but it's one of the prettiest I've ever seen. I take you on location into the coastal rain forest on the West Coast of Vancouver Island.
I explain all of my camera settings and the choices I made to work with the lighting conditions at the time. After the shoot is complete I then show you how I processed the RAW files in Photoshop to create the finished image in all it's glory.
You will have full access to my RAW files when you purchase this photography course.
Waterfall Photography Tutorial 2 – Mystic beach, Vancouver Island
Mystic Beach features a much larger waterfall that pours off the dramatic West Coast cliffs directly into the ocean.
What makes this shoot more challenging is the importance of 'timing' as I wait for the perfect moment to capture the beauty of the waves in different forms. Knowing how to shoot to suite your processing requirements is the key to unlocking your artistic potential.
To create this shot I combined a long exposure with a much faster exposure that required totally different camera settings. I then show you how I combine these wildly different shooting styles in Photoshop to create the perfect blend of natures elements.
Waterfall Photography Tutorial 3 – Myra Falls, Vancouver Island
I saved the biggest till last in this Grand Finale of waterfall photography tutorials. With multiple cascades over 100 ft high, Myra Falls is perhaps the most dramatic and impressive waterfall on Vancouver Island.
Myra Falls features emerald green pools, ranging torrents of white water, and at the time of shooting – lots of ICE!
I braved the ice covered cliffs at Myra Falls to capture the raw beauty of the falls during subzero temperatures. In this tutorial, I explain why I shoot multiple exposures to capture different elements of the scene. I then put these all together in Photoshop and show you every step of the process.
Become A Master of Waterfall Photography
Whether you're shooting tiny tropical cascades or earth-quaking mega waterfalls, these shooting techniques and processing skills will take your waterfall photography to the next level.
Here's What You Get With 'How to Photograph Waterfalls
3 Hours of HD Video Tutorials
RAW Files from Each Shoot
Personalized Email Critique of One Image
10 Bonus Content Videos;

What is a blown-out highlight
Fixing the blue hue in the water
Using aperture creatively
What is the right shutter speed for waterfalls
Waterfall photography composition
When to use ND filters
Customizing Adobe Bridge workspace
Customizing Photoshop Workspace
Setting Your Scratch Disk
Why I sometimes over brighten for web
Here's What You'll Need
In these video tutorials, I perform my entire process with ACR (Adobe Camera RAW) and Adobe Photoshop. I also use Adobe Bridge as my file viewer. I recommend that you have the latest versions of these three apps installed so that your experience matches perfectly with mine.
You can download free trials of the latest versions using these links:
Thanks for checking out my online photography courses. If you have any questions about this course please get in touch.
Gavin Hardcastle