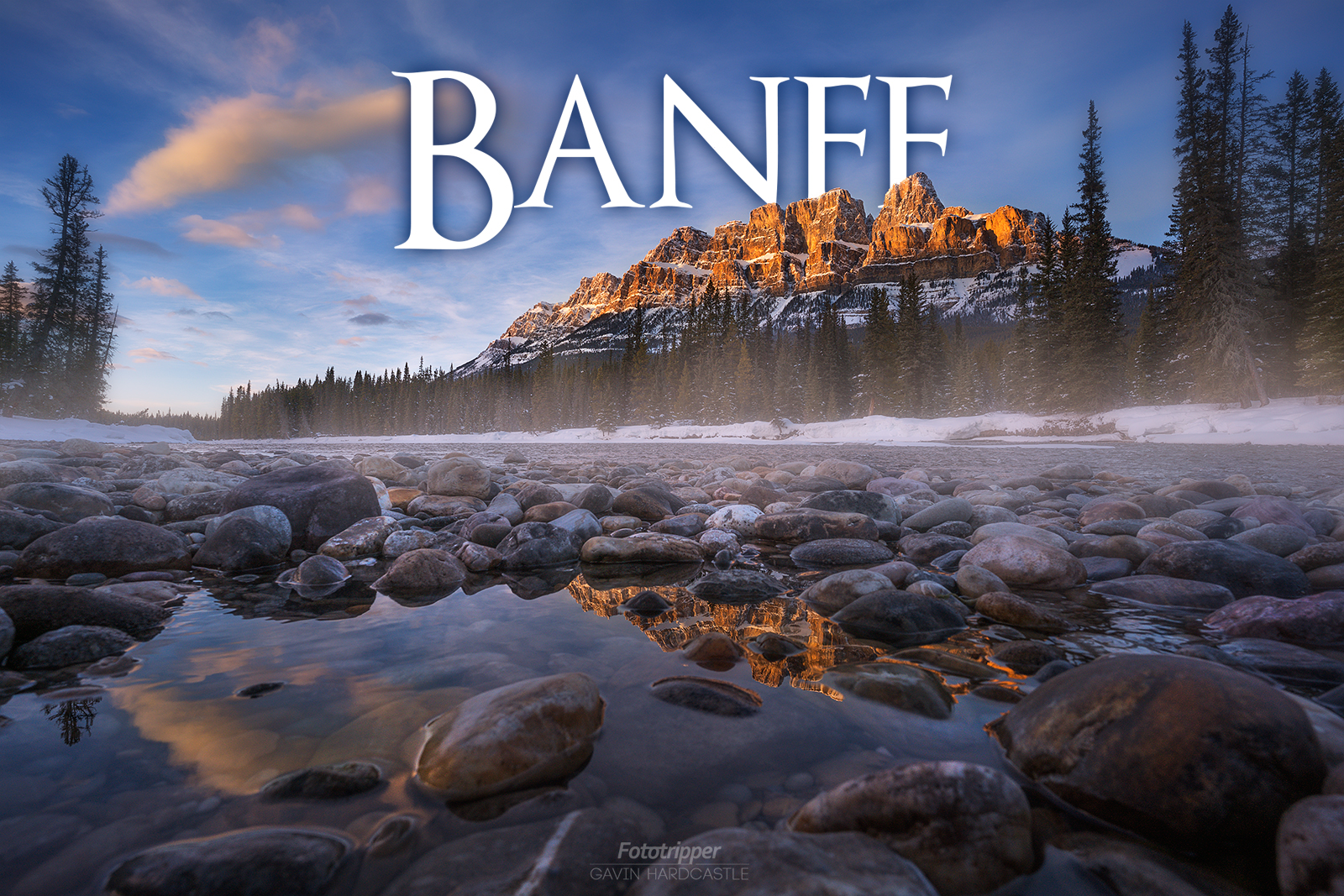 One of my favourite times to shoot the Canadian Rockies is during the winter. It's all about 'fire and ice' and getting those stunning shots of partially frozen lakes. It's also the best time to avoid the tour bus frenzy as most winter visitors are there only for the winter sports.
Why not join my 2 day 'Banff Photography Workshop' in March 2018 where I'll teach you how to shoot these truly epic winter landscapes.
Price Per Person: $950 USD
Dates: March 17th, 18th 2018.
Location: Banff, Alberta will be our base.
Maximum of 8 people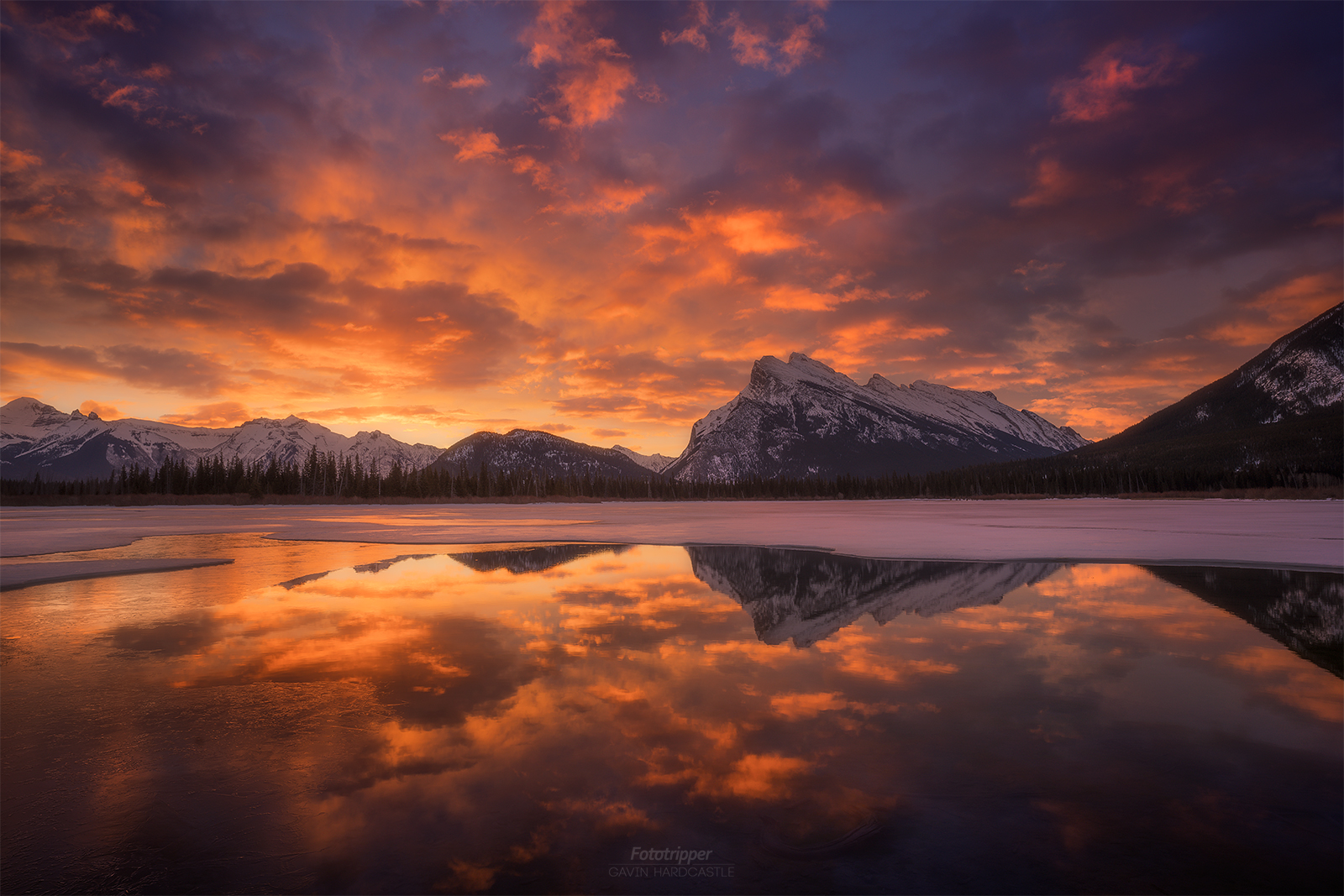 Is there anything more awe inspiring than gigantic snow capped mountains?
Wrap up warm, we're going hunting for spectacular ice formations and mirror reflections in the partially frozen lakes of Banff National Park. With any luck, there's a chance we might even capture some magical aurora shots.
Join my Banff Photography Workshop in March 2018 and let me show you how to capture the majestic beauty of these impressive mountain landscapes.
During this two day photography workshop, I'll show you some of my favourite winter shooting locations in the Banff and Yoho regions of the Canadian Rockies.
We'll be shooting world class landscapes of truly epic proportions. Your senses will be overloaded by colossal snow capped mountains, pristine lakes that act like mirrors and long winding alpine rivers.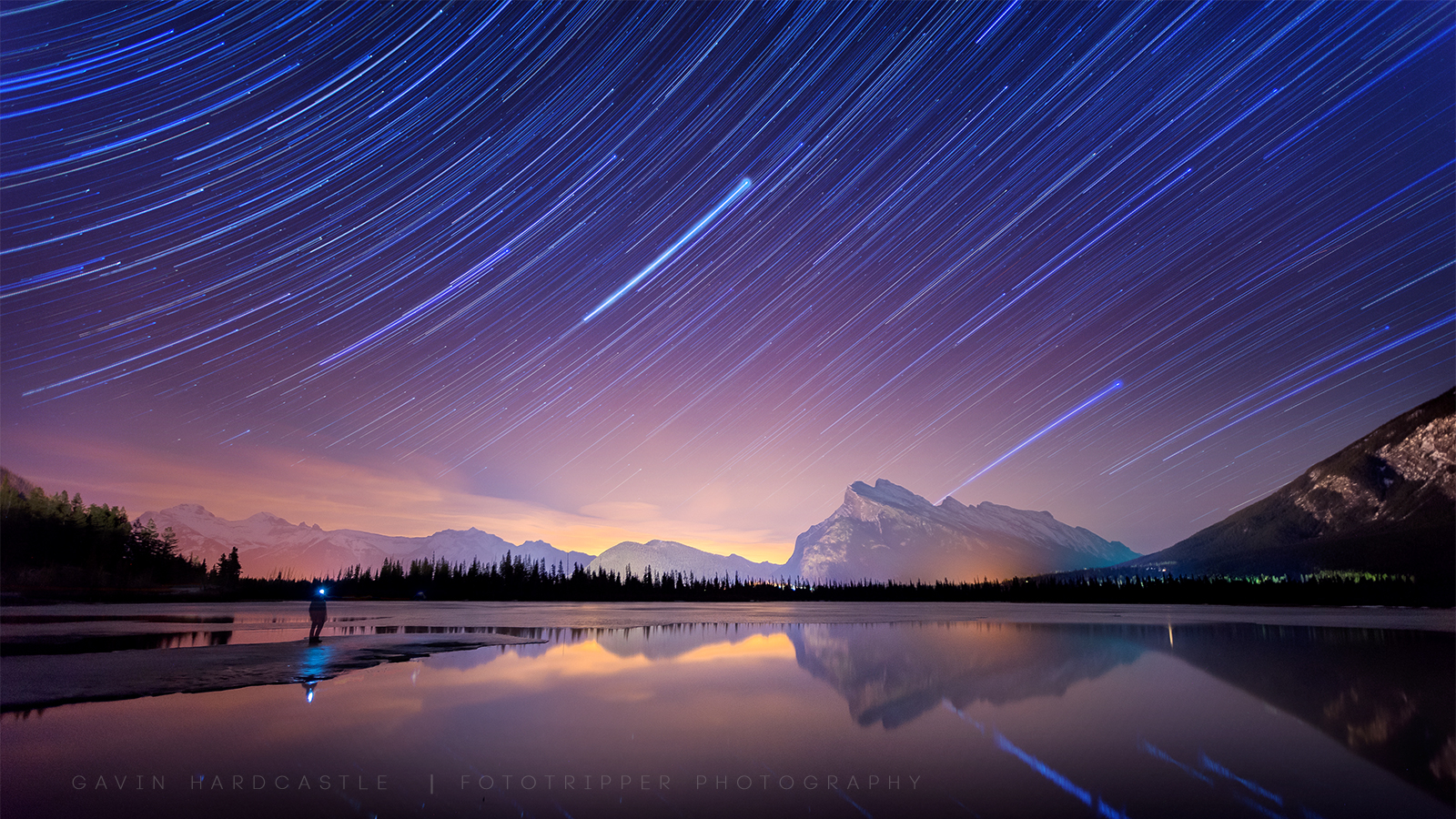 My Banff Photo Workshop will take you to some of the most pristine winter scenes you're ever likely to see. Whether you're a pro or a complete beginner, all levels of photographer are welcome on this workshop.
Where better to learn how to shoot beautiful landscape images than Banff National Park. Join my small group of passionate photographers while I teach you how to capture images like these with your own digital camera.
In this Workshop we'll cover the following topics and techniques:
How to shoot for High Dynamic Range
Advanced Composition
How to Shoot Sunstars (Weather Dependent)
How to focus for Landscapes
Understand Depth of Field in Landscapes
How to get Super Sharp Landscape Images
How to take Panoramic Images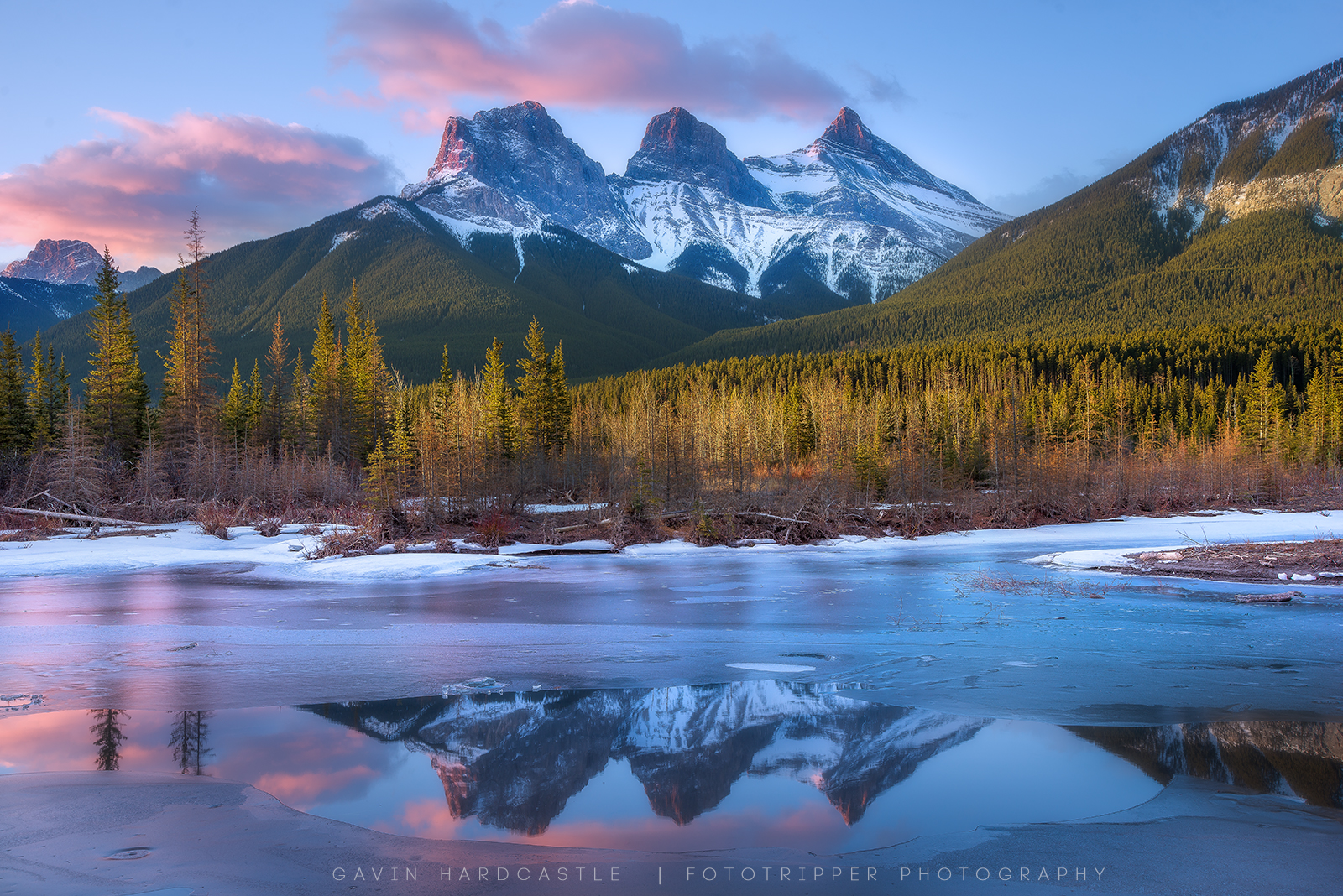 Learn all my Photography Secrets
With this two day Banff Photography Workshop in winter, you get to learn all of my photography secrets. I'll show you step-by-step how to create jaw dropping landscape images. Only 8 places are available on this workshop because I prefer to have a manageable group that gets the best quality tuition.
Image Post Processing Instruction Optional
If you'd like to learn my image post processing techniques I'll be holding an optional post processing workshop the day after you've completed your photography workshop. The cost for the full day of post processing is just $99 USD. I highly recommend this as we'll make the most of your best images from our shoots together.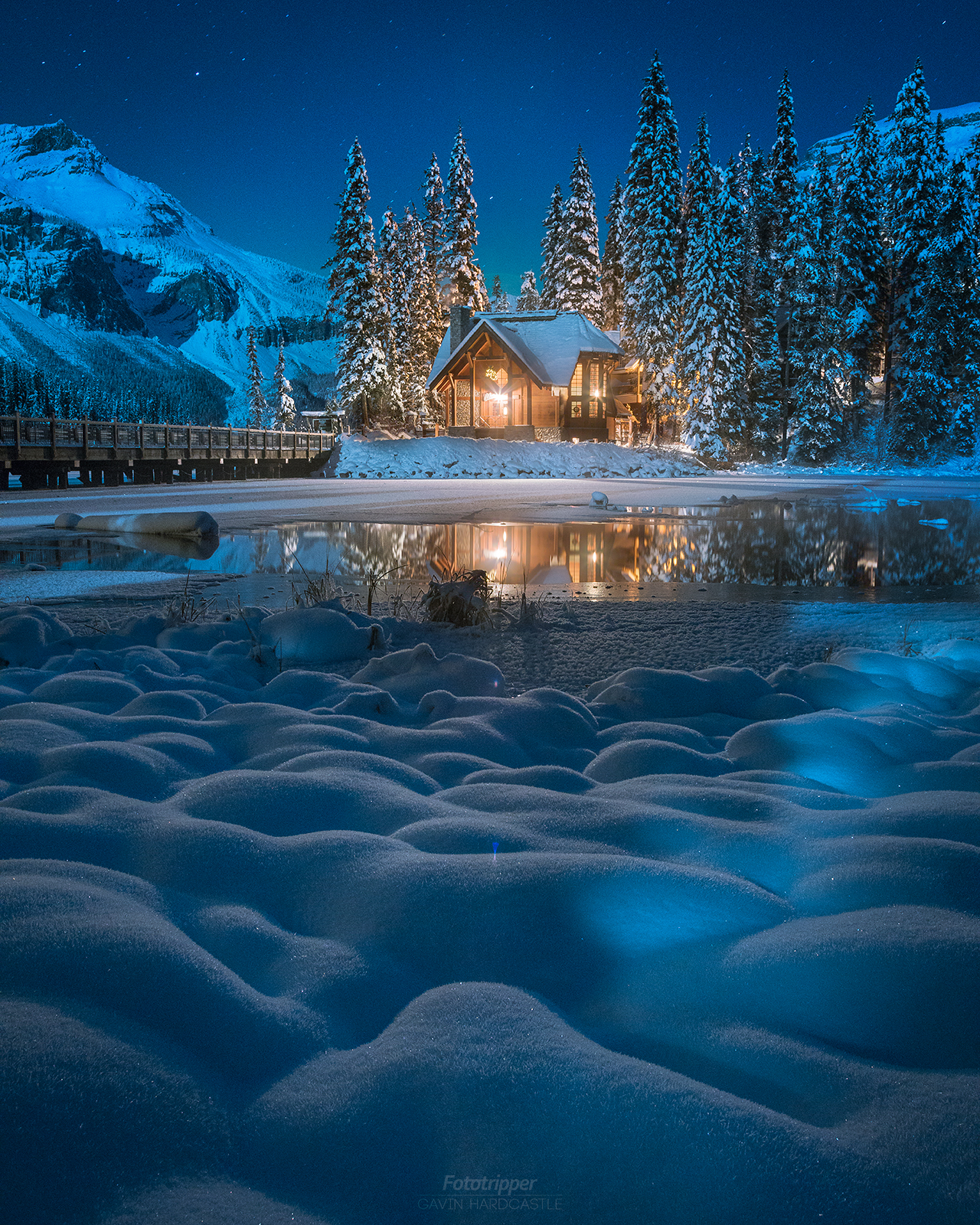 What's Included?
Personalized instruction from Gavin Hardcastle
Personalized review of your portfolio from Gavin Hardcastle
Detailed and constructive critique sessions
Itinerary
Your Arrival and Pre-Workshop Meetup March 16th

You get yourself to Banff, Alberta, Canada
Meet for a group dinner with informal introductions and sharing of stories
Prepare our Camera bags, clean lenses, charge batteries, format cards
Day 1 (March 17th) - The Majestic Mt Rundle

Wake up early and double check your camera bag.
Sunrise shoot with In-field instruction at Two Jack Lake, Banff
Morning Shoot at Lake Minnewanka
Break for Lunch
Afternoon/Sunset Shoot at Vermillion Lakes
Optional group dinner with photo critique session, download images, recharge batteries, sleep
Day 2 (March 18th) - Pristine Peaks

Wake up early and double check your camera bag.
Sunrise shoot of The Three Sisters mountain range in Canmore
Morning shoot at Ha Ling Peak in Canmore
Break for Lunch
Afternoon/Sunset Shoot at Emerald Lake in BC
Optional farewell group dinner with photo critique session and final questions session
After the Workshop (March 19th) – Optional Post Processing Workshop for $99 USD

Morning Post Processing Session at Hotel Lobby
Break for Lunch
Afternoon Post Processing Session at Hotel Lobby
Optional – If weather permits, join me for a final star trails shoot at Lake Minnewanka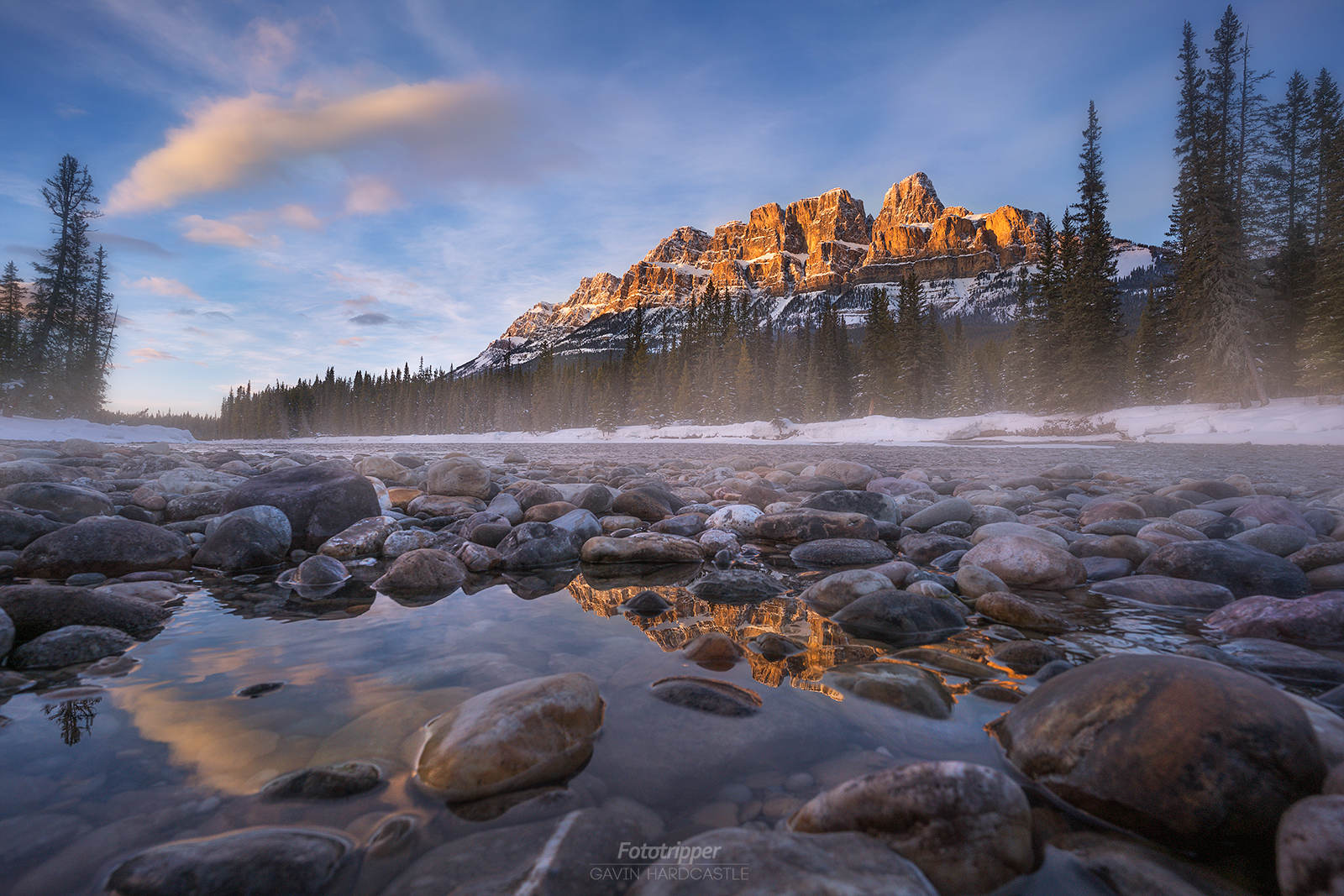 How it Works
In a nutshell, you're on a 2 day shoot with me in the Canadian Rockies. That means that the itinerary above is subject to change based on weather, wildlife and light conditions. If we get lucky and there's news of a solar flare, guess what, we'll be staying up late to shoot the aurora.
Shooting for the Stars
If the weather is utterly cloudless, we might skip a sunset shoot and push our shoot back until it gets dark so that we can shoot the stars or some gorgeous star trails.
My goal is get you the best shots possible during our workshop so be prepared to work with a fluid itinerary that helps us achieve that goal.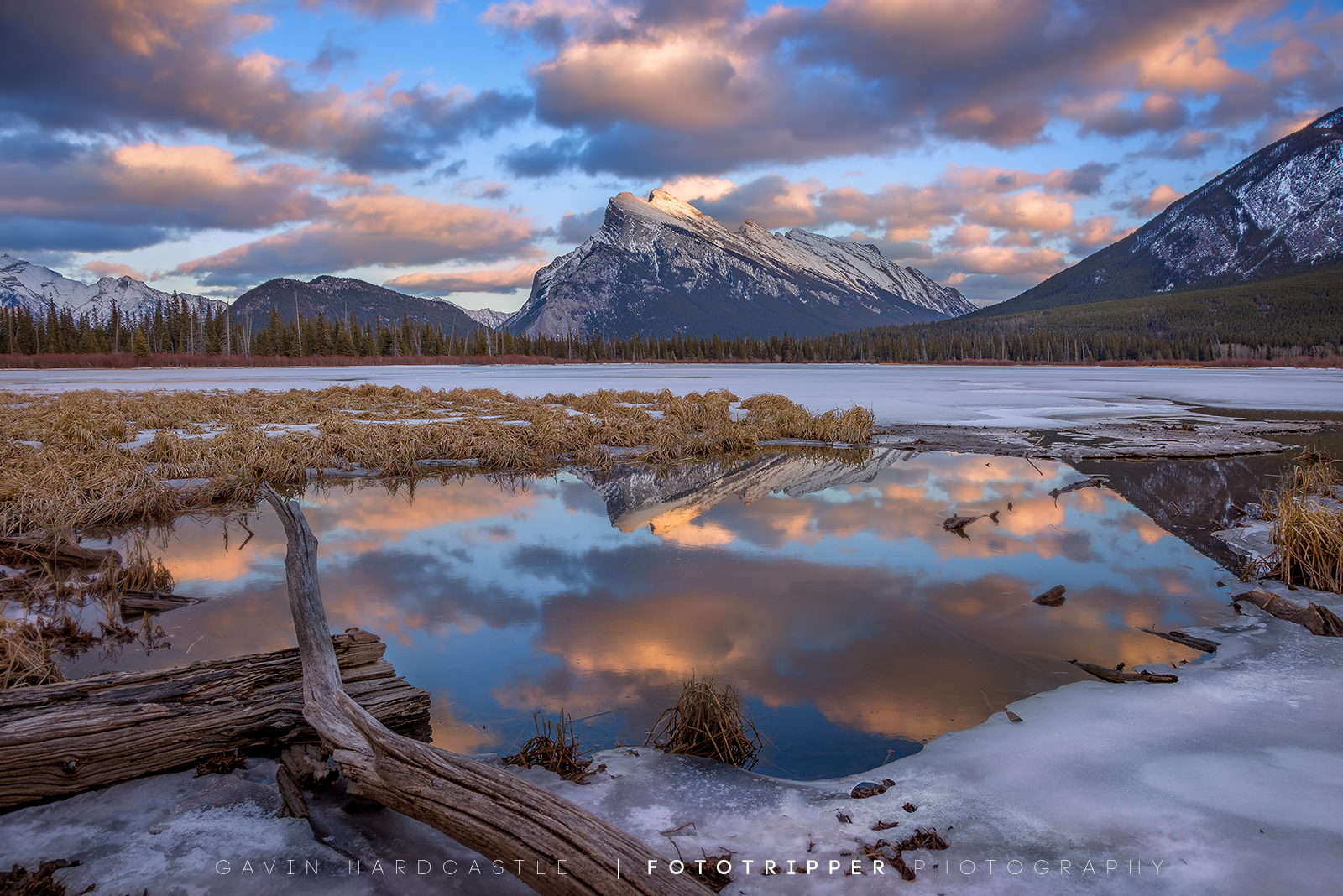 Nap Time
If you feel like having a nap in the middle of the day while the light is too harsh to get great pictures, that's totally fine. Getting up to shoot the sunrise each day can be tiring so please don't feel that you have to be shooting all day long if you need that power nap. Just make sure that you have enough time to get to the next shooting location.
Fitness Requirements
We won't be doing any long hikes as most shooting locations are just short walks from the car parks or pullouts. We will however be spending hours outside, standing around and walking all over our shooting locations so a basic level of fitness and mobility is required.
If you can walk for 15 minutes and stand around for a couple of hours you'll have no problem. Feel free to bring a camp chair if you need to chill out and get comfortable.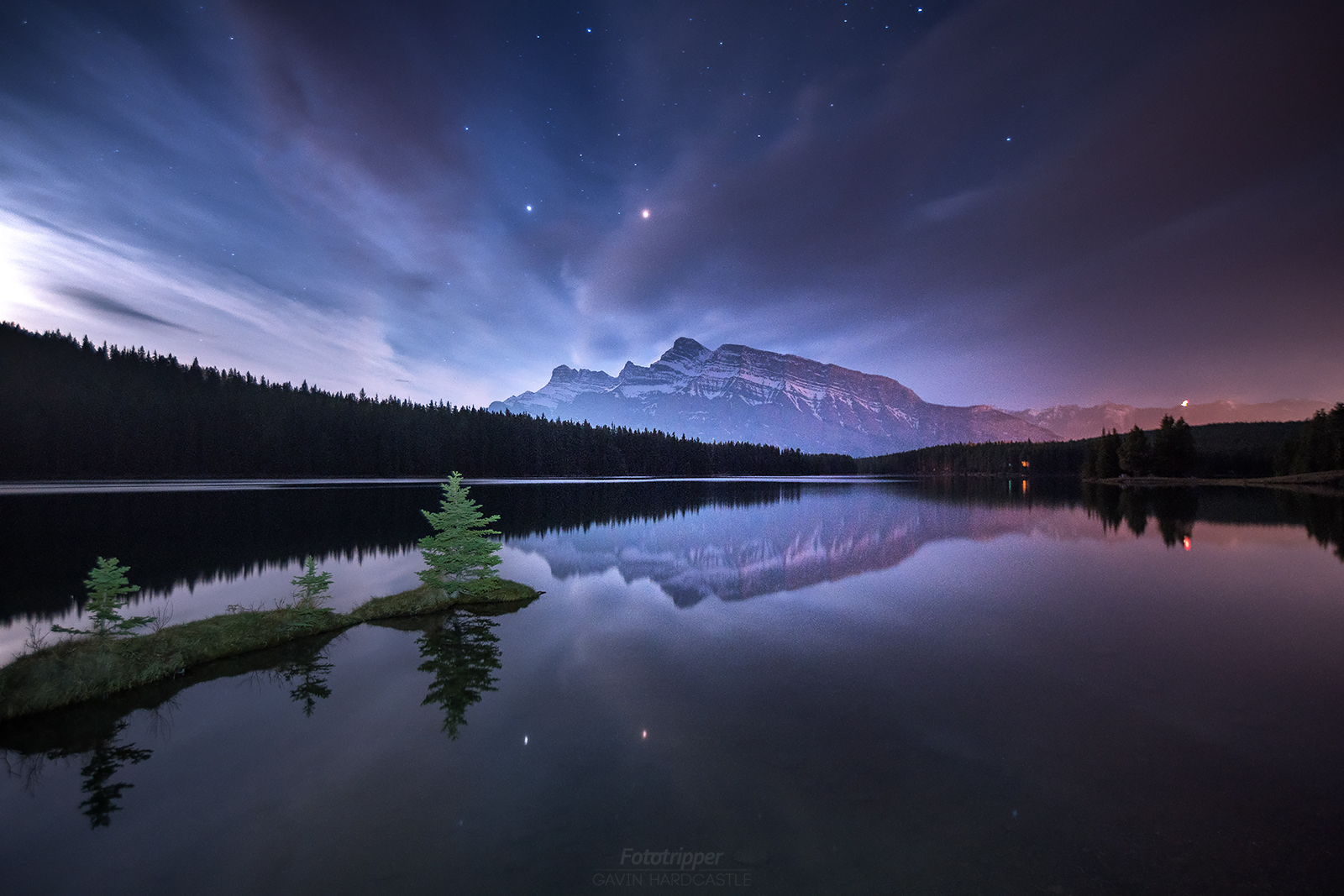 What's Not Included
Food
Drinks
Accommodation
Transportation
Flights
Park entrance fees
Equipment
Insurance - It is MANDATORY to insure yourself against physical injury. I also advise that you insure your photographic equipment. Tour leaders will not be responsible in the event of any personal injuries or damage to photographic gear as a result of an accident during the workshop.
WHAT TO BRING
Photography Equipment and Accessories

A digital camera. Don't forget your memory cards and charger.
A sturdy tripod, ideally with a ball head.
Recommended: Wide angle lens, mid range zoom and super long zoom.
Recommended: A polarizing filter.
Recommended: A camera remote.
A laptop is needed for the optional image post processing session session after the workshop
Many spare batteries for your camera.
Ice Cleats are recommended. Don't waste money buying rubbish Canadian Tire cleats, spend at least $40 at a good quality outdoor store. There are stores in Banff if you forget to buy these before the workshop.
Recommended: A camera rain cover. Even if the weather is bad, we'll get some awesome shots.
Waterproof boots with good grip for standing in rivers and lake shores.
Warm winter clothes. During winter we could experience very cold temperatures so bring lots of layers, gloves, spare socks, scarves and hand warmers. A thermos of hot coffee or tea is also a great idea.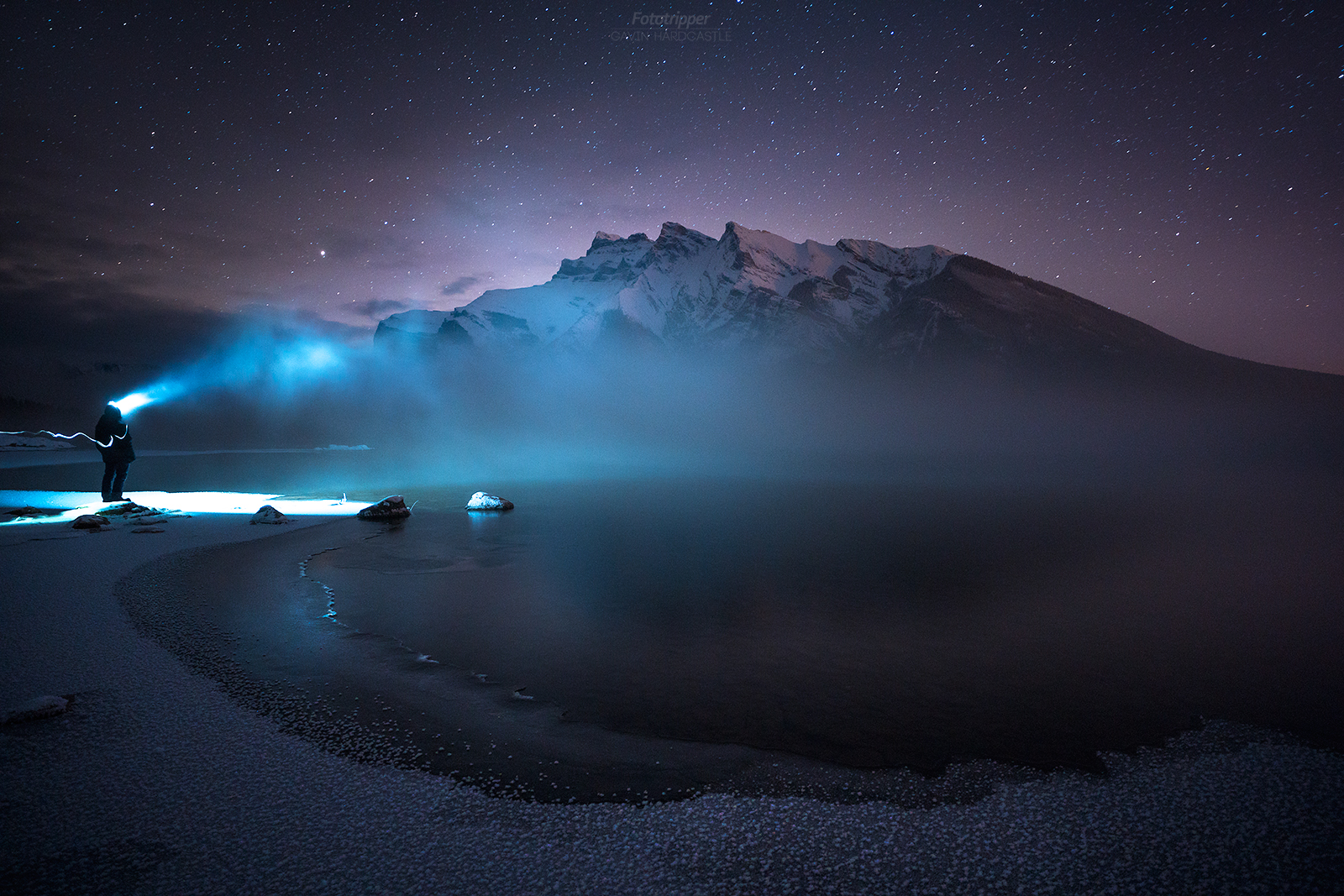 How to Get There and Where to Stay
Visitors will typically fly to Calgary. Canmore and Banff are about a 1 hour drive from Calgary airport.
A quick search on hotels.com should yield many choices. I would strongly advise that you arrive in Banff/Canmore at least one full day before the workshop begins just to acclimatize.
Book your accommodation early to get the best deals and to avoid zero vacancy.
You'll need a vehicle to get to all the shooting locations but all of the journeys are fairly short. If you'd like to carpool, we'll do our best to help but please note that transportation is NOT included in the price of your workshop.
Some of our shooting locations are within a one hour drive of downtown Banff, with many being just 10 minutes.
Ready to secure your place today? Click here to book.
Prefer a Warmer Workshop?
If you'd like to do this workshop during warmer weather, check out my September edition of the Canadian Rockies Photography Workshop. With this workshop, there won't be much ice and many more shooting locations become accessible due to the warmer weather.
There's also more wildlife about during September and we might catch some fall colours and generally have a more comfortable shooting experience.
If ice cleats and gloves aren't for you, the September edition of the Canadian Rockies Photography Workshop could be just what you were looking for.