Learn how I shot and edited my popular 'Infinite' image as I show you how I processed this image using Adobe Camera Raw (Same Tools as Lightroom) and Photoshop in this HD Photoshop Video Tutorial.
Almost immediately, my image 'Facing the Infinite' went viral on Instagram. I can't tell you how glad I was about that because this image was a total nightmare to shoot. Luckily it was a breeze to process and I've recorded a 'Start to Finish' video showing you exactly how I processed 'Facing the Infinite' so that you can use similar techniques on your own images.
Unlike most of my images, I didn't bracket this shot. I captured this image in just one exposure because the shooting conditions were so challenging with high winds and freezing cold temperatures. This section of Abraham Lake can be rather unforgiving in January so I had to get my camera settings dialed in quick, capture the shot and get out of there.
In this HD 1080p Photoshop video tutorial I take you through the entire image editing process, from opening the untouched RAW files to saving them for the web, ready to upload to Instagram.
What's Covered in this Photoshop Video Tutorial:
Adobe Camera RAW (Same as Lightroom) Essential Edits
Basic Sharpening
Noise Reduction
Exposure Blending from one RAW file
Selective Application of the 'Dodge' tool
Cropping for Instagram
Saving for Web
Why I Love This Shot
This was one of those shots that was almost impossible to shoot. I was laying on the ice in the dead of night under extremely high winds. To get an idea of just how terrible the conditions were take a look at this quick video clip I shot while scoping out the scene in the daytime.
I shot a few test exposures and noticed that the star trails were all squiggly and that the image was blurred. I figured if I got my tripod really low to the ground I'd avoid most of the wind but it dawned on me that the ice itself was vibrating so it really didn't matter how stable my tripod was.
In a brainwave of sheer desperation, I remembered that my camera had 5 axis stabilization on the sensor so I turned that on and set it to my focal length of 18mm because I was shooting with the Ziess Batis prime lens which is awesome for astrophotography.
To be honest I didn't really think it would work, especially with a 30″ exposure. When I checked the playback and zoomed in on the stars I was blown away. The sensor stabilization on the Sony A7RII had totally saved this shot. Without it there would have been no shot, just cold bums.
Learn exactly how I processed this image and use the same tricks to make your nightscapes POP! Order my 'Infinite' Photoshop Video Tutorial today and download the video immediately after ordering.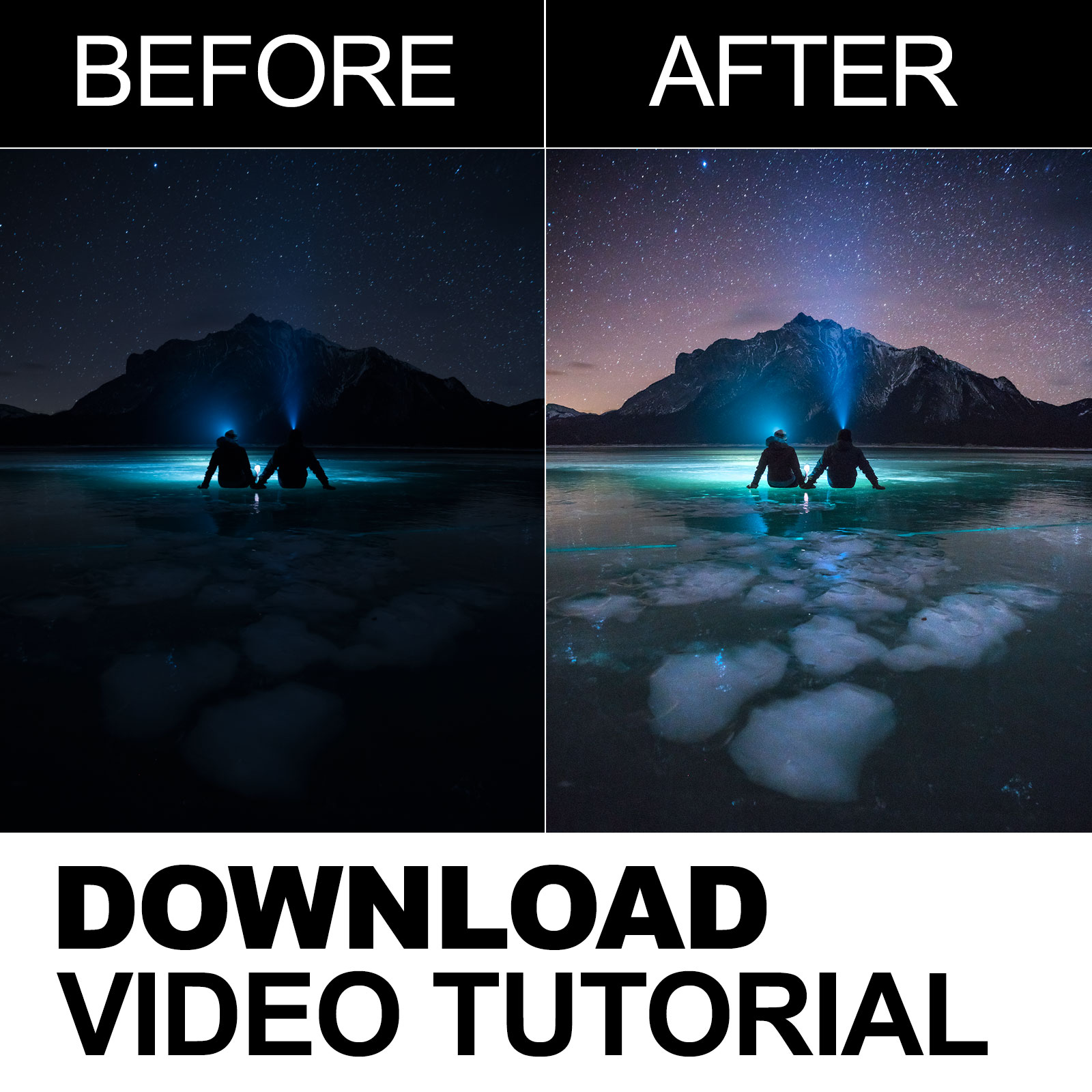 Instant Download – Video Specification
Duration – 22 minutes
MP4 Format – Compatible with Most popular devices.
ZIP File Download After Ordering