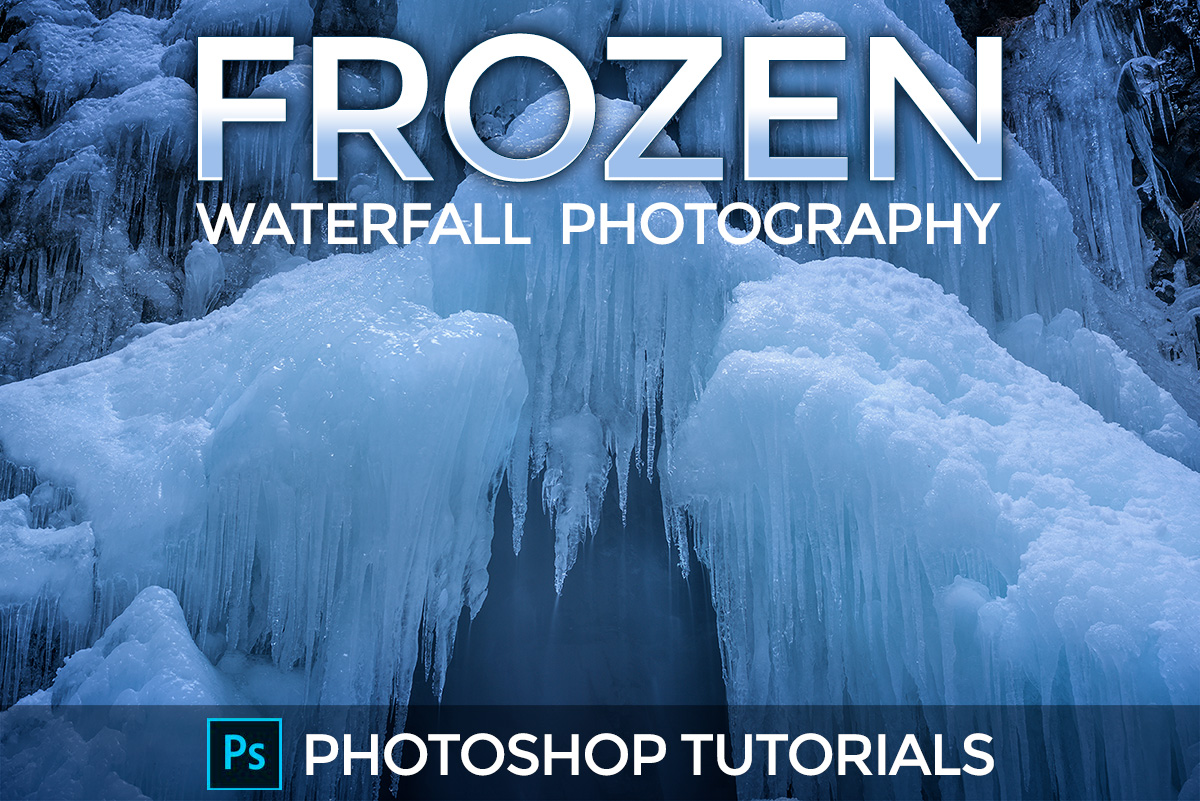 Learn how I process my frozen waterfall images in this 8 GB collection of Photoshop tutorials. This instant download gives you 5 HD video tutorials for Photoshop and also includes the 15 RAW files shown in the tutorials.
During some recent trips to Strathcona Provincial Park on Vancouver Island, I captured some beautiful frozen waterfalls at their most spectacular.
My goal with this online photography course is to show you my entire image post processing workflow with specific emphasis on how I handle snow and ice. I also show you how I blend multiple exposures to account for dynamic range and focus stacking.
Once you've completed this online photography course, you'll have gained the knowledge you need to successfully process your own frozen waterfall images with confidence.
INSTANT DOWNLOAD

$59

Frozen Waterfall Tutorial 1 – Lupin Falls, Vancouver Island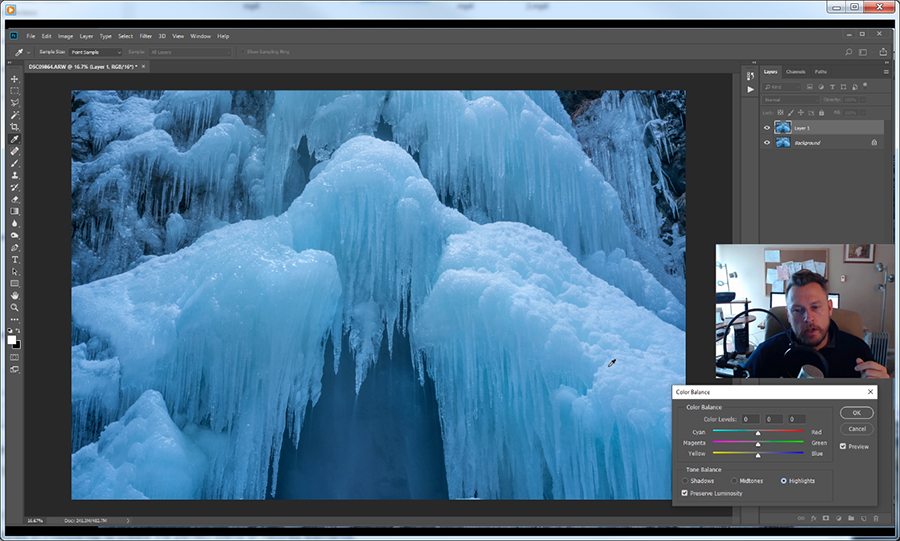 To be honest, there's no particular order in which you should view these tutorials. Each one is slightly different and they range from simple to advanced.
The simplest one is the Lupin Falls tutorial so you might want to start with this one first. I managed to get everything out of one exposure and you'll find the RAW file right here in your download.
With this image I show you how I handle the dynamic range, contrast, colours and some very delicate dodging of highlights.
Frozen Waterfall Tutorial 2 – Karst Creek Falls, Vancouver Island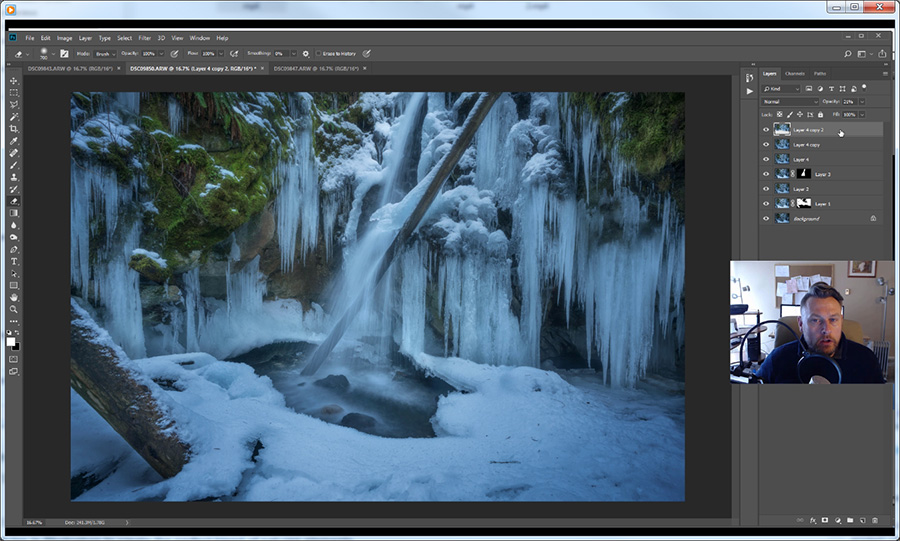 In this Photoshop video tutorial, I show you how I process this shot of Karst Creek Falls. What makes it challenging is that I needed to blend exposures not just for dynamic range but also to blend a mixture of different shutter speeds for more texture in the water.
I use layer masks, dodging, selective blur, and basic colour tweaks to produce the finished result. You'll get all of the RAW files so that you can follow along and replicate the same result if you wish.
Frozen Waterfall Focus Stacking Tutorial 3 – Karst Creek Falls, Vancouver Island

With this second tutorial on Karst Creek Falls, I show you how I handled focus stacking with Photoshop's built-in tools.
I demonstrate how I dodge moss and ice as well as discuss my colour saturation preferences and selective blurring technique.
Frozen Waterfall Photoshop Tutorial 4 – Strathcona Falls, Vancouver Island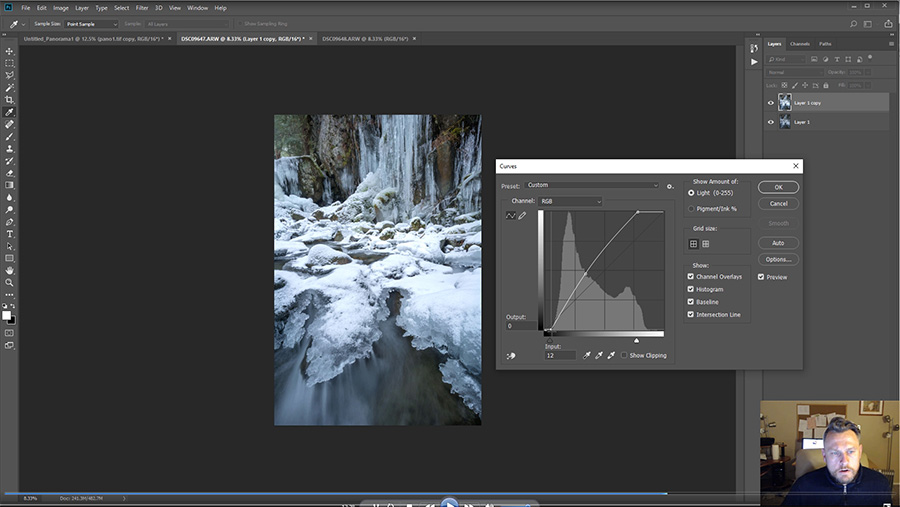 With this Photoshop tutorial, I take you through my image post-processing workflow using focus stacking, selective contrast, and water spot correction.
As sometimes happens during outdoor photography, I didn't spot the water droplet on my lens during shooting, so I had to creatively clone it out.
Frozen Waterfall Photoshop Tutorial 5 – Strathcona Falls, Vancouver Island

This is the longest and most challenging of these 5 Photoshop tutorials.
In order to capture the ideal composition I had to shoot a mini-panorama and stich together two shots to make a large 4×5. The challenge was that I had to to focus stack both images as well as bracket each image for dynamic range.
Things got even more tricky when I realize that the camera position moved on the ice during exposures.
Improve Your Frozen Waterfall Photography

Frozen waterfall photography rarely goes smoothly. There are many technical challenges as well as environmental challenges. These video tutorials for Photoshop prepare you for what to expect during shooting as well as showing you how to get the most out of your RAW files.
INSTANT DOWNLOAD

$59

Here's What You Get With 'How to Photograph Waterfalls'
119 Minutes of HD Video Tutorials
15 RAW Files
Instant Download
8 GB of Content
Here's What You'll Need
In these video tutorials, I perform my entire process with ACR (Adobe Camera RAW) and Adobe Photoshop. I also use Adobe Bridge as my file viewer. I recommend that you have the latest versions of these three apps installed so that your experience matches perfectly with mine.
You can download free trials of the latest versions using these links:
Thanks for checking out my online photography courses. If you have any questions about this course please get in touch.
Gavin Hardcastle