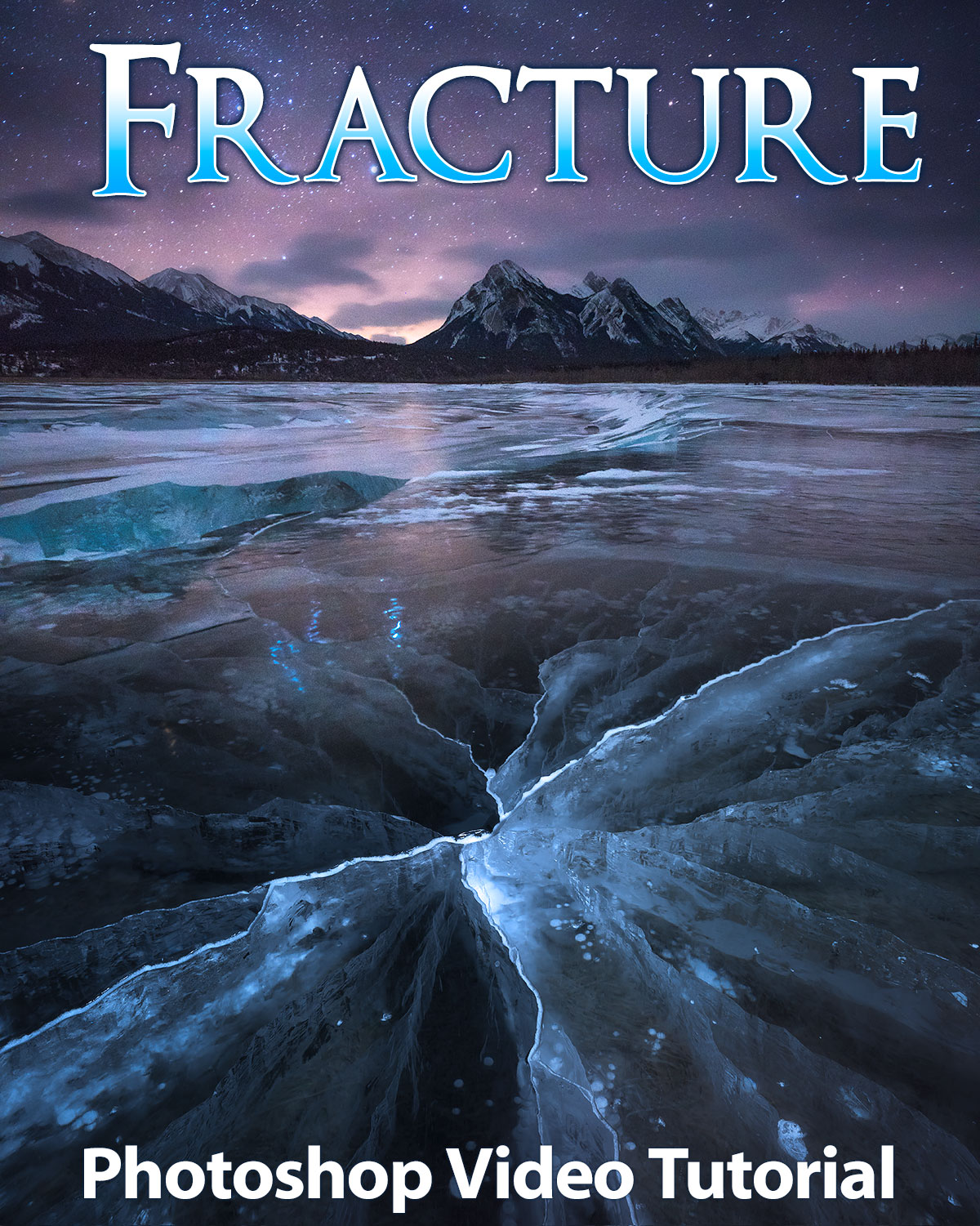 Learn exactly how I shot and edited my popular 'Hairline Fracture' image as I show you how I processed this astrophotography image using Adobe Camera Raw (Same Tools as Lightroom) and Photoshop in this HD Photoshop Video Tutorial. I had a feeling that 'Hairline Fracture' might be popular. The ice formations, cracks, and trapped methane bubbles at Abraham Lake in Alberta are truly captivating. From the comments I received on social media, I think that what is most appealing to people is the sense of risk and danger that being so close to a huge fracture in the ice can conjure in the viewer's imagination.
In this video I'll show you the unprocessed RAW files and other exposures that I shot in order to capture all of the angles of light and image quality that I needed to make 'Hairline Fracture'. You'll get to see my selection process and then watch how I process each exposure and how I blend them together in Photoshop to create the ideal scene.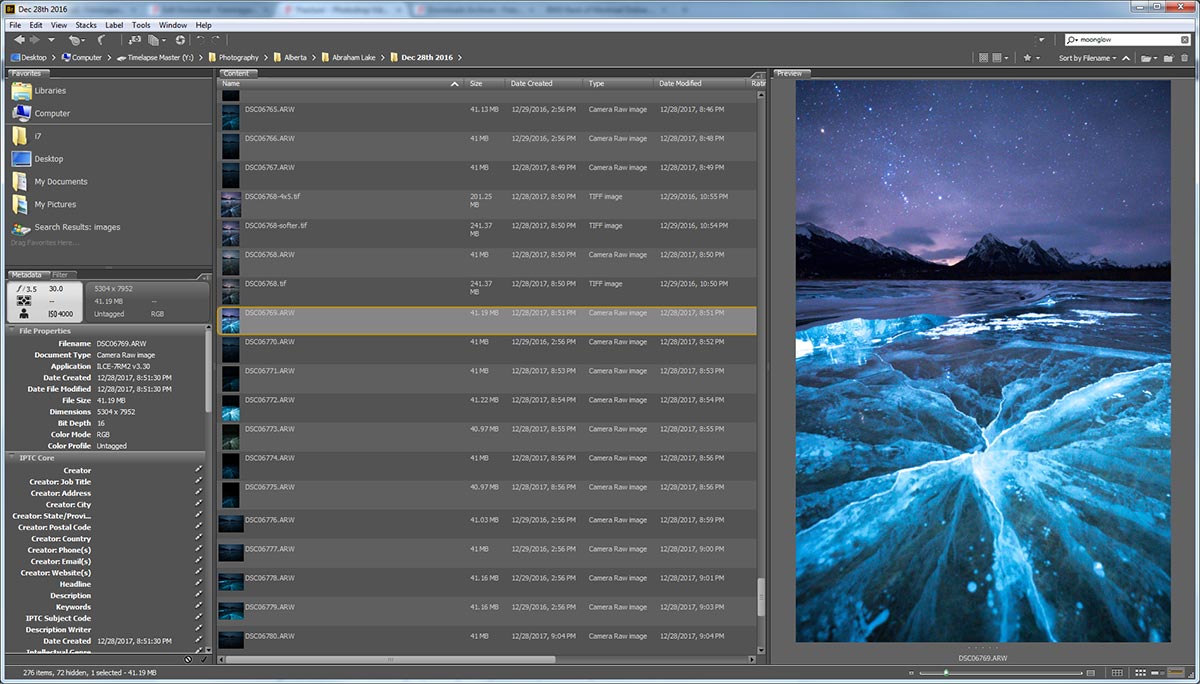 INSTANT DOWNLOAD

$39

You'll get to see where I used light painting to capture the prismatic qualities in the cracks of the ice and then see how I put it all together. I talk in detail about how and where I focused for each exposure, which camera settings I chose and the reasons why.
In this HD 1080p Photoshop video tutorial I take you through the entire image editing process, from opening the untouched RAW files to saving them for the web, ready to upload to Instagram.
What's Covered in this Photoshop Video Tutorial:
Adobe Camera RAW (Same as Lightroom) Essential Edits
Basic Sharpening
Noise Reduction
Exposure Blending for Dynamic Range Using only the Eraser tool
Exposure Blending for Focus Stacking and Light Painting
How I Performed 'Light Painting' During Shooting
Selective Application of the 'Dodge' tool
Cropping for Instagram
Saving for Web
Why I Love This Shot
For me 'Hairline Fracture' has it all. In the Sky, you can see Orion moving across the sky over the epic mountain peaks of the Canadian Rockies. Add to that the colossal fractured ice plates and the way the light bounces off the cracks to reveal infinite details and you've got yourself a timeless scene. A lot went into capturing this image with countless trips into the mountains hoping for ideal conditions, the alignment of stars and taking advantage of the small window of opportunity before the lake got covered in snow.
The hard work finally paid off and I really hope you enjoy 'Hairline Fracture'.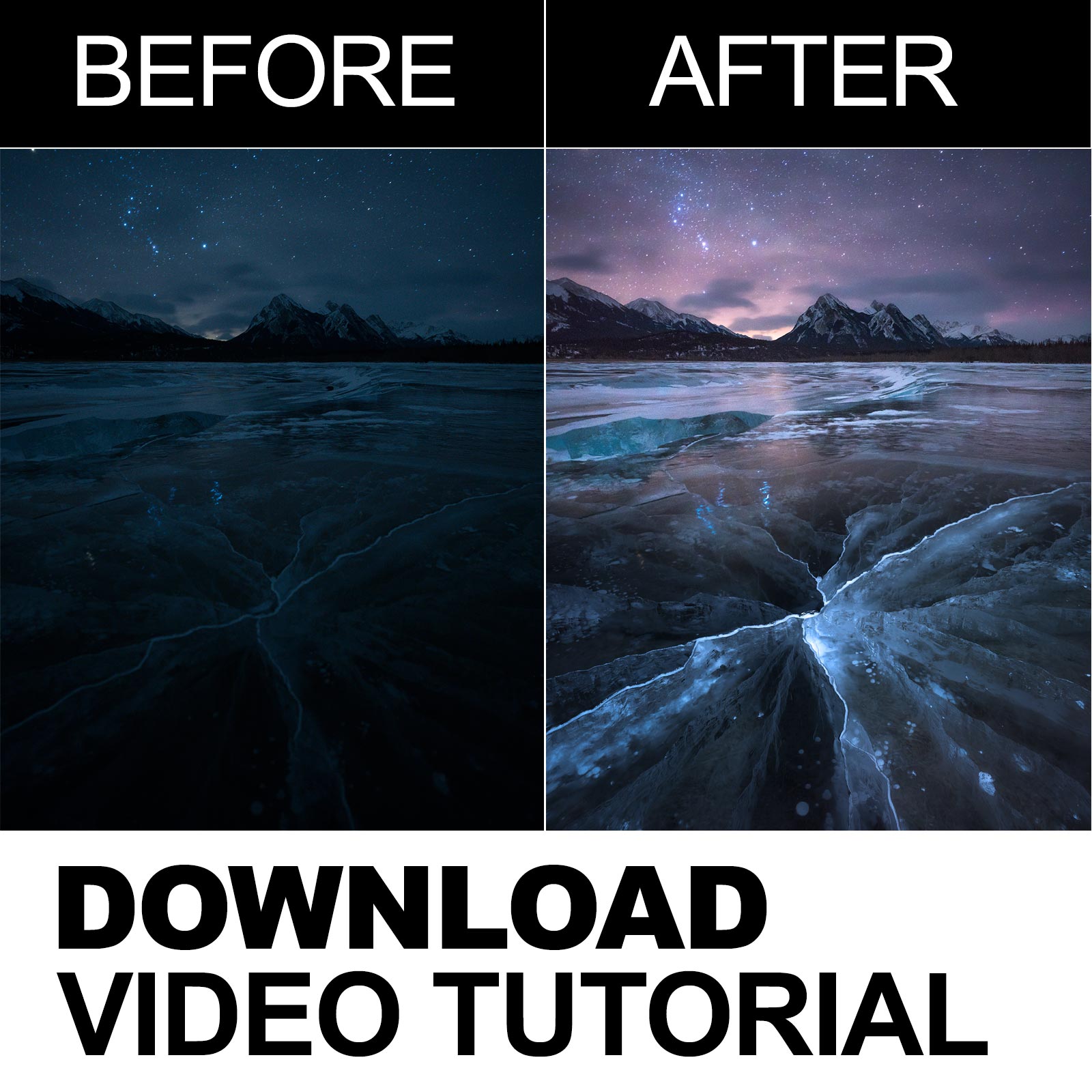 Instant Download – Video Specification
Duration – 30 minutes
MP4 Format – Compatible with Most popular devices.
ZIP File Download After Ordering